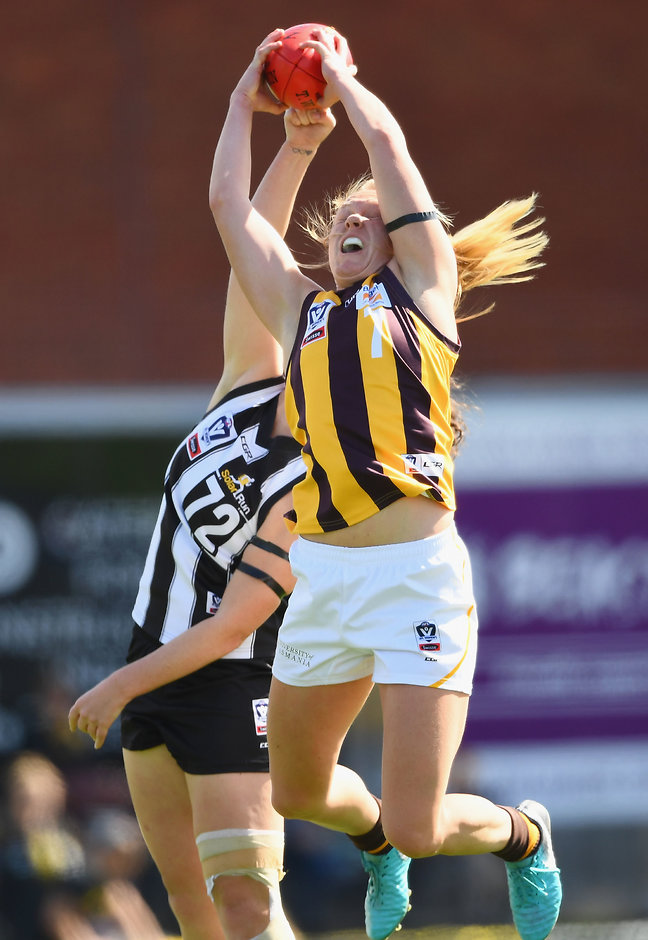 We've been laughing about it all season, and now it's happened, we're still having a bit of a joke about it
Phoebe McWilliams
TEN YEARS after Hawthorn and Geelong met in an AFL Grand Final, the clubs' women's teams will meet in the VFLW Grand Final.
It puts key forward Phoebe McWilliams in somewhat of an awkward position.
The 33-year-old is a Hawthorn VFLW player, but come November, will start training with Geelong, her new AFLW club.
She's already spent some time at the Cats since crossing from Greater Western Sydney in May, getting treatment for a right hamstring tendon injury.
"Geelong were heavily involved in the rehab. We often joked about how I'd be right by the end of the season, and I'd be fit and firing and ready to beat them in the Grand Final," McWilliams told AFL.com.au.
"We've been laughing about it all season, and now it's happened, we're still having a bit of a joke about it. It is a very unique position to be in.
"I'm staying away this week, but I'm still in contact with people at Geelong and I have received a few funny messages. The Cats' strength and conditioning coach said my loads were too high and I needed a week off," she said with a laugh.
McWilliams spent 11 years playing VFLW footy with the St Kilda Sharks, who didn't receive a licence for the 2018 season after the entry of eight new sides, most of which are directly linked to AFL clubs.
"I was pretty upset at the time and had been invested in the club for a long time. Two days later I heard from someone who had a connection to Hawthorn, and to be honest, I was still pretty upset about St Kilda so I didn't want to pursue it straight away.
"I spoke to (Hawthorn coach) Paddy Hill a few times on the phone and he just sounded like such a good bloke, so I thought why not go meet them before I head up to Sydney? (for the 2018 AFLW season).
"I had a look at the facilities, met the coaches and I was blown away by what they had to offer. I took my dad on the tour with me and we both were pretty excited. The main thing for me is finding a club that has the same values and culture you're looking for. That's what came across to me and it reminded me of what I had at the Sharks."
McWilliams, who works in a gym and is also a freelance journalist, said it had been a frustrating VFLW season on a personal level – she missed three months of footy due to her hamstring injury.
"I played the first few games, against Essendon and Casey, but then that hamstring injury came into play, and it's probably the longest-term injury I've had in my career.
"It was very frustrating, as it was a finicky little thing. It's a temperamental injury and I was lucky to have really good support staff helping with it.
"I missed three months, so that was really difficult. Up at the Giants I had really invested in their program and made sure I ticked every single box, so the three-month window gave me a break from footy and I used it as a mini-mini-pre-season.
"I've put on a few kilos – of muscle I hope – which is making a huge difference in one-on-one contests. By the end of the three months I was so keen to play footy again, I was bursting out of my skin to get back on the field."
McWilliams is looking forward to continuing her AFLW career at Kardinia Park after being the Giants' leading goalkicker in the past two seasons.
"It was a really difficult decision because I had such a great time at the Giants in the second season and really connected with coach Alan McConnell, and the girls were a really close-knit group.
"Being from Melbourne, it's an unsettling lifestyle living between two cities across a year in terms of employment, leaving your loved ones, finding somewhere to live and finding someone to live at your place.
"The Cats seemed like a good club to go to. The facilities are great and the people are lovely, but it was probably just being at home (which was the key reason)."
If there's anyone who's well placed to comment on the next chapter of Hawthorn and Geelong's rivalry, it's McWilliams.
"Hawthorn and Geelong both came into the VFL Women's at the same time last year and they measured up against each other as first-year clubs," she said.
"For both to be in the Grand Final in their second year shows you what sort of clubs they are, with their culture and ability to turn players into really good players.
"I'm probably the wrong person to ask because I like both clubs."
VFLW GRAND FINAL
Hawthorn v Geelong
12.30pm EST Sunday, September 23
Marvel Stadium, Docklands
Live stream: vfl.com.au