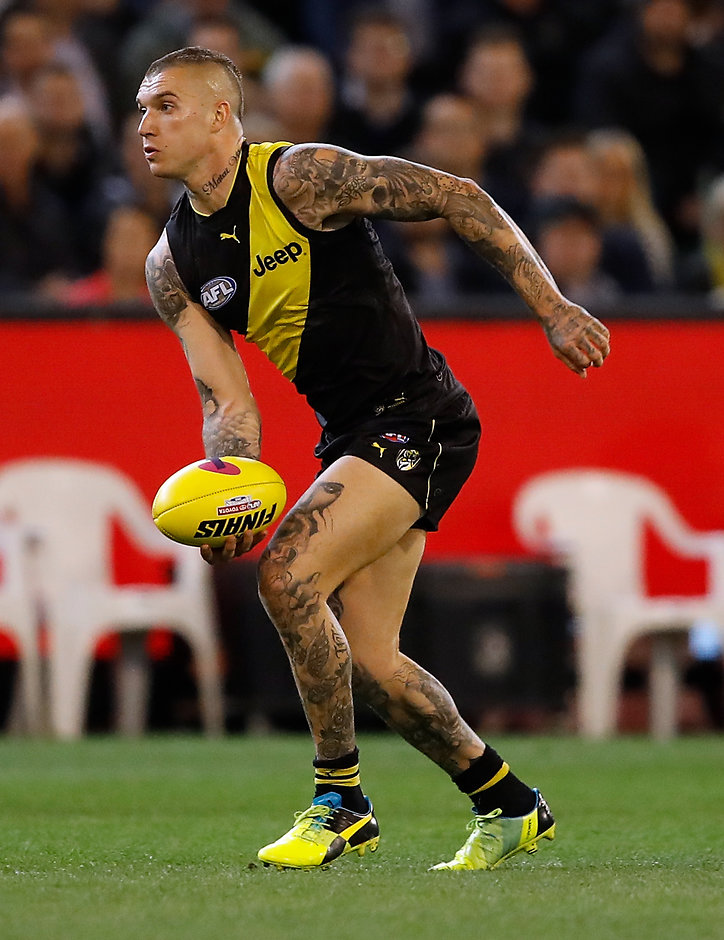 Once you're picked to play you're OK
Damien Hardwick
RICHMOND coach Damien Hardwick insists superstar Dustin Martin was "fine" to play in Friday night's first preliminary final, saying the Tigers never considered ruling him out of the blockbuster.
Martin was carrying a corked thigh that had bled into his knee when he took to the field against Collingwood and the reigning Brownlow medallist was clearly restricted by the injury.

TIGERS BURNT BY HOT PIES Full match details and stats
He spent significant time deep in attack where he was well held by Pies defender Jeremy Howe, while he fared little better when he ventured into the midfield with Levi Greenwood keeping him on a tight leash.
Martin finished with 19 possessions, six kicks and not a single clearance, way down on his respective season averages of 25.6, 16.1 and 5.5.
But Hardwick did not second-guess the decision to play Martin after the Tigers' 39-point loss.
"He was fine, once you're picked to play you're OK. Did he have his best night? No, he didn't, but there were a fair majority of our side who were in a similar boat," Hardwick said.
"Once again Greenwood did a reasonable job in and around the contest and we thought we might be able to get an advantage up forward with Dustin, but unfortunately we just couldn't get the ball to him.
"He looked dangerous there a couple of times, but we just didn't quite get the game on our terms at any stage for that to provide a real spark for us."

A PORKIE ON DUSTY'S CORKIE Five things we learned
Asked how much of an impact Martin's injury had on his performance, Hardwick made no excuses for his superstar.
"Not enough, it was fine. He didn't train for a week and a half, but once you cross that line you cross the line," he said.
Hardwick conceded Martin might have been rested in the same circumstances for a home and away game, but said he was "never a chance to miss" Friday night's game.
"Dustin would have killed me if I had said, 'You're not playing this week.' He was always going to play."

COMMENT It's the flag the Tigers should have won
Hardwick described the preliminary final loss as "a disappointing finish to a wonderful season".
The 2017 premier finished on top of the ladder after the home and away season with an 18-4 record and convincingly beat Hawthorn in the first qualifying final to book a direct path into preliminary final week.
But the wheels of Richmond's premiership defence suddenly fell off against Collingwood.
The Tigers were smashed in the first half in a manner they haven't been for some time and were effectively finished when they trailed by 44 points at half-time.
A mini-revival that brought them back within 21 points early in the final quarter briefly raised the hopes of the Richmond faithful, but the challenge was soon snuffed out.

WHO FAILED TO FIRE? Every Tiger rated in the preliminary final
"It was an un-Richmond-like performance," Hardwick said simply.
As disappointed as he was, the Richmond coach was bullish that his team was still in good shape and could rebound to contend again in 2019.
"Our guys are a pretty proud bunch. They realise the opportunity that has gone tonight, but it doesn't necessarily mean our window has closed," Hardwick said.

WATCH Damien Hardwick's full post-match media conference
"We've certainly got some areas of improvement, both in the development of our squad within, but also we'll attract some talent in the off-season.
"Trent (Cotchin) and those guys are incredibly disappointed to let the opportunity slip, but they'll bounce back pretty heavily I'd imagine."