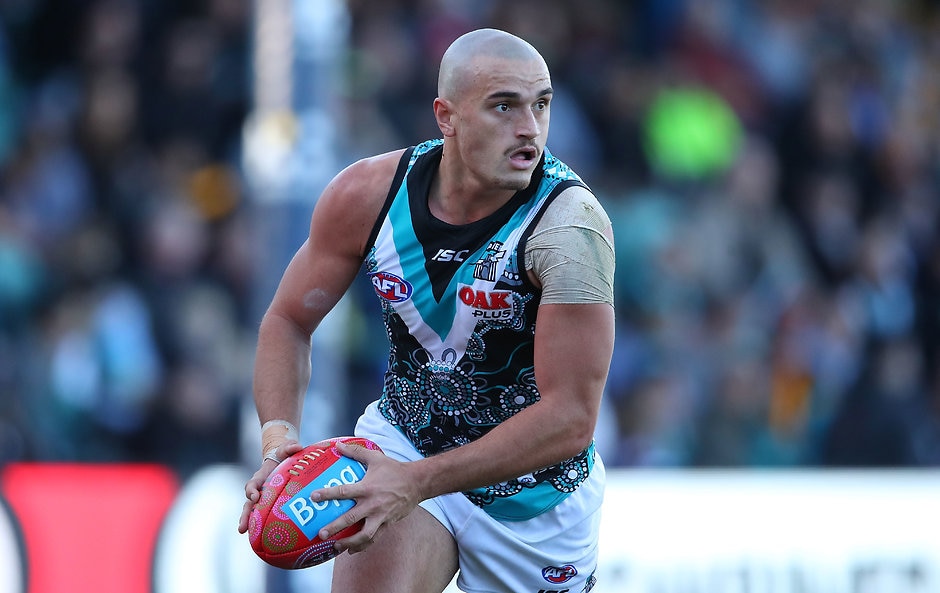 PORT Adelaide midfielder Sam Powell-Pepper has apologised for a private photograph he uploaded to Instagram on Friday.
The AFL is considering the matter.
Powell-Pepper put up a non-explicit photo of him in his underwear, while his clothed girlfriend rested her head on his leg.
It has since been deleted.
Powell-Pepper said he accidentally put the image involving his girlfriend on his Instagram story.
The 20-year-old expressed his regret in a follow-up post on his Instagram story.
"I just want to apologise for an image I posted earlier today of me and my girlfriend," Powell-Pepper wrote.
"I posted the image by accident and immediately removed it once I realised.
"It's a private image that was not intended to be shared publicly.
"Apologies if I have offended anybody."
Powell-Pepper missed three matches this season earlier this season after being found guilty of making inappropriate contact with a female and inappropriate behaviour unbecoming for an AFL player in an incident that happened in April.

The AFL has spoken to Port.
"The AFL is disappointed to see an image like this shared on social media. We request that the person who is identifiable be protected and respected by the media," an AFL statement read.
"The AFL Integrity Unit and the GM Social Policy is assessing the photo and its distribution. The AFL has spoken with the club.
"No further comment shall be made at this stage."
The Power said they were "comfortable" that the image was uploaded by Powell-Pepper accidentally.
"Port Adelaide Football Club is aware of an image posted on Sam Powell-Pepper's Instagram account earlier today," a Power statement read.
"The club has spoken to all parties and is comfortable the posting of this image by Sam of he and his girlfriend on this public forum was unintentional.
"Sam has apologised and the club has fully accepted his apology.
"The club asks media to respect the privacy of Sam and his girlfriend regarding this matter."