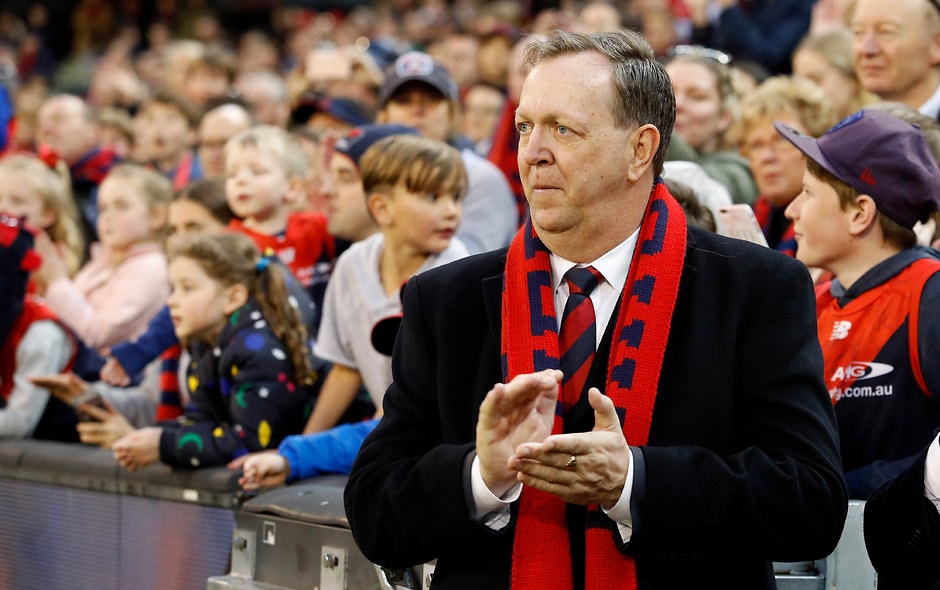 I'm 1000 per cent Melbourne and with all the time and energy we've invested over the last five years, there's no soft spot (for the Eagles)
Melbourne president Glen Bartlett
YOU couldn't get much more West Australian football than Glen Bartlett.
A star forward for East Perth, he was an inaugural Eagle, state representative, former boss of the WAFL Players' Association and even ran a management firm with John Worsfold.
For years the boy from the mining town of Collie, 50 kilometres inland of Bunbury, who loved golf and fishing, dreamed of tasting WAFL premiership success.
This weekend he returns home as the enemy, president of his adopted Melbourne Football Club, looking to knock off his former club for a berth on the AFL's biggest stage.
MEGA-PREVIEW Eagles v Demons
But is there a soft spot for the organisation that gave him his start, a club he even worked for as a consultant after he was given the flick following one season?
"Absolutely not," Bartlett told AFL.com.au this week.
"I'm 1000 per cent Melbourne and with all the time and energy we've invested over the last five years, there's no soft spot.
"My hobby for the last five years, obviously outside of family and friends, has been the Melbourne footy club. All my spare time has been devoted to that.
"It's been really rewarding. Now it's so great to see the enjoyment it's bringing to fans, the staff, the players and coaches. It really makes it worthwhile."
When Bartlett was handed the keys to the Melbourne Football Club after just one month on its board in 2013, it had capped a football journey that left many scratching their heads.
"When the Melbourne job came up and I was asked to do it, I felt like I'd been training for it for 30 years," he said.
Debuting for East Perth as an 18-year-old in 1983, Bartlett quickly established himself as one of the best key position players in the west.
Two years on, he spent two weeks in hospital, his kidney smashed by a teammate in a marking contest, forcing him into a guard for later years.
"He probably shouldn't even have been playing," Eagles teammate Adrian Barich recounted this week.
"It was like this piece of armour, like a medieval knight would wear. Someone tried to punch him around the kidney area and it just about broke their fist.
"He was an incredibly tough, hard and big man … he didn't mind exerting his influence."
Bartlett featured in four games in the Eagles' first season in 1987, calling Worsfold, Chris Mainwaring, Ross Glendinning and Chris Lewis teammates as the list formed from rival WAFL clubs.
When he wasn't getting picked by coach Ron Alexander and assistant Barry Cable, he was playing for his beloved Royals.
"I remember being torn between the two," Bartlett said.
"The best and fairest for East Perth was the same night as the Eagles night. I went to the Eagles function, left halfway through and headed to the East Perth function.
"I got a phone call when I was at East Perth saying, 'We need you to come back because you've won the best clubman award'."
It was no surprise to Barich.
"He was one of those guys that binds a club together, that was huge at a new club like West Coast and you can see what impact it's had at Melbourne," he said.
"He's just an Aussie larrikin and loves keeping in touch with people, even from 1987."
Given his marching orders by Eagles boss Bill Kerr as coach John Todd took the reins in 1988, Bartlett incredibly called on Kerr as a close confidant as his business life took centre stage.
"You wouldn't find many blokes who become that close with guys who have given them the chop, that's just the guy 'Barty' is," Barich said.
Returning to East Perth, Bartlett was even signed for the Brisbane Bears but never went, staying at home and representing WA in 1990.
With Melbourne circling for a key forward ahead of 1991, he entered a shootout in the state game with Allen Jakovich, playing for South Australia.
Bartlett's move to the Demons could have come 22 years earlier than it did.
"I kicked three before half-time, I should've kicked six, I missed three easy ones," Bartlett said.
"He (Jakovich) kicked five. He was an exciting, great player for the club, the club got that one right in my view (laughs)."
Bartlett won the Bernie Naylor Medal (league goalkicking) in 1991 for East Perth, starting to juggle increasing work demands as a Bachelor of Commerce and Law opened doors.
Work in the area of industrial relations was combined with a management firm built with Worsfold and Reg Gillard and time as a legal adviser to the WAFL and members of the Appeals Tribunal in the early 2000s.
When his work with Clayton Utz took him to Melbourne to drive new standards – for what he thought would be a short stint – he fell in love.
Brian Cook (Geelong CEO), who had coached Bartlett as a junior, couldn't get his attention, nor could North Melbourne with a link in best friend and former ruckman Alex Ishchenko.
"I just loved the Melbourne story," Bartlett said.
"I was fascinated by the history of Melbourne. They hadn't won a flag for 54 years but they were the oldest club … Norm Smith, Ron Barassi, the whole MCC.
"I got introduced to a few people by another mate and they were good people, I thought 'I'll get on board'. That was 10 years ago."
His work with Andrew Demetriou while working as the West Australian adviser on the AFLPA board led to his name growing in Melbourne circles.
As the club reached its lowest ebb in 2013, Demetriou drove Bartlett's appointment to the board and one month later he was in charge.
"Back here (Perth), all his mates thought it was hilarious," Barich said.
"To go from East Perth, a real working man's club to president of the prestigious and oldest club in the AFL.
"Even now watching Roaming Brian (Taylor, in Channel Seven post-match) and you see 'Barty' getting interviewed in his blue and red tie, you think 'How did all that happen?'
"Maybe that's what they needed, some grit because he's got plenty of that, he'll bring that to any hierarchy and that collegiate style of management."
When Bartlett walks into Optus Stadium on Saturday, he'll be in familiar surrounds considering he helped build the place.
A former director for 'Venues West', the firm behind the new stadium, Bartlett won't have to look far for friends, former teammates and associates he's been seeing since arriving early on Wednesday.
"There's been a bit of banter running into people over town since we've arrived, but I just can't wait."
"The place is going to be absolutely rocking."