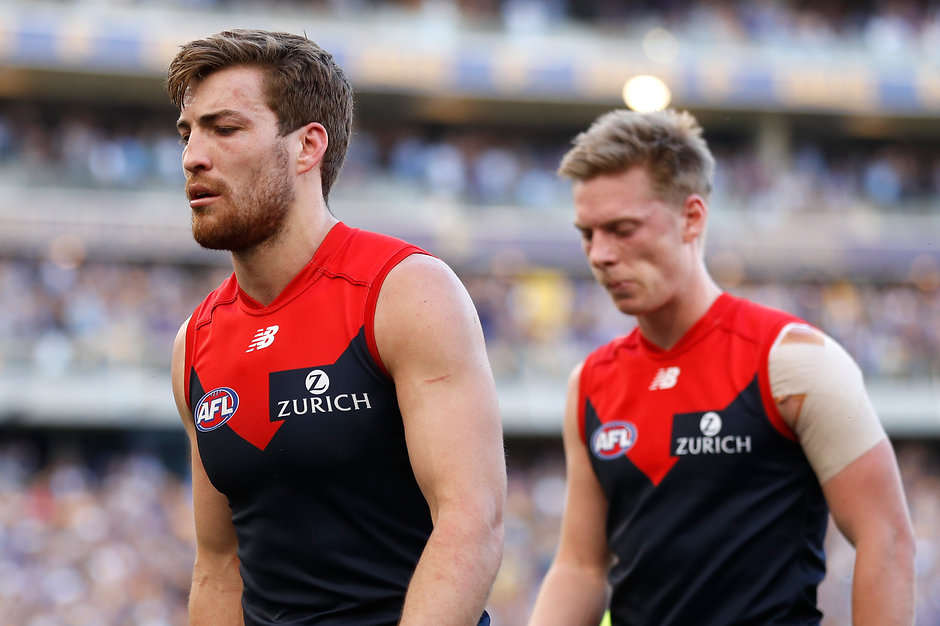 MELBOURNE'S loss in Saturday's preliminary final left an "overwhelming feeling of disappointment" in the shattered Demons' rooms, but co-captain Jack Viney was confident the club would learn from its 2018 exit.
After riding a wave of momentum into Saturday's cutthroat final, the exciting Demons had their most dangerous weapons blunted by a more committed West Coast, bowing out in their heaviest finals defeat since the 1988 Grand Final.
Viney, among a host of onballers to lower their colours in the first half as West Coast ran rampant, cut a dejected figure as the Demons came to terms with their season ending a week earlier than planned.
EAGLES SOAR INTO GRAND FINAL Full match coverage and stats
"It's disappointing obviously. It's pretty raw … an overwhelming feeling of disappointment," the midfielder told AFL.com.au.
"They came and executed what they wanted to do really well. They were on fire and we couldn't get it back on our terms.
"They played an absolutely great first half and props to them and we had to try and wrestle it back … but ultimately it's a disappointing end."
KENNEDY BLOWS AWAY THE COBWEBS Five things we learned
Viney, a driving force in the Demons' charge to a preliminary final in the opening two weeks of September, was the target of West Coast tagger Mark Hutchings in the first half, winning just nine possessions.
He recovered in the second half to finish with 21 possessions, including a team high 17 contested and 11 clearances, and said he had tried to play his natural game regardless of the attention.
The 24-year-old was confident the Demons would learn from the defeat, which ended an exciting season that saw the Demons win their first finals since 2006 and reach their first preliminary final since the 2000 Grand Final.
WATCH Three moments that mattered
"We're hoping it makes the group bigger and better," Viney said.
"Every year I've been here at this footy club, everyone has improved and shown so much growth, and this year was no different.
"Come the end of it, I'm so proud of the team and the players, the staff and the coaches.
"Everyone has invested in bettering themselves and I love the environment and the club."