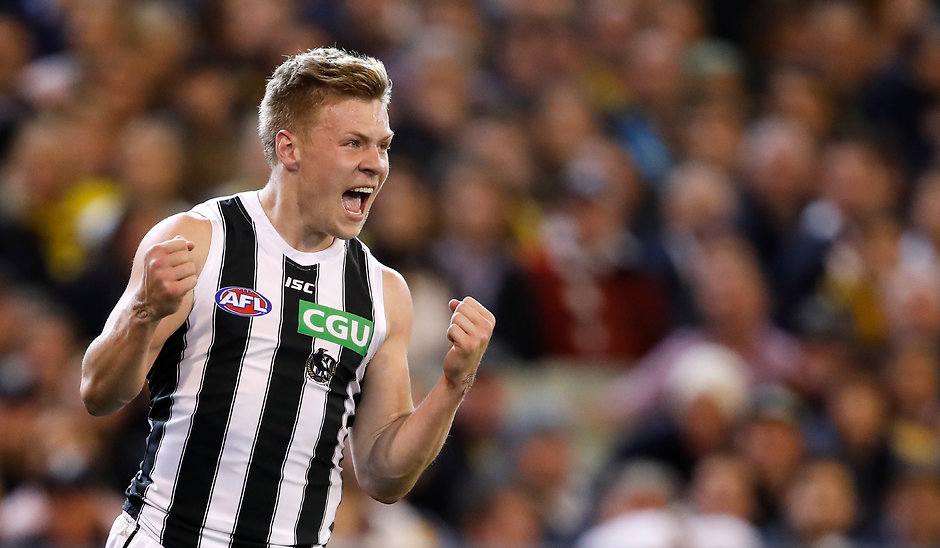 He's more receptive to being mentored and coached, and he's better at listening than he was two years ago
Brenton Sanderson on Jordan De Goey
LEARNING to listen, allowing himself to be mentored and sticking to a season-long alcohol ban are among the ways Jordan De Goey has gone from pre-season bad boy to potential premiership lynchpin.
It was the weekend of February 17 this year that De Goey recorded a blood alcohol reading of 0.095 at a random breath testing station in Port Melbourne, while driving on his P-plates.
GRAND FINAL MEGA-PREVIEW Eagles v Pies
In the following days, the sublimely talented No.5 pick from the 2014 NAB AFL Draft was slugged with a raft of club sanctions for what was his second off-season incident.
De Goey was suspended indefinitely from the senior team, banished to train at nights with the VFL squad, made to seek outside employment and fill a "meaningful role" with a charity.
He was also hit with a $10,000 fine, as well as the harsh direction from his leadership group that he wouldn't be allowed back to train with them until he could prove his "standards had risen".
Looking back now, it's easy to say the incident was a turning point for De Goey, who imposed his own booze personal ban in the aftermath.
But it could have easily been different for the headstrong 22-year-old if he'd chosen to rebel against the confronting reality his career was hanging in the balance.
"It's definitely a credit to him, because I think sometimes players can go the other way and they look for a fresh start somewhere, and he was coming out of contract," assistant coach Brenton Sanderson told AFL.com.au.
"It shows a fair bit about his character that he wanted to stay and pursue his footy journey here."
De Goey has become an indispensable part of Collingwood's finals march. Picture: AFL Photos

In the weeks after his incident, De Goey spent his Saturday nights with members of the Salvation Army, delivering food to homeless people.
He could have moved past his involvement with the charity once his sanction had officially ended, but has chosen to continue.
It's understood De Goey remains involved with the Salvo's project The Magpie Nest, which serves over 2500 meals a week in Melbourne's CBD, at least once a week.
He's also a regular volunteer for club community activities like hospital visits, showing visitors around the Holden Centre, and hosting kids at training sessions.
"He does a lot of stuff behind the scenes that people aren't aware of, but he doesn't seek public praise for that," Sanderson said.
"A lot of that's been driven by him. He's had to earn respect back and trust back.
"I think it's really helped him with his humility and empathy."
De Goey has a tight core group of allies that includes new stoppages coach Garry Hocking and player development manager Brent Macaffer.
His relationship with coach Nathan Buckley has always been good. It's one described by another insider as a "parent-type" bond where there can be disappointment because of behavior, but the relationship is able to grow as a result.
Their effect on him, as well as the impression made by the Scott Pendlebury-led leadership group, has helped De Goey open up to be mentored after he previously baulked at the concept.
"He's got a fair bit of trust in two or three people internally that help him get the best out of himself, but I think he approaches each week with a really level head," Sanderson said.
"If you ask Jordy, and my perception of him having coached him for two years, is it's common with younger players that they want to do it their way.
"He's been a bit more receptive to being mentored and coached, and he's better at listening than he was two years ago."
De Goey's response on the field has been nothing short of devastating.
He's the Pies' leading goal-kicker for the season going into Saturday's Grand Final (45), and has turned a late-season leg injury into a positive by reducing his midfield minutes and becoming a full-time attacking weapon.
Part of Buckley's rebirth as a coach has focused on him trusting his coaching staff to do their jobs, trusting his players to play their roles, and encouraging everyone to be themselves.
For De Goey, who by all accounts hasn't broken his February vow to abstain from alcohol until the end of the season, it's that kind of trust he needed to find his way and recommit to the club with a two-year extension in June.
"If you asked him, I'm sure he'd say he's felt really supported throughout the season and he's been able to play his footy on the back of being trusted to execute his role," Sanderson said.
"I don't know if he's got this perception externally but he does work really hard on his game, he's really good with vision, he'll come in and look for opportunities to get better and provide a difficult match up.
"He's got power, speed, he's strong overhead and he's got an element of class as well.
"I'd like to say he's paying the club back … but he's part of a group that's really close and really just enjoying their footy together."