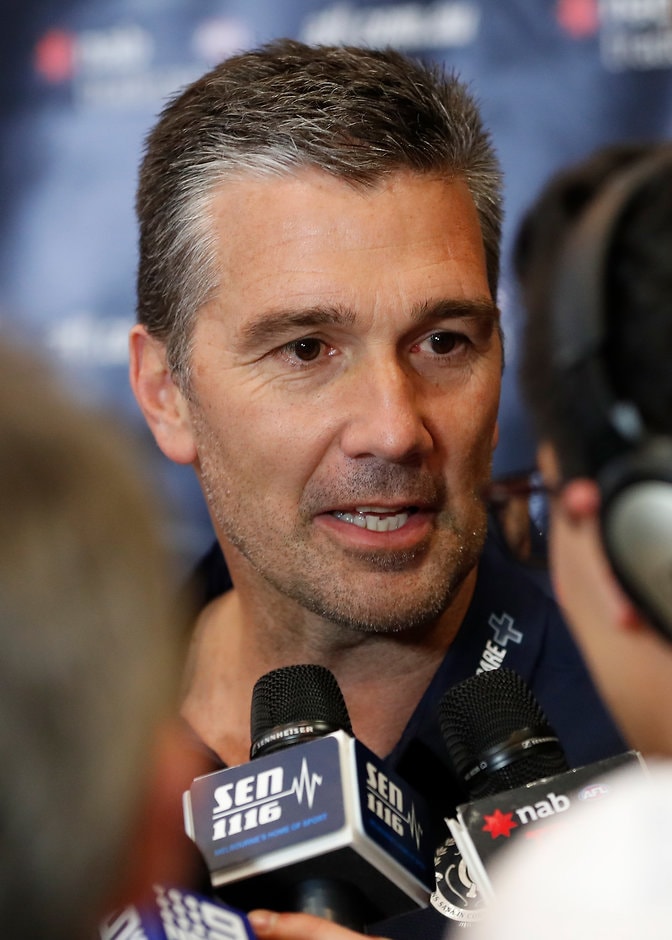 We said through the trade period that if someone came with something that was overs, we'd certainly look at it
Stephen Silvagni
CARLTON will continue to dangle the No.1 pick in the NAB AFL Draft, with clubs still able to shift draft selections over the next month following the introduction of live trading.
The NAB AFL Trade Period may have closed on Wednesday night, but new AFL rules dictate that clubs can still trade draft picks right through until 2pm AEDT on Friday 16 November.
Clubs will then be able to again trade picks as the draft happens on November 22 and 23.
NAB AFL TRADE HUB Latest news, videos and live blog
The Blues refused to rule out the prospect of trading pick No.1 throughout the exchange period and continued to suggest that it may be up for grabs after Wednesday's deadline.
However, despite suggesting several times that a trade could happen, Carlton's general manager of list management Stephen Silvagni said the prospect of parting with the prized first selection during the exchange period was unlikely.
"Probably not," Silvagni said after the trade period closed.
"We obviously value that pick. We said through the trade period that if someone came with something that was overs, we'd certainly look at it.
"But having said that, there's still time to do that. With the live trading with picks on the night and over the next couple of weeks, you never know what may happen."
A number of clubs may still try to poach pick No.1 from Carlton, with Gold Coast well placed to tempt Silvagni and his recruiting team with their array of top-30 selections.
INDICATIVE DRAFT ORDER Your club's picks
The Suns finished the trade period armed with picks 2, 3, 6, 24 and 29 and may consider bundling those selections in order to move further up the draft order.
Adelaide and Port Adelaide are also likely to continue to vie for a higher draft position due to the number of quality South Australian prospects in this year's crop of young talent.
Jack Lukosius, Izak Rankine, Connor Rozee and Jackson Hately lead the South Australian youngsters considered first-round prospects, with all said to be potential top-10 picks.
Port Adelaide currently holds picks 5, 10 and 15 should they attempt to move up the draft order, while Adelaide is in possession of picks 8, 13, 16 and 21 should they try.