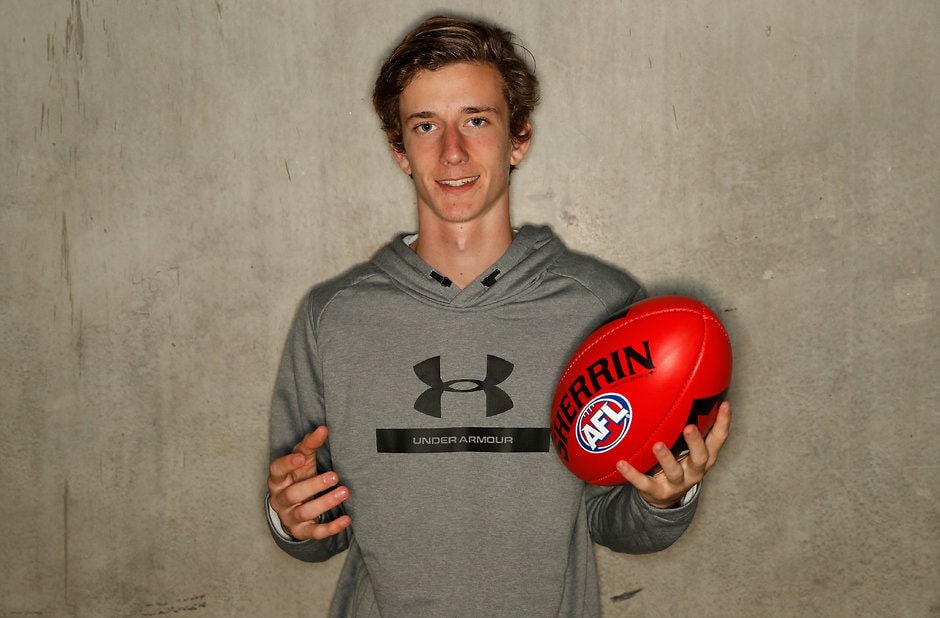 IF SAM Sturt had any doubts about following a football career over his first love of cricket, then his mind was sealed four weeks ago.
Sturt, the bolter of this year's NAB AFL Draft who could be picked in the top 20 after an exciting finish to the year with the Dandenong Stringrays, was playing in New South Wales for the Victorian under-19 trial series.
It was just days after he had played in the Stingrays' TAC Cup Grand Final win, and the talented batsman took to the crease keen to impress in the three games.
"The first game I played I made a golden duck, the second game I made 12 and then the third game I made another duck so it was not successful at all," Sturt told AFL.com.au.
"That cemented my love of footy."
NAB AFL DRAFT HUB Latest news, video and more
Truth be told, Sturt was already leaning the way of the AFL.
In only a matter of months he had gone from missing out for selection at local football club at Mount Eliza, to performing well for school side Peninsula Grammar, winning selection for the Stingrays, playing a key role in their premiership and being a late call-up to the NAB AFL Draft Combine.
"It's been a huge whirlwind," the 18-year-old said.
It all started to feel a little more possible mid-year, when Melbourne's recruiters got in touch and organised an interview at Sturt's house. He didn't know what to expect, what they would ask, or why they were even coming.
But they arrived, filmed the chat, and since then 15 other clubs have been at Sturt's house, interested to know more about his story and why it took so long for his ability to shine at under-18 level.
PHANTOM FORM GUIDE Cal Twomey's latest update
Cricket is a major reason for that, having been Sturt's priority for many years. Then, after stringing together good form for Peninsula's school side and its under-19 team in Victoria's amateurs league, the Stingrays were keen to play him but he was on a family holiday in Thailand.
When he did break into the Stingrays side he impressed as a sharp left-footed half-forward with goalkicking nous, and he grew with confidence every game.
"Cricket was always my main focus since under-11s. I did a pre-season every year for cricket because that's where I got presented the most opportunities. Then I got an opportunity this year to play with Dandenong and I really enjoyed the intensity of the game and how fast it was. I loved everything about it," he said.
"After the first couple of games I realised I actually should be there and I probably was capable. At the start I was a bit hesitant around the group – I don't think they really understood why I was there so late in the season but I ended up showing them that I could play at that level.
"I sensed that a bit, like 'Is he going to play finals with us in such a dominant side?' I think they were a bit like 'Why is he here so late in the year?' It was a pretty big reward playing so many games with the Stingrays in such a short amount of time and winning the flag as well."
BEST OF THE BEST Combine's standout performers
He also did it under some duress in the finals, having calf and knee issues that he believes were a "ripple effect" of a blister on his foot that came after he spilled oil on himself while working at the local fish and chip shop.
The buzz around Sturt saw him added to the Combine testing week at Marvel Stadium, and he didn't let anyone down there either, with the 189cm prospect finishing in the top 10 for the agility and 20m sprint tests, and winning the vertical jump (right foot).
Recruiters had no data on him before the Combine, so it was another key step in what Sturt describes as a crazy year.
"I always thought I was relatively capable but I didn't understand any of this would happen. I never dreamed of it but it's been pretty amazing," he said.