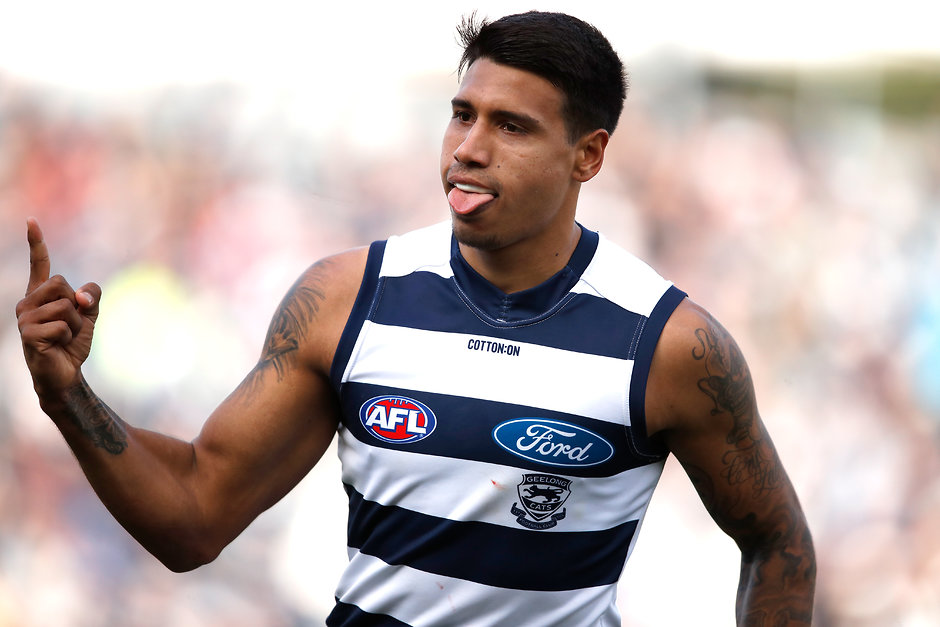 IF HOMESICK Tim Kelly needs any inspiration to continue his AFL career at Geelong, he need look no further than Sydney great Ryan O'Keefe.
Mature-age recruit Kelly was a first-year sensation, finishing equal-second in the Cats' best and fairest, but the father of three was unsuccessful in his bid to be traded to reigning premier West Coast and will now fulfil the final year of his contract with Geelong.
The wantaway West Australian, 24, would be wise to use the case of O'Keefe as his blueprint for success in 2019.
At the end of 2008, the Swans star – who had a premiership (2005), an All Australian selection and a second placing in the club champion award (both in 2006) to his name – wanted to return to his native Melbourne.
Free agency was still four years away so the 27-year-old's hopes hinged on securing a trade, and his preference was newly minted premier Hawthorn, while Carlton and Collingwood were also suitors.
However, to O'Keefe's frustration, a trade deal wasn't forthcoming. So he did an about-face.
Rather than take his chances in the pre-season draft, where he would likely have been snared by Port Adelaide with pick No. 2 (which it ultimately used to reclaim its 2004 premiership player Josh Carr from Fremantle), O'Keefe recommitted to the Swans on a four-year deal.
Casting aside his initial disappointment, he was granted his wish for a move from half-forward to the midfield – a challenge he'd always aspired to and one he felt reinvigorated him – and responded by winning Sydney's best and fairest the very next season.
And in 2012 O'Keefe played a key role in another Swans premiership, producing a superb finals series that culminated in him receiving the Norm Smith Medal after having 28 possessions (12 contested), seven clearances and 15 tackles in the Grand Final against the Hawks.
O'Keefe's career ended at 33 in 2014, after 286 games and 261 goals.
WHO'S LEAVING YOUR CLUB? All the latest retirements and delistings
Ten years on from his Sliding Doors moment, O'Keefe remains proud of how he lifted his game to new heights after the Trade Period and believes that with the right mindset Kelly could achieve similar success.
"It's like anything in life: you come to forks in the road and you've got to decide which way you want to go. You've got to look at it professionally and work out what you want to become," O'Keefe told AFL.com.au.
"The way to approach it is, 'OK, this is how the cards have fallen, and I can't do anything about that now. I've got to get on with it and make the best out of this situation.'"
The Cats and Eagles couldn't agree on a deal for Tim Kelly. Picture: AFL Photos
O'Keefe encouraged Kelly to take the same professional, positive approach to returning to the Cattery.
"Ultimately, it's going to come down to him and his attitude," O'Keefe said of Kelly.
"As long as he's being honest with everyone about his reasons for wanting to go back to WA, then it's a case of, 'I'm fully committed to the club while I'm here and I'll prove it with my actions.'
"If he goes back to the club with the right attitude, works hard, earns his spot and plays good footy, I don't see anyone (at Geelong) begrudging him. I'm sure everyone at the club would be happy.
"I'd be telling him: 'You're there now and you're very privileged to have an AFL career – it's the best job in the world. What do you want to get out of it? If you've got pride in yourself and your performance, not just as an athlete but as a person, you won't let your standards drop. Have a think about what made you play good footy this year and try to repeat it.'"
Such scenarios have the potential to cause tension in the ranks, but it was just business as usual for O'Keefe when he joined the Swans' pre-season campaign in late 2008. It helped that he was one of the club's fittest and most professional players, and one of its hardest trainers.
"There wasn't any awkwardness at all. You spend a lot of time with your teammates and most of them are your friends, so they understand. And that goes for the coaching staff too. There weren't any grudges," he said.
"AFL is a business. It's a business for the clubs and it's a business for the players, and everyone is very professional about it and just gets on with it."