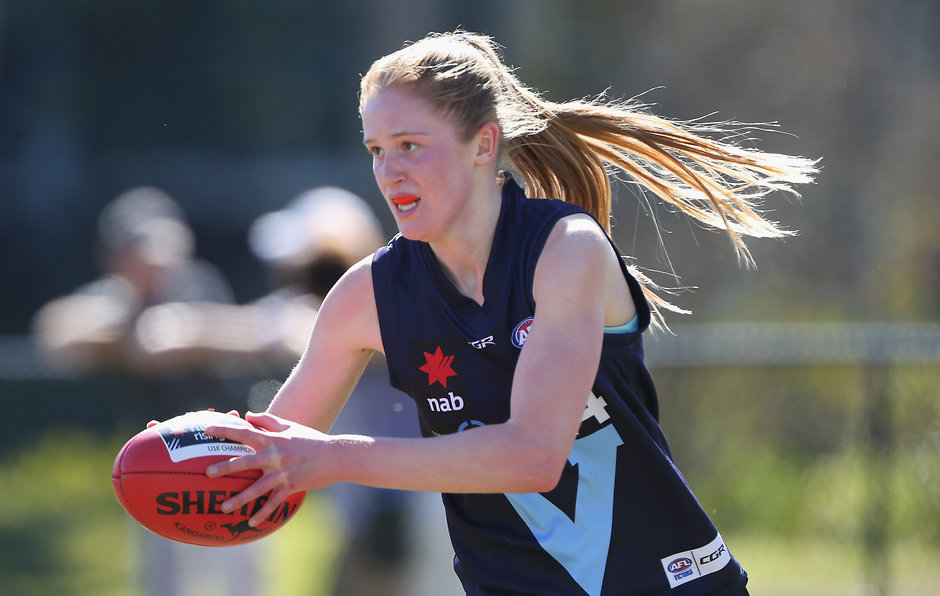 FOUR potential father-daughter selections headline the list of 48 players selected for the 2019 NAB AFLW Academy squads.
Isabelle Grant (daughter of Western Bulldogs' Chris) and Millie Brown (daughter of Geelong's Paul) are part of the level two squad, meaning they are eligible to be drafted at the end of 2019.
Alice Burke (daughter of St Kilda's Nathan) and Tarni Brown (daughter of Collingwood's Gavin) are in the level one squad and will have to wait until the end of 2020 to have the opportunity to be drafted.
Selection to the academy results in three high performance camps throughout the year, the first of which will be held at the Australian Institute of Sport in Canberra from 16 December.
Players will also have the opportunity to join in on training sessions with AFLW clubs during the coming pre-season.
"At the recent NAB AFLW Draft, 19 Academy players joined AFLW clubs," AFLW talent manager Aasta O'Connor said.
"With four further expansion teams entering the AFLW competition in 2020 (Gold Coast, Richmond, St Kilda and West Coast), the high performance coaching we provide these players is even more important."
Players for this third iteration of the Academy were selected by the newly formed AFLW Academy advisory group, made up of Bree Brock (Brisbane Lions AFLW CEO), Trent Cooper (Fremantle AFLW coach), Alan McConnell (GWS AFLW coach), Darren Flanigan (AFL Victoria), Gary Nicholls (AFLW Academy) and the AFL's Luke Power, Luke Brennan, Nicole Livingstone and Aasta O'Connor.
Tarni Brown, daughter of Gavin, will hope to follow her brothers onto the Magpies' list. Picture: AFL Photos


Level Two squad (born 2001 unless stated)
Lillian Doyle (Grafton, NSW/ACT)
Georgia Garnett (Kellyville/Rouse Hill Magpies, NSW/ACT)
Tarni White (Coorparoo, Qld)
Charlotte Hammans (Bond University, Qld)
Kitara Farrar (South Cairns Cutters, Qld)
Belle Dawes (Wilston Grange, Qld)
Dee Heslop (Yeronga, Qld)
Lily Postlethwaite (Moreton Bay Lions, Qld)
Serene Watson (Bond University, Qld)
Ellie Hampson (Hermit Park Tigers, Qld)
Jaimi Tabb (Woodville-West Torrens, SA)
Montana McKinnon (South Adelaide, SA)
Mia King (Launceston, Tas)
Millie Brown (Murray Bushrangers, Vic)
Sophie Molan (GWV Rebels, Vic)
Georgia Patrikios (Calder Cannons, Vic)
Britney Gutknecht (Northern Knights, Vic)
Molly McDonald (Dandenong Stingrays, Vic)
Lucy McEvoy (Geelong Falcons, Vic)
Isabella Shannon (Dandenong Stingrays, Vic)
Laura McClelland (Eastern Ranges, Vic)
Gabrielle Newton (Northern Knights, Vic)
Isabella Grant (Western Jets, Vic)
Cleo Saxon-Jones (Western Jets, Vic)
Lucinda Cripps (Dandenong Stingrays, Vic)
Emma O'Driscoll (born 2000, Swan Districts, WA)
Tayla Pescud (Swan Districts, WA)
Mikayla Bowen (Swan Districts, WA)
Roxanne Roux (East Fremantle, WA)
Courtney Hodder (born 2000, Peel Thunderbirds, WA)
Rosie Deegan (Subiaco, WA)
Level One squad (all born 2002)
Tarni Evans (Queanbeyan Tigers, NSW/ACT)
Zimmie Farquharson (Calamvale Leopards, Qld)
Annise Bradfield (Southport, Qld)
Alyssa Bannan (Northern Knights, Vic)
Olivia Barber (Murray Bushrangers, Vic)
Alice Burke (Sandringham Dragons, Vic)
Ellie McKenzie (Northern Knights, Vic)
Tyanna Smith (Dandenong Stingrays, Vic)
Olivia Meagher (Eastern Ranges, Vic)
Maggie Caris (GWV Rebels, Vic)
Isabella Simmons (GWV Rebels, Vic)
Tarni Brown (Eastern Ranges, Vic)
Isabelle Pritchard (Western Jets, Vic)
Abbey Dowrick (Subiaco, WA)
Brianna Hyde (Swan Districts, WA)
Mikayla Hyde (Swan Districts, WA)
Sarah Verrier (Peel Thunderbirds, WA)