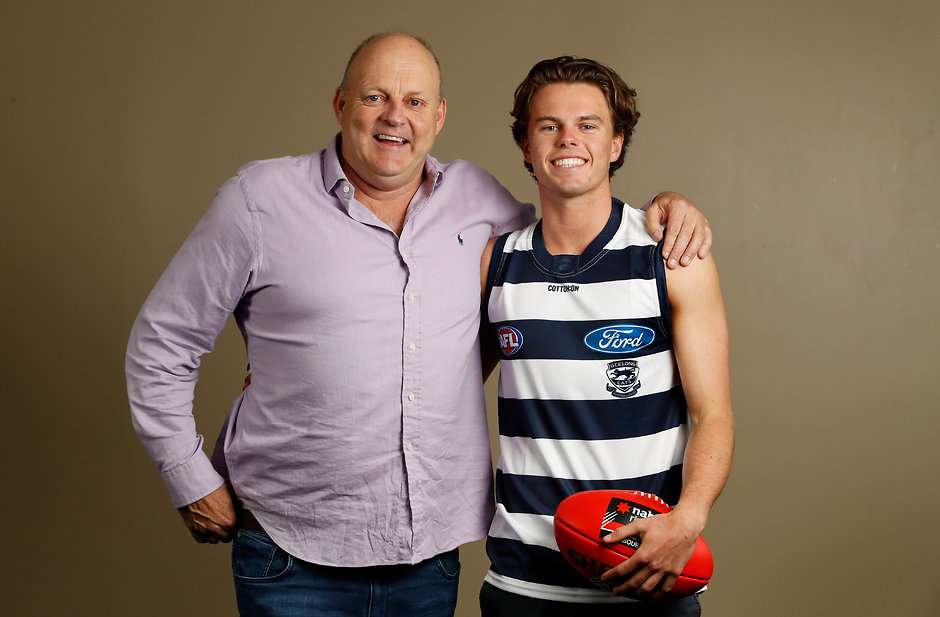 OSCAR Brownless' journey from "chubby" schoolkid to AFL-listed player has led to praise from his famous father Billy, who says his son had to "get down and dirty" to make his draft dream come true.

On Saturday, the Brownless family were still coming to terms with the reality that Oscar – an endurance midfielder – is officially a listed Geelong player, thanks to pick No.74 in Friday's NAB AFL Draft.
NAB AFL DRAFT HUB Latest news, video and more
It gives the 18-year-old the chance to follow in the footsteps of Billy, who played 198 games for the Cats between 1986 and 1997.

And it comes after Billy himself admitted he had some doubts in years gone by about Oscar's potential to get drafted.

"I have got to take my hat off to him, he has worked really hard and I remember five or six years ago he was a bit chubby and I was thinking, he won't even get a game with Geelong ammos, which was where he was playing," Billy said on Friday.

"But he has worked really hard and to his credit he has got down and dirty and he likes the contested stuff.

"He uses the ball well and his running is really, really good so that is where he has really improved things."
WHO SMASHED IT? Your club's draft verdict
Oscar finished year 12 as a young graduate in 2017 and has spent the past year working at the Cremorne Hotel in Newtown, which Brownless took over in 2016.

Without a Responsible Serving of Alcohol certificate, Oscar couldn't work behind the bar and instead was tasked with collecting glasses and plates from the tables.

He arrives at Geelong more than familiar with what goes on behind closed doors at a professional sporting club, even though his dad's playing days were over when he was born in 2000.

Billy has remained involved with the Cats since his retirement, which influenced Oscar's desire to follow suit.
HOW DID THE GURU GO? Callum Twomey's late mail
"I've grown up around the club and I've been in there since I was a little kid, looking up to all the stars, it's been something that's been with me and fuelling me as long as I can remember," Oscar said.

"It is the reason why I played footy and still the reason why I play today.

"You've got some big [father-son] names there, like Scarlett, Hawkins and Ablett but I'm just trying to do my part and not getting too far ahead of myself at the moment.

"It's still early days and I have got a lot of work ahead of me but I know I have got some great contacts for support around the club if I do need."
DRAFT WRAP Blues claim Walsh, Suns take SA duo
The morning after the draft, Collingwood father-son recruit Will Kelly revealed he had declined the Magpies' offer to wear his dad Craig's No.23 guernsey, instead opting to don the No.27 to forge his own path as a player.

An unconfirmed report on Saturday suggested Geelong midfielder Scott Selwood had offered Oscar the opportunity to wear Billy's No.16 if he wanted it.