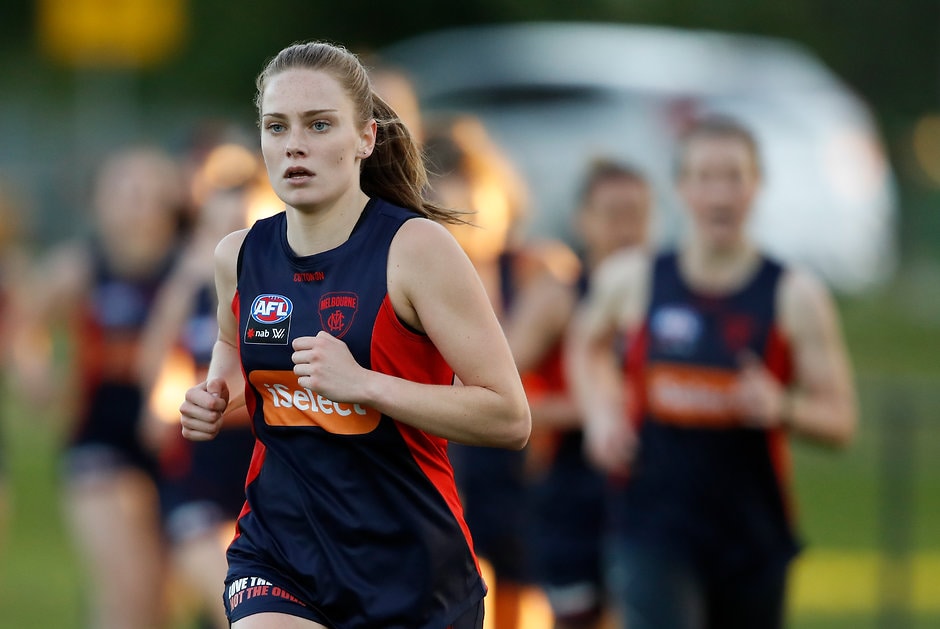 MELBOURNE defender Sarah Lampard's intricate understanding of her knee reconstruction even extends to examining the inner workings of the joint.
In a curious twist, her medical studies provided a unique look at the interior of a knee during her rehabilitation early this year.
Lampard, who is in full training for the 2019 NAB AFL Women's season, seized the chance to dissect the knee of a cadaver during a class as part of her bachelor of science course at Melbourne University, where she is majoring in anatomy.
"When I did my knee, I was doing a subject learning about the ACL and other aspects of the knee. There was one time when we were dissecting the lower limb joints and, obviously, one of them was the knee.
"I was like, 'Guys, stand back, I want to show you what I've done'. I was able to get in there and see what had actually happened," the third-year student said.
Understandably, Lampard was intrigued by the ACL, pondering the thickness of the graft in her repaired right knee so severely damaged in the last home and away round against the Western Bulldogs in mid-March. The injury ended a wretched second AFLW season for the rebounding defender.
After playing every game in the inaugural AFLW season, Lampard managed only five minutes on the field last summer, dogged by hamstring and knee ailments.
She was poised to take her game to another level in 2018 after finishing runner-up in her VFLW club's best and fairest award during the previous winter after extra tuition from Demons' AFLW coach Mick Stinear.
"I was really enjoying my footy, putting some games together. I would come back here (to Melbourne's training base) and go through footage with Mick and pick out a couple of things I needed to work on back in the VFL," she said.
"It made a big difference."
The 21-year-old's troubles started when she injured the left hamstring in the final practice match against Collingwood at Olympic Park in late January. Still with power in the leg, she continued playing and even joined the three-quarter-time huddle.
"I had come back from shin splints to play the second half and, within 10 minutes of being out there, I was running back with the flight, jumped and ruptured my hamstring," she said.
We had pretty much done the entire pre-season and here I was getting scans, devastated I might miss a couple of weeks.
"To hear it was probably going to be season-ending was worse. It was supposed to be a three-month injury, but I didn't need surgery and ended up getting back for round seven."
But footy fate flattened her again in that critical last home and away round, a disastrous night for the Demons that saw the Bulldogs win to secure second place on the ladder and a place in the Grand Final against the Brisbane Lions.
"It was essentially a preliminary (final). I started on the bench and came on as part of the wing rotation and, within four minutes of being on the ground, I went up for a mark and another player landed on the back of my leg and pushed the tibia (bone) forward," Lampard said.
"It was a bit unstable, but in my mind, I was going to get off the ground, get some treatment and come back on. They were doing some tests and they said it was a suspected ACL tear.
"In my head, it was just devastation. I was in shock, I couldn't believe it had happened."
As well as welcoming back Lampard, the Demons also have forward Ainslie Kemp in full training. Kemp has recovered from major knee surgery following a training mishap 12 months ago.
Stinear likened the pair's return to having two extra recruits.
"Ainslie was also going through recovery from an ACL reconstruction and we had each other for support doing pretty much each session together," Lampard said.
"We never stalled or plateaued in our rehab … we were always going forward.
"I was fortunate when I did my knee as it was an impact injury when I landed and got hit at the same time. So, in my head, I'm not worried running around that when I change direction I'm going to do it again," she said.
"It actually feels really good and there's no awareness of it when I'm training."