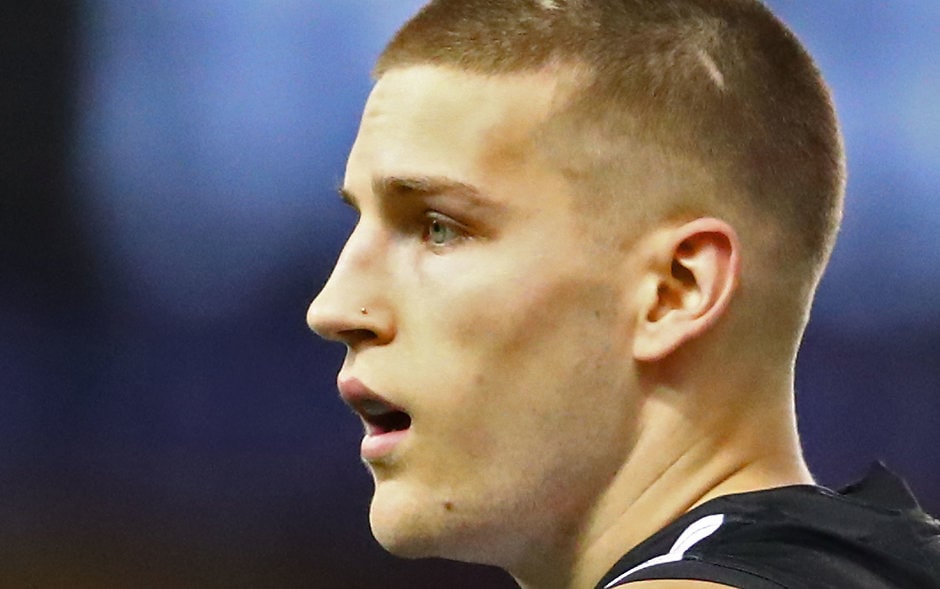 BRAYDEN Sier could have been forgiven for feeling a little uneasy when Collingwood regained champion Dayne Beams from Brisbane.
After two injury-plagued seasons the promising inside ball-winner finally found some continuity this year and broke through to play 12 AFL games, including four impressive finals, but the recruitment of Beams raised the possibility that Sier could be squeezed out of a Magpie midfield bursting with talent.
However, in a chat with AFL.com.au at the Holden Centre, the introverted Sier didn't show any sign of unease – in fact, he appeared self-assured and excited.
FULL FIXTURE Every round, every game
Sier only sees positives in Beams' return, believing it will enormously benefit both him and the club in their premiership quest.
"I haven't really thought about it too much – I don't tend to overthink things – but I'm not really worried about my place in the team. I'm pretty confident that if I stay healthy there will be a spot for me," Sier said.
"I think it'll be great having 'Beamsy' back at the club. He's pretty much a veteran now so he's another experienced guy to feed off and learn from.
"I'm looking forward to getting used to playing with him through the pre-season.
"It'll give us a lot of options and a lot of weapons, especially going forward with Jordy (De Goey) coming in and out of the midfield, and 'Beamsy' is a goalkicker too.
"It'll be bloody tough for other midfields. I'd be more worried if I was in the opposition team rather than me trying to keep my spot."
CLUB LISTS COMPARED Oldest? Youngest? Most experienced?
It's a mature outlook for a young man who will turn 21 on December 12, particularly given Sier didn't make his AFL debut until the round 15 clash with Gold Coast at Metricon Stadium, after Adam Treloar was injured the previous week.
The 191cm bull nicknamed "Bear", who inherited club great Dane Swan's old No.36, quickly showed he was a unique proposition in the Pies' onball brigade.
"Being a bigger guy, I think I've got a nice little niche in the midfield," he said.
"I was in a good space late last season so I want to build on that and add a few strings to my bow, like becoming more explosive and confident running away from stoppages."
PROS AND CONS Our verdict on your club's fixture
Sier has been running well in the first fortnight of pre-season training with the Pies' first-to-fourth-year players (the senior players return on Monday) after putting himself through another gruelling, week-long Muay Thai camp in Phuket.
He feels fitter, stronger, leaner and lighter on his feet – and is becoming increasingly in tune with his body.
"I've grown more accustomed to knowing when to push yourself and being smart with your body so you don't hurt yourself. I'm pretty close with (strength and conditioning manager) Kevvy White and he's really good with that," Sier said.
WHO MAKES FINALS? Do the 2019 Ladder Predictor
"Previously I was less in touch with all the staff and I'd eventually break down. Now there's a lot more care and monitoring and communication and it really helps everyone work well together. It's been a massive cultural shift over the past two years."
The resultant continuity has been the key to his rise, he said.
"I always believed I could make it at the level, and I thought that once I got that consistency I could show everyone why I was here," said the Pies' first pick at No.32 in the 2015 NAB AFL Draft.
"And the more I played, the more I enjoyed it. That's half the battle – when you start enjoying something you start doing well at it. And I'm loving it."
MUST-WATCH GAMES The 22 you won't want to miss
Very much his own man, Sier takes to the field wearing some novel items of jewellery – silver studs in both nostrils.
"I've had them for a while. I wasn't sure if I could wear them (to play) but no one said I couldn't so I just wore them," he said. "In my first game (Collingwood's football operations coordinator) Shannon (Collins) told me to cover them up but I didn't and he thought we were going to get fined. I cover them when I remember. They don't bother me. It's not like they're rings."
Many experts will tell you the Pies have uncovered a jewel in Sier. Chief among them is Melbourne great Garry Lyon, who says Sier reminds him of Sydney skipper Josh Kennedy. Sier is flattered.
TOUGHEST DRAW? Champion Data ranks every club
"I try to learn tricks of the trade from all the gun players and make them my own. Hopefully one day they'll say someone plays like Brayden Sier," he said.
Sier, who lives with his parents in Melbourne's north-eastern suburbs, plans to do a building course next year. In the meantime, he will continue to build his burgeoning AFL career.