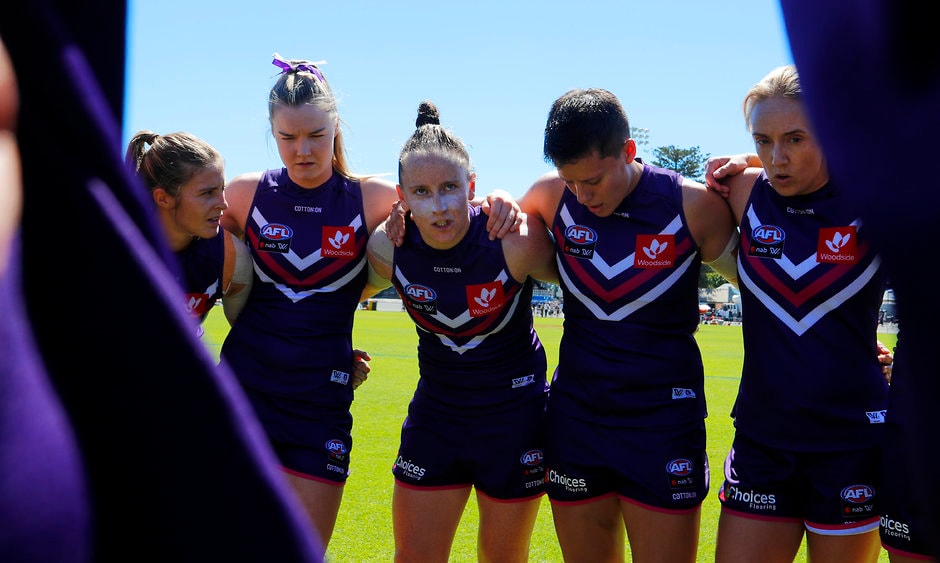 FREMANTLE captain Kara Donnellan believes the Dockers' focus on sharpening their ball use will help bridge the gap to the AFL Women's elite teams next season.
The Dockers have gone back to basics since Trent Cooper took over from inaugural coach Michelle Cowan, who stepped down after consecutive seventh-place finishes.
Fremantle is set to roll out an attacking brand of football next year, and Donnellan has been buoyed by the progress to date.
"If you look at the stats, our disposal efficiency (needs to improve)," Donnellan told AFL.com.au.
"Collectively as a competition we need to get better under pressure. When you're hitting targets and hitting the scoreboard you're going to win games.
"That's an area Trent and the coaching team have really tried to focus on this pre-season and the first couple of weeks especially.
"Keeping (the ball inside 50) and getting a score on the board (is important). You don't get too many opportunities unfortunately because the game is so quick and open."
Donnellan paid tribute to Cowan for her part in establishing the team and keeping the majority of the list together.
The 26-year-old is looking forward to a new era under Cooper and hopes the club can push for finals next year.
"This will be my third season, but it feels like year one again," Donnellan said.
"It's been a really positive vibe and exciting having nine new players on board.
"(Cooper has) been fantastic, just a true professional at what he does. His teaching background really helps how he communicates what he needs from us.
"His expectations are quite high, which they need to be at this level," she said.
After sitting out the WAWFL season following surgery to clean up both her knees, Donnellan is feeling recharged and can't wait to get back on the field in February.
"It was good to have a mental break more than anything," the star midfielder said.
"We had a couple of tough seasons, I suppose, not getting the results we wanted, but the start (of this pre-season) has been really good.
While she wasn't playing, it was still a busy off-season for Donnellan.
She was recently appointed Swan Districts' women's coach after a stint in the role during winter and is planning her wedding to star teammate Ebony Antonio.
They were engaged in April, only days after Antonio won the club champion award and hinted she was waiting for a proposal.
"It was quite funny because I had the ring for a while prior to that and there only two people in the room knew about it and they were both sitting at my table when she said that. They both looked at me and I thought, 'Oh crap, someone has let the cat out of the bag'," Donnellan said with a laugh.
"We headed to Bali for a week and thought it was the right time.
"She thought I was taking the piss to be honest, but obviously she said yes and we're planning the big day next October to coincide with the footy (break) and getting it done before pre-season."
"I'm really fortunate to experience this whole journey with her, and I wouldn't have it any other way."