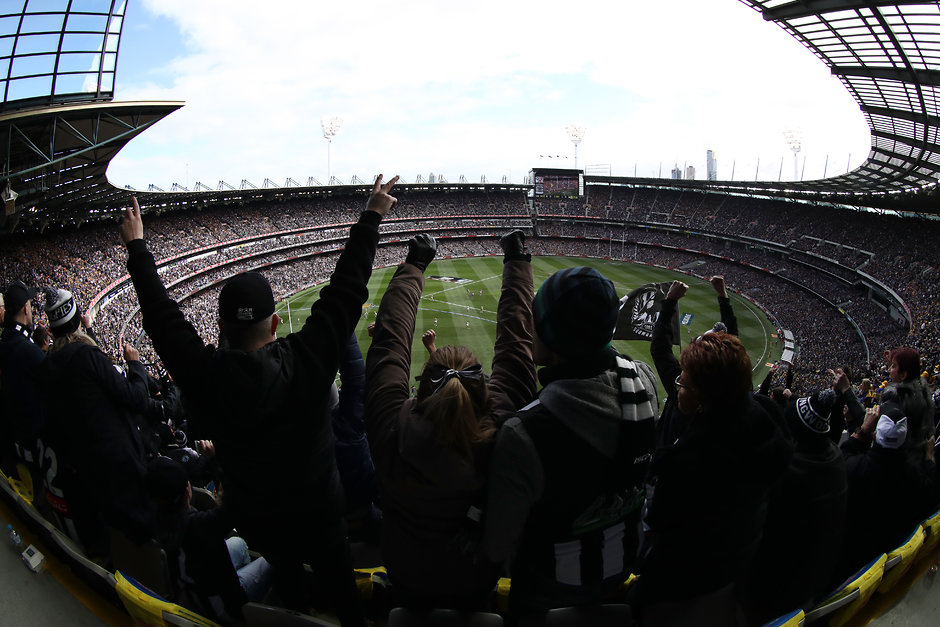 PAPER tickets are soon to be a thing of the past for football fans, with digital ticketing and facial recognition technology set to take over.
Ticketmaster, one of the AFL's ticketing partners, is planning to go 100 per cent digital over the next 12 months as it tries to create a more personalised experience for fans, as well as reduce fraud.
Fans without smartphones or a mobile device won't be excluded from attending events, with venues still able to read barcodes on non-digital tickets, while while the option to collect tickets from a box office will also remain for the time being.
In the USA, Ticketmaster is set to roll out digital tickets next year in time for the NFL season, while the technology is expected to hit Australian shores next year, mid-way through the AFL season.
FULL FIXTURE Every round, every game
"Our next generation venue access control and fan engagement platform will replace traditional, anonymous paper tickets with digital passes that will create a much more personalised experience for fans from the moment they purchase a ticket to well after an event has ended," Maria O'Connor, Ticketmaster Australia and New Zealand managing director told AFL.com.au.
"From our perspective, getting rid of the paper ticket and going 100 per cent digital unlocks a whole new world of opportunities. Delivering each ticket to a fan's smartphone means we know who the individual attendees are, not just the buyer.
"Identifying every person who enters the building not only increases security, but dramatically decreases ticketing fraud while increasing marketing potential.
"It also provides a much more engaging and personalised experience for fans. Digital tickets are much easier to forward to friends and easier to sell to other fans safely and securely through our fan-to-fan exchange, at the price paid and no more.
WHO MAKES FINALS? Dothe 2019 Ladder Predictor
"We are working very hard to roll-out this technology in Australia in the second half of next year and will use venues such as Marvel Stadium and Perth's Optus Stadium for beta testing within the market."
At the moment in Australia, venues are only able to identify one in three fans that step inside their doors, but this will change as fans transition to mobile entry.
The technology is already in use at nearly 200 venues across North America and the UK.
So far more than 13 million fans have used digital tickets to enter venues with "almost zero instances of fraud", O'Connor said.
Justin Re, VP of product management at Ticketmaster North America, was a keynote speaker at the AFL Industry Fan Summit in early November and presented the concept of digital tickets to representatives of all 18 AFL clubs.
He also floated the idea of using facial recognition technology to take ticketing into the future.
Earlier this year, Ticketmaster acquired Blink Identity, a new tech startup focused on biometrics that builds facial recognition products.
Essentially, Blink Identity takes a photo and turns that into a mathematical algorithm which is then stored, while the photo is discarded.
The technology is then able to identity people in motion, which opens even more opportunities for clubs and venues to engage with fans.
"We think eventually we can get to the point where we can have marketing, engagement and sponsoring opportunities like this on your phone, based on walking through a certain section," Re said.
"We think there's a long play here, we have an iron in this fire, we are really interested to see what this does, but we will probably play around with it next year. "
"Facial recognition could be used for things like backstage credentials for artists or access to club change rooms. We are trying to think of interesting ways to employ this, so it is less invasive in areas that need high security."