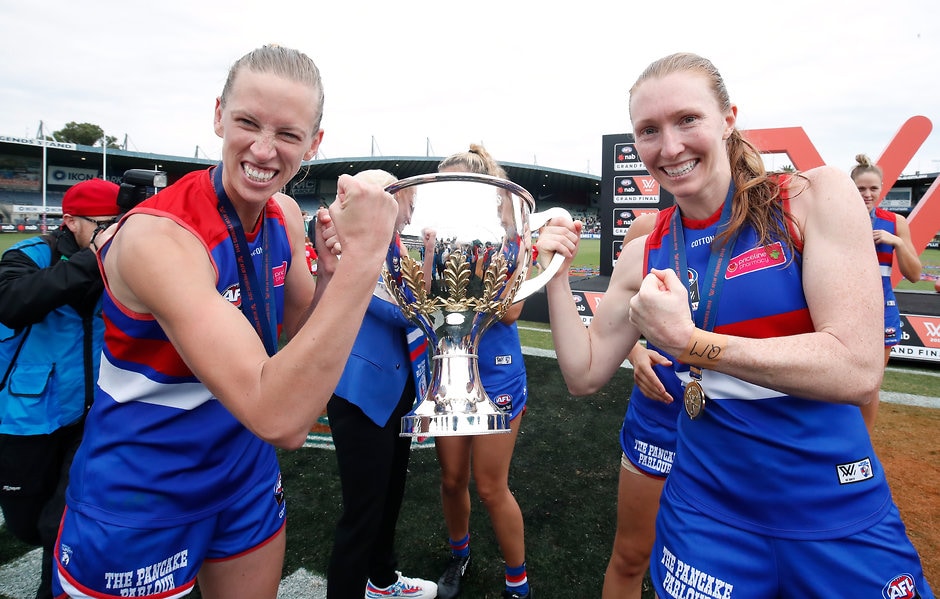 WESTERN Bulldogs defender Lauren Spark is used to standing in the way of others on the field. She did so successfully when playing on Brisbane forward Sabrina Frederick-Traub in the Bulldogs' 2018 AFLW Grand Final victory.
But away from the field, she does the opposite. In fact, Spark, a school teacher by trade, opens doors for people in her other role heading an international talent pathway program for women in sport called CrossCoders.
CrossCoders was developed by Spark and her business partners Jason Hill and Jonathan Jeffries after they identified a gap in opportunities for women interested in making it in elite level sport, specifically the AFLW.
FUTURE STARS Meet the newest AFLW cross-code rookies
The program's main focus is to provide pathways for women who might not have come through elite talent programs or those looking to make a switch to AFLW from other sports.
Spark said the program had received great initial support.
"We wanted to assist girls who were ready-made athletes and who could potentially get into a team and fit right in straight away," Spark said.
"We've been rapt with the success of it and all clubs have been positively involved."
FULL FIXTURE Check out when and where your club plays
Greater Western Sydney rookie Yvonne Bonner, Adelaide rookie Ailish Considine and Western Bulldogs Irish draftee Aisling McCarthy, pick No.23 in the 2018 NAB AFLW Draft, were graduates of the CrossCoders program.
Initially, CrossCoders – using Spark's connections – teamed with the Bulldogs' AFLW team as the Dogs cast the net wide searching to add to their rookie list for 2019.
However, it's understood the AFL clamped down on the initiative after deeming the program provided the Bulldogs an unfair advantage. That led Spark, Hill and Jeffries to open the program to other AFLW clubs.
DRAFT WRAP Who did your club pick?
Spark and Hill, the president of AFL England, met while playing for the Wimbledon Hawks (an Australian Football club based in London) prior to Spark returning home and being drafted in 2016. That's when they came up with the idea for CrossCoders, eventually launching it in September this year with a camp for invited applicants.
The sessions included education on rules, physical and skill testing, and match simulation, with club list managers invited to observe and interview potential recruits.
Spark, who is preparing for her third AFLW campaign with the Bulldogs, predicted the program would grow with more AFL support and backing from sponsors.
"We're working hard to bridge that gap and get the girls the knowledge they need to take that step to the elite level," Spark said.