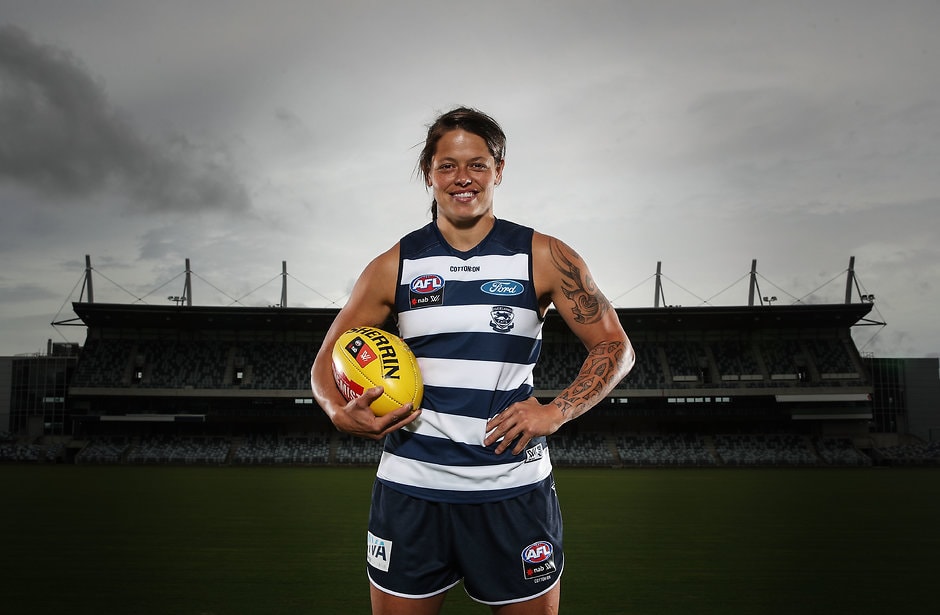 IT'S BEEN a process over two years in the making, but Geelong's first AFL Women's team is ready to pounce.
Coach Paul Hood has overseen the VFLW program since its beginnings in late 2016, when the Cats took over community club North Geelong Magpies' VFLW licence.
Now head coach of the AFLW side – which will take on Collingwood in the first match of the 2019 NAB AFLW season at GMHBA Stadium on February 2 – Hood said while it was disappointing to not get a foundation licence, the delayed entry to the AFLW has had its advantages.
Twenty of Geelong's squad of 30 played for its VFLW side during the 2018 winter season.
FULL FIXTURE Check out when and where your club plays
"We've been able to take our time to help the players with their fitness, make them resilient and build long-lasting programs," Hood told AFL.com.au.
"We've had plenty of time to drip-feed the education and we've also got a pretty sizeable cohort from players outside the VFL we've brought in.
We're pretty grateful for the leadership from the experienced players, and they've done a great job of integrating the youngsters as well.
"To have the two years to look after around two-thirds of the group and then be able to put a little more attention into the 10 new ones we've got has worked really well, and we've been really fortunate to have that long lead-in."
Having worked with some of his now-AFLW players for two years, Hood has seen first-hand the benefits of an extended period in an elite environment.
"Richelle Cranston's an obvious one. I know she's been at Melbourne and they did a fantastic job developing their players, but the two years that she's been in our gym (while with the Cats at VFLW level) has made a big difference to her," Hood said.
DRAFT WRAP Who did your club pick?
"It's the same with most of the VFL players. Kate Darby is twice the athlete she was when she came in.
"When we first spoke to (vice-captain) Bec Goring, she wasn't even sure if footy was even going to be a thing for her after not being drafted before the first AFLW season, and she's turned herself into one of our best runners. It's just amazing.
"Elise Coventry, Dani Orr and Renee Garing have come from netball … they've had two solid years to become footballers and they've embraced that really well."
Geelong had a significant early draft haul, picking Nina Morrison (No.1), Sophie Van De Heuvel (2), Becky Webster (7), Olivia Purcell (14), Denby Taylor (20) and Georgia Clarke (24) in the first 25 selections.
Geelong's seven-strong AFLW draft haul includes No.1 pick Nina Morrison, centre. Picture: AFL Photos

Hood believes they'll have an influence on the team from the start of the season.
"Clearly at 18 years of age, you're a long way from being a finished product and we intend to work really hard with those players to develop them for a number of years yet," he said.
"But from the get-go, they've got a level of skill which is going to have an impact on the competition.
"So, we're really excited about what they'll be like in four or five years' time, but also really happy they're here now.
"If you can come into AFLW – or the AFL for that matter – as an 18-year-old with great running ability, you've got a lot more energy left to think your way through the rest of the game.
"For Nina, Liv and Sophie, you can see they're thinking their way through training really well because they're such great athletes."
INS AND OUTS Your club's full list for 2019
Hood is no stranger to the unique pressure that comes with coaching in a one-club town, having also been Geelong's VFL coach in 2015 and Geelong Falcons under-18 TAC Cup coach in 2010.
"We come into this particular competition without any great expectations, just a lot of hope and wanting to enjoy the experience from the beginning," he said.
"We're really grateful for the town's support. A lot of people have been asking questions about it. The beauty of football at AFLW level is that most of the girls live and work in the community, so a lot of people know them.
"The AFL has done us a great favour by giving us the first game of the season.
"The girls have waited a long time to wear the hoops and beat the Magpies."