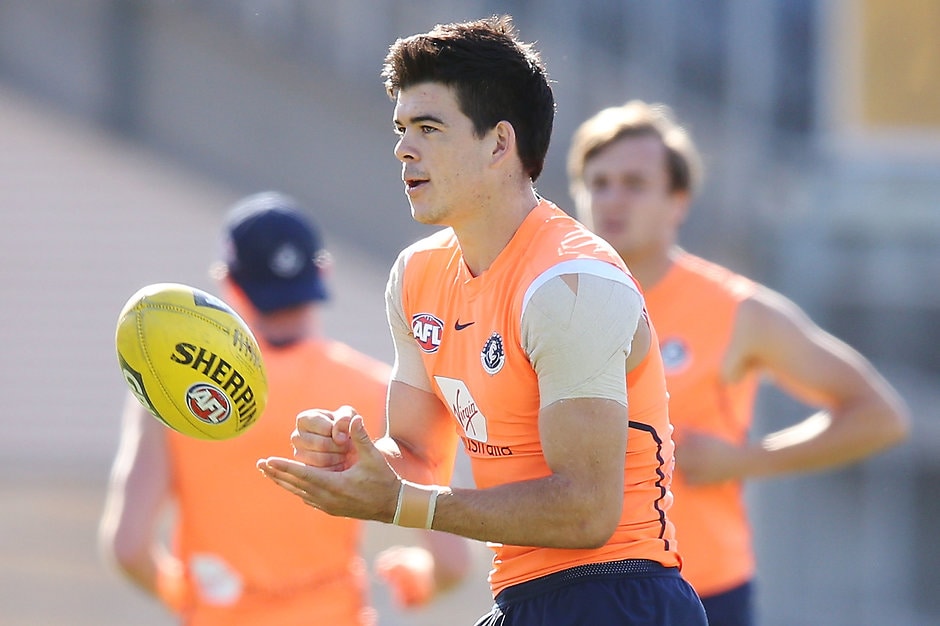 CARLTON midfielder Matthew Kennedy has declared the Blues' onball unit finally ready to take the burden off star co-captain Patrick Cripps.
Providing a lone hand as an inside midfielder in 2018, Cripps averaged 7.3 more contested possessions and 2.9 more clearances than the next best Blue – Ed Curnow.
Now with the return of a fit Marc Murphy, the arrival of Giant Will Setterfield and another year of growth from Paddy Dow, Zac Fisher and Lochie O'Brien, Kennedy says Cripps won't go alone in 2019.
FULL FIXTURE Every round, every game
"I think there's a lot more confidence in our midfield group to share that load and obviously take a bit off him," Kennedy said.
"The player he is, he'll keep battling through it, but he can't do that week in week out for several years.
"There's a lot excitement amongst us younger players wanting to take that load off him and I think the start of pre-season has been a really good indicator for us that we're going places as a midfield group and a team.
"As a team, deep down you know, and I suppose (the) media pressure that Cripps is doing a lot of the load.
"There's expectation from ourselves and as a younger group to help him out a bit through there."
WHO MAKES FINALS? Do the 2019 Ladder Predictor
Kennedy will also provide an inside option, after managing just 12 games in his debut season following a persistent ankle injury that required surgery post-season.
Having returned to full training prior to Christmas, the former Giant left the track early on Friday after copping a heavy head knock sustained in a marking contest.
Hailing from the tiny NSW town of Collingullie, Kennedy said he had tracked the progress of new training partner and Coolamon local Michael Gibbons closely – the pair separated by just 20 minutes as juniors.
With an impressive CV as a dual Liston Trophy winner, Gibbons has joined Michael Cottrell at Blues training in the hope of winning two vacant list spots.
"I know Gibbons quite well, a local boy from back home so it's exciting to have him around and showing him around a bit," Kennedy said.
"It's an opportunity with injuries, it's very disappointing but that's the beauty about the game, it's an opportunity for someone to step up.
"I reckon those boys, the way they've gone about it so far in the first couple of weeks before the Christmas break, (it's a) credit to them.
"They put their hand up and really attacked training and brought plenty of energy. It'd be great to see them get a bit of reward for effort."
The Blues have until March 15 to decide whether to add up to two players to their list under the new pre-season supplemental selection period rules this year.
Average disposals – 2018
| | |
| --- | --- |
| Player | Average |
| Patrick Cripps | 29.6 |
| Marc Murphy | 26.1 |
| Kade Simpson | 26.1 |
| Ed Curnow | 25.4 |
| Dale Thomas | 22.5 |
Average contested possessions – 2018
| | |
| --- | --- |
| Player | Average |
| Patrick Cripps | 17.5 |
| Ed Curnow | 10.2 |
| Zac Fisher | 7.9 |
| Kade Simpson | 7.4 |
| Paddy Dow | 7.4 |
Average clearances – 2018
| | |
| --- | --- |
| Player | Average |
| Patrick Cripps | 7.6 |
| Ed Curnow | 4.7 |
| Matthew Kreuzer | 3.8 |
| Zac Fisher | 3.3 |
| Marc Murphy | 3.2 |