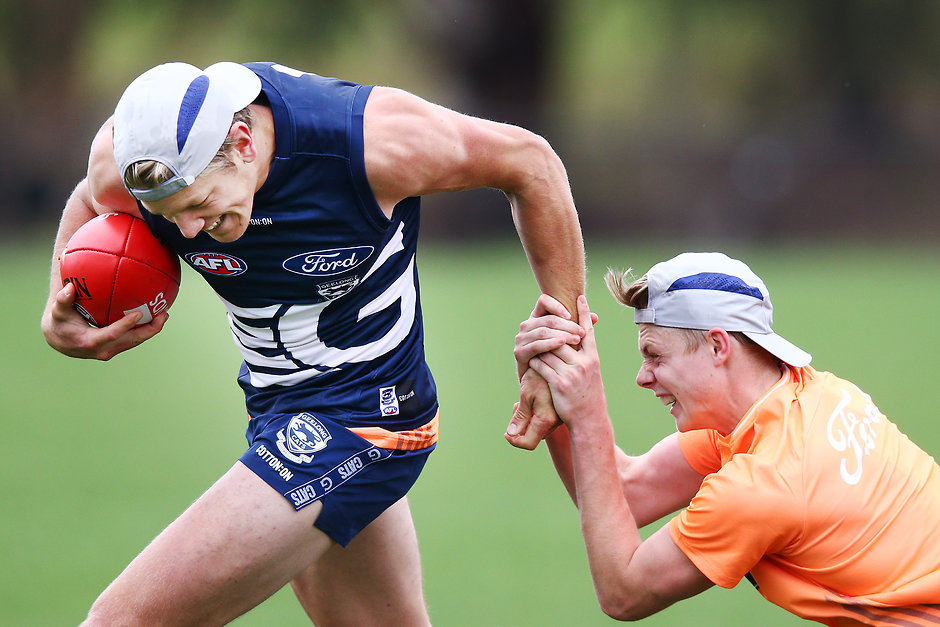 A MORE demanding running load for ruckmen is one potential impact of the new starting positions in place for 2019, according to Geelong big man Rhys Stanley.
Having been forced to watch much of match simulation from the sidelines this pre-season, Stanley has identified more space between the arcs as a result of the 6-6-6 structure.
NEW RULES Nine changes for 2019
Set to resume full training next week, the 28-year-old believes it's something that will need to be monitored in pre-season fixtures.
"It's just something I've been thinking about a little bit. In matchplay watching how it's unfolding and watching where the holes are opening up," Stanley told AFL.com.au.
"It's going to be play it by ear, the JLT pre-season games are going to be telling to give us a look at it.
"We're going to possibly have to cover a bit more ground to get back and help our defenders out. And it's the same going forward, if we can lose our opponents we're going to have that outnumber."
Stanley completed a 10km session during Saturday's two-and-a-half hour grind at Deakin University, still recovering from a persistent calf injury that hampered his end to 2018.
Having enjoyed a six-week purple patch of form after the mid-season bye as the No.1 ruck, Stanley succumbed to two calf setbacks in three weeks, ruling him out of the Cats' finals campaign.
"Pre-Christmas I was just working through a bit of that tightness again. Off the back end of last year, I didn't finish the way I wanted with that calf," Stanley said on Saturday.
"I just downloaded a little bit but today was a 10km session, pretty much what the boys did but only about 1km off and by Friday I'll be training fully."
Stanley has been joined in the rehab group by fellow ruckman Zac Smith, still working through a niggling back injury that flared throughout 2018.
While the pair have clocked a number of kilometres running laps, it has paved the way for draftee Darcy Fort and fringe big man Darcy Fort to compete in the centre square.
WHO MAKES FINALS? Do the 2019 Ladder Predictor
The ruck battle between all four, plus a fit Esava Ratugolea who spent time pinch-hitting in the ruck last year, is set to be one of the intriguing storylines at GMHBA Stadium heading into 2019.
"Not all of us have been on the track at any one time," Smith said.
"The competition is going to be a real positive for us. Everyone would be silly if they didn't accept and embrace it.
"If all four of us are up and going then we'll have a strong AFL position and a strong VFL set-up.
"The last couple of years there's been no hiding from the fact the media have gone after the ruck spot at Geelong a little bit that possibly it's lacking. It'd be really good for us to push each other and get other to that high standard."
Stanley and Abbott, who played the final three matches of the year, were rewarded with two-year extensions at the end of 2018, while Zac Smith enters the final year of his contract in 2019.