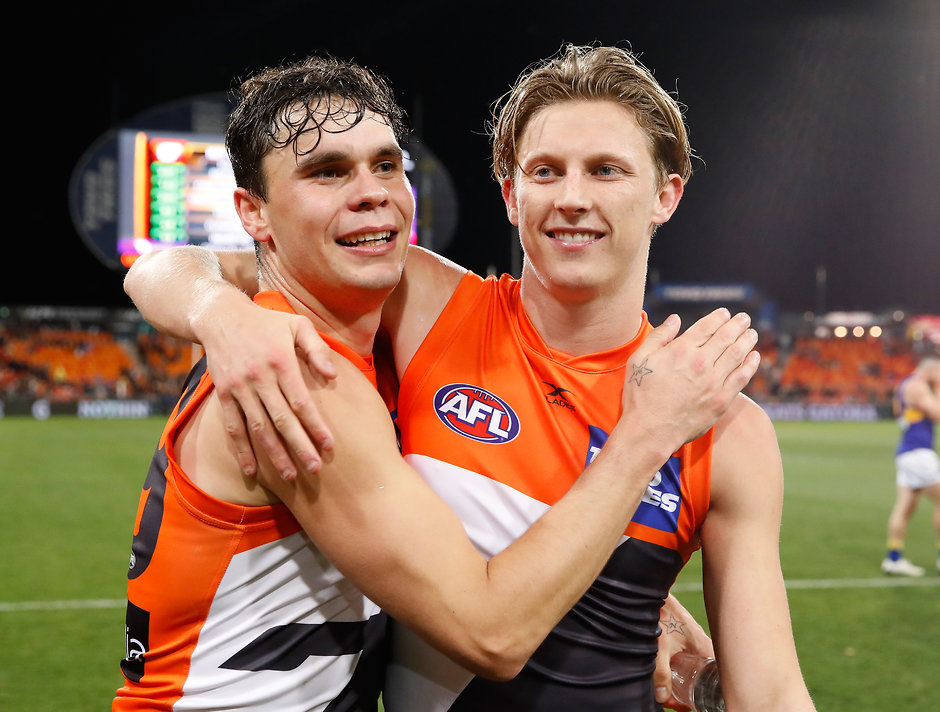 THE GOLDEN State Warriors built an NBA franchise around their superstar 'Splash Brothers' Steph Curry and Klay Thompson.
The 'Bash Brothers' Chris Lynn and Brendon McCullum are pivotal to the Brisbane Heat's BBL title hopes.
CLUB LISTS COMPARED Oldest? Youngest? Most experienced?
So, could Greater Western Sydney turn to its own dynamic duo in 'Dash Brothers' Lachie Whitfield and Zac Williams, in a bid to break through for its maiden premiership in season 2019?
The good mates became linked last year when Whitfield stepped in to replace the injured Williams in defence and capped an extraordinary switch by winning his first club champion award and Virgin Australia AFL All Australian selection.
FUTURE PICKS Who you should barrack against in 2019
But while some see the return of Williams – who only played two games, both finals, after missing the rest of the season with an Achilles tear - as a sure sign that Whitfield will reprise his more familiar role on the wing, the reigning Kevin Sheedy medallist told AFL.com.au he's not so sure.
The sight of two of the Giants' most dynamic runners and best ball-carriers streaming off half-back is something that could hold enormous appeal for coach Leon Cameron.
WHO'S LEFT YOUR CLUB? All the latest retirements and delistings
"I really couldn't tell you where I'll play this year, but with Zac back fully fit I think Leon wants to see how the two of us work together," Whitfield said.
"Whenever we play together we always keep an eye out and kick it to each other a lot anyway, it's always fun playing with him.
"I'd love to play alongside him at half-back."
FULL FIXTURE Every round, every game
The departure of Dylan Shiel and Tom Scully might force the Giants to use Whitfield in a variety of roles this season and while he's shown he's more than capable of starring on the wing, he's had a long-term goal of becoming an elite midfielder in the AFL.
"To progress as a player and build on last year, at some stage I'm going to have to put my hand up to move into the midfield and spend more time inside," he said.
"We've been pretty stacked in there over the years and a lot of the young draftees we've picked have been ready made to play in there, which definitely wasn't the case for me, that's for sure.
"It's going to be hard to get a game in there again this year but hopefully Leon sees a spot for me in there at some stage."
WHO MAKES FINALS? Do the 2019 Ladder Predictor
Whitfield's outstanding 2018 season saw him register a career-high 642 disposals at an average of 26.8 per game, with the 24-year-old leading the Giants in kicks and marks.
It was a staggering return after the former No.1 draft pick admitted he was initially lost playing as a defender and survived the early rounds thanks to the mentorship of co-captain Phil Davis and veteran Heath Shaw.
Making Whitfield's performances even more remarkable was that he played most of the season with a damaged lateral meniscus he injured against Essendon in round 10.
The Giants considered surgery for the gun defender, but Whitfield wasn't interested in missing 4-6 weeks, given the team lost four straight and had their season on the line.
"We were down on confidence and needed to beat Adelaide the next week, and I just wasn't ready to not be out there to help the team," Whitfield said.
"We taped it up and I wasn't getting too much pain, so we just managed it, the medical staff did really well.
"For the rest of the year I only really trained when I had too, so I did a lot of swimming and just made sure I was right to play.
"It was a pretty big challenge because I'd never had to play with an injury before. - Lachie Whitfield
"I could have made the tear worse and that was the big risk, but at that time of our season I just wasn't prepared to miss that much footy."
After the loss to the Bombers, GWS won 10 straight games and went on the make the finals, but despite a dominant performance in its semi-final win over Sydney, the year ended with an uninspiring loss to Collingwood the following week.
"We got on a roll in the back end of last year but the way it ended was disappointing," Whitfield said.
"Making two prelims in a row and then not making another one probably seems like we may have halted in our progress.
"But that doesn't mean we're not contenders this year because I definitely think we are."