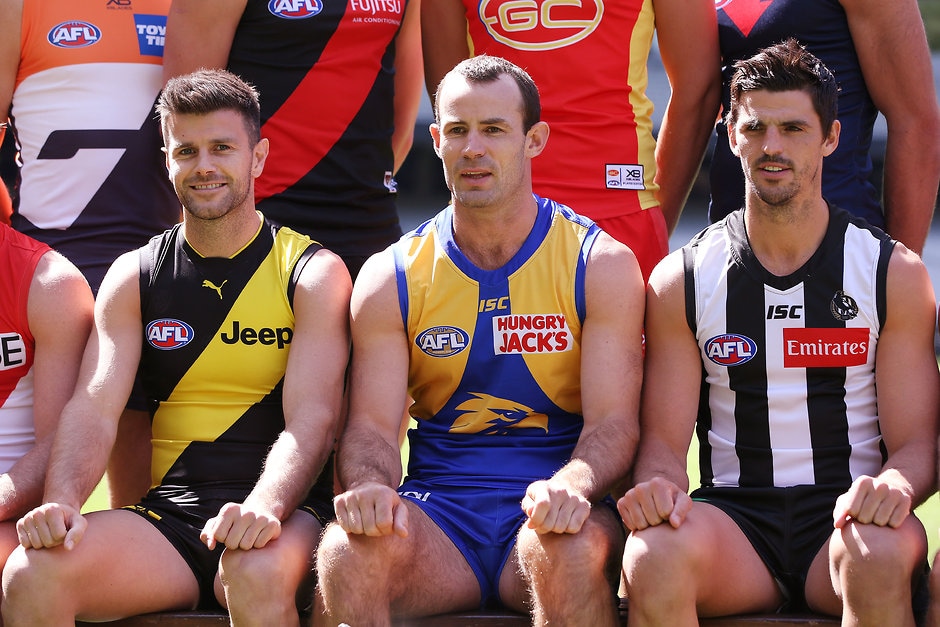 WHAT would you do if you were AFL chief executive officer Gillon McLachlan for a day?
AFL.com.au reporters asked the skippers that exact question at Friday's Captains Day media opportunity at the MCG.
These are their responses.
SPOT THE MISSING CLUB Why the Captains Day photo was taken twice
Dayne Zorko (Brisbane)
"I'd make sure it was Grand Final day so I'd get a free breakfast, free lunch and the best tickets."
Patrick Cripps (Carlton)
"I'd probably give us a shorter pre-season. That's the main one."
Scott Pendlebury (Collingwood)
"I'd sit back and relax. He'd have a pretty busy schedule so just enjoy it and probably give myself the day off."
Nat Fyfe (Fremantle)
"I would remove the suspension (element) from the Brownlow eligibility criteria. It would save me a lot of headaches and you guys from writing a lot of unnecessary articles, I'm sure."
Joel Selwood (Geelong)
"I wanted to take the bounce out this morning, that's what I said to Gill. Get rid of the bounce at the start of the game. But no, he loves the bounce and that will be staying. But to be honest, I thought six on the bench in the JLT really worked. I don't know if that's because I'm getting older, but it allows players to play a different amount of game time. Say that's 60 per cent, then they won't have to miss weeks coming up. Coaches will be happy, because they'll never get short on the bench."
Jarrod Witts (Gold Coast)
"I'd shorten pre-season. And shorten games."
Phil Davis (Greater Western Sydney)
"I'm reducing pre-season. I just think we train six months a year to play six months a year. I'd like to balance that out a little bit more. I'd also let interstate clubs train on the MCG and I'd give the Giants eight games at the MCG. It's a great ground to play at. I'd keep all our games up at Spotless (Stadium), but a few more games at the MCG would be nice."
Ben Stratton (Hawthorn)
"I agree with (bringing back the two byes). I'd bring in a longer off-season."
Max Gawn (Melbourne) *standing in for Jack Viney and Nathan Jones
"Leave the game as it is, to be honest. They're making alterations as it goes but any sport would be doing that so I'm relatively happy with how he's doing it."
Jack Ziebell (North Melbourne)
"I'd probably put two byes back in for the players. That would allow players to go through the season with injuries and give them a chance to physically get better. I think that would improve the product as well."
Trent Cotchin (Richmond)
"Roughy (Jarryd Roughead) two years ago said if you play twilight you don't get to celebrate for as long after it. That's probably fair feedback coming from someone who has won four of them. I'd keep it as a day Grand Final."
Luke Parker (Sydney)
"I'd give Sydney its COLA back."
Shannon Hurn (West Coast)
"I reckon he's going alright. But I reckon we could get a little bit more time off. That's what we want and maybe stop tinkering with the rules so much."
Jason Johannisen (Western Bulldogs) *standing in for Easton Wood
"I'd get rid of the new 50m rule. It's too hard for players to get that right. We saw in some previous JLT games, those 100m penalties … that's too much of a cost for teams. I'd just keep it like the normal 50m rule. But I think with the rule changes that have come in, the players have been really open to them."
*Responses from Joe Daniher (Essendon), Jarryn Geary (St Kilda), Rory Sloane (Adelaide) and Tom Jonas (Port Adelaide) were not obtained.