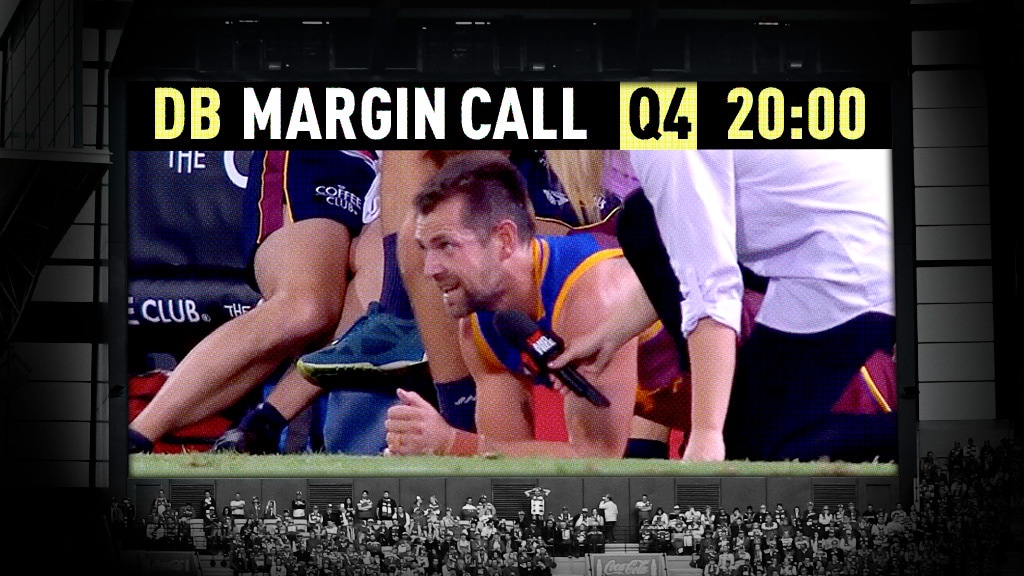 HODGEY gets mic'd up and calls me a knob … more of that in a minute.
For his club, Brisbane, round one was blistering against the reigning premier West Coast. And rounds two and three were ultra-impressive, wins being secured late and on the back of midfield creativity in crunch moments against North Melbourne and Port Adelaide.
But round four was horrendous at the MCG versus Essendon, and round five even worse when Collingwood gatecrashed the Gabba.
FULL MATCH COVERAGE Pies monster Lions on Easter Thursday
It's not cause for panic, yet, but there are some concerns for Chris Fagan. Linc McCarthy might have got ahead of himself, and that's OK and understandable given what he's been through, but a return to basics instead of trying to better his own already established mark of the year nomination (round three v Port) each quarter is probably more his go for a few weeks.
The hamstring injury to Harris Andrews will seriously hurt the club. He's as crucial as anyone on the Lions' list.
Harris Andrews' night is over after hurting his left hamstring. #AFLLionsPies pic.twitter.com/jUvwJl8vSI

— AFL (@AFL) April 18, 2019
As I've said for at least a half-dozen years, AFL players being mic'd-up in games offers nothing to the broadcast. Players give about 15 per cent, at best, of the information they have, and it becomes mind-numbing viewing.
Hodge's offering for Channel Seven on Thursday night was actually better than most. He batted about 46.27 per cent, because he did, within reason, offer conditional insight into the goings-on of the Pies' demolition of his side.
And let's put this on the table before we go further – when Hodge talks seriously and unencumbered about football, no one provides better insight.
Regarding the Sliding Doors column I wrote last Friday on AFL.com.au, at which Hodge bristled and called me a "knob" … fair enough, Hodgey. I was a knob, whatever definition you wish to attach to that word.
I did use the phrase "well-paid contract" to describe your dealings with Channel Seven. That was wrong. Repeat … wrong. And Hodgey, I do here apologise for that, as I did on the Sunday Footy Show, and would have done on Triple M on Saturday if you at some stage had taken your eyes off the notes in front of you in your too-long rant.
What I wrote was poorly worded. And I do get why you got so worked up.
What I should have said was that you had "financial arrangements" with Channel Seven, given you have been very well paid by that network in the past and will again get paid by it in 2019.
You effectively co-hosted Channel Seven's Sunday afternoon coverage in round four this year, will do so again at least one more time in 2019, and may well become a key focus of that network's broadcast in 2020 – as it wanted you to do in 2018 when it thought you were retiring – if you do actually retire this season.
There's 17 matches remaining in 2019, and the Lions, after a blistering start, have come back to the pack after two dreadful losses.
They need Hodge to cover for Andrews, and get them back into finals possibilities.
Hodgey, you're an all-time great, an instant Hall Of Famer, and on my vote a straight-in Legend. But you've chosen to play THIS year, so play. Ditch the TV mikes, at least until Andrews returns.
Find In the Game on Apple Podcasts, Google Podcasts or Spotify
Bucks, Pies gambling their way to another GF
Collingwood is doing everything right on its path to consecutive Grand Final appearances.
Equally importantly for the footy consumer in an era where poor aesthetics are the norm, it is a football club which is great to watch with its take-the-game-on style that got it to within five points of the 2018 premiership. And that style was again to the fore against Brisbane on Thursday night.
Scintillating start to the third from the Pies! #AFLLionsPies pic.twitter.com/k0FEsLENlh

— AFL (@AFL) April 18, 2019
Coach Nathan Buckley is continuing to tinker in his never-ending drive to get better. In rounds two and four, he ordered a keepings-off mantra, which resulted in ugly, but authoritative, wins against Richmond and the Bulldogs.
As Kenny Rogers knows, the key to winning in life can be as simple as knowing, "When to hold 'em, know when to fold 'em".
Collingwood knew how to hold and go all-out in 2018, and on what we're seeing this year it is teaching itself the right times to fold.
"Know when to walk away, know when to run. You never count your money when you're sitting at the table, there'll be time enough for countin' when the dealin's done".
Enjoy the win, Blues - then build on it
You can't let emotion rule your thoughts, actions, or words at any level of this game.
But you wouldn't be a proper human if you didn't deep down feel some sort of sympathy for Brendon Bolton when he walked, at breaking point, toward Cain Liddle late on Sunday on the Gold Coast in round four.
Liddle, Carlton CEO, threw out a beautifully caring arm to his coach, who didn't know whether he wanted to cuddle into it or punch it away.
Fast forward a week.
A TON OF RELIEF Blues finally end 1051-day drought
No matter your allegiances, surely you could have only had a smile when you saw Bolton smile after his game against Western Bulldogs was secured at Marvel Stadium yesterday.
His fourth win in his past 37 games, it needs to be the trigger point for at least another six victories if he is to be guaranteed his job into 2020.
TRIPLE FIGURES FOR THE BLUES!#AFLDogsBlues pic.twitter.com/tpkGUxIflD

— AFL (@AFL) April 21, 2019
Saints back up style with substance
Got it wrong with the Saints, as I said last week.
Thought their words in the off-season were just that, words. They have more far more substance than that.
May still miss the finals, but no matter what happens from here, St Kilda is a tough club. And coach Alan Richardson is a tough man.
SAINTS GO TOP Richo's men put Dees to the sword
There has been adversity with injury and unavailability and poor due diligence (and no, we won't let the Dan Hannebery thing go) but underlying its operations in 2019 is a resolve which is pure.
Jack Billings is now the star he was meant to be, and a massive well done to him given the questions since his first game in 2014.
BILLINGS!

Match-high 15-point lead for the Saints.#AFLDeesSaints pic.twitter.com/RK8dlGDLh8

— AFL (@AFL) April 20, 2019
Jarryn Geary's leadership is Joel Selwood-like, and in being that type of person, he's going to miss an extended chunk of football. It only enhances his standing, given his injury was caused by a typically selfless, low-percentage, almost forgettable act, unless someone tells you to look back at a replay and study the hard act that would have otherwise gone unnoticed.
'HAD TO SLICE HIM OPEN' Saints skipper to miss several weeks
And, really nice to see Tim Membrey kicking goals after last year's yips.
The Demons, meanwhile...
... are a mess.
From big-name recruit Steven May's poor condition, to the ineffectual workings of a forward line minus the man they could no longer tolerate, Jesse Hogan, to a strangely timid midfield, this season is teetering on the brink.
One more chance – versus Richmond on Anzac Day eve.
ANALYSIS The goals that sum up Melbourne's malaise
Woosha's a quick learner, this year
ESSENDON blew up its 2018 season before making positive change.
It acted this year a whole lot earlier. In 2018, the revamp took hold after round eight, when a 2-6 scoreline was one from which nothing bar pride could be salvaged; in 2019, action was taken two weeks in.
This time, there was no scapegoat as there was in 2018 (assistant coach Mark Neeld was made that scapegoat), but there was a significant change to allow players to have their heads, and to stop them being beholden to a suffocating, defensive mantra.
Where it takes them, no one could accurately predict. But it's going to be an exciting ride. The massive win – it could have been 100 points – against North on Good Friday followed wins against Melbourne and Brisbane.
FULL MATCH COVERAGE Dons run rampant against Kangas
We'll get a proper read after Collingwood on Anzac Day and Geelong in round seven.
Cale Hooker returning is the single biggest plus. But Orazio Fantasia is next level when he's fit. Reckon he's poised to be the next big thing.
Say my name, say my name! #AFLNorthDons pic.twitter.com/RFpMu6Shu4

— AFL (@AFL) April 19, 2019
Time for some tough calls, Kangas
NORTH Melbourne's deficit to Essendon in its Good Friday match was 58 points. It could have, and probably should have, been 100.
The Roos are a mess, on so many levels. Questionable recruits and recruiting, under-performing residents, lacklustre game style, no energy.
Don't confuse North Melbourne's exclusive rights to the Good Friday timeslot with its unmitigated failure to perform against Essendon in that slot this round. North will again play on this day in 2020, and then beyond.
The coach now is in no-man's land, and Brad Scott has another year to run on his contract. This is his 10th season at North. He will almost certainly get another senior job in the AFL system, but continuing at North is looming as futile unless a miracle occurs from here.
North Melbourne has become too comfortable with itself. Hard decisions have not been made.
Ben Cunnington is North's best player by a mile, and without him, its problems are even more pronounced. Although the stats look impressive for Shaun Higgins, he is having nowhere near the influence that he had in his All Australian year of 2018.
Robbie Tarrant is a star. And that's about it. The recruits this year have not worked, and they were never going to.
Find Trends on Apple Podcasts, Google Podcasts and Spotify
Power and the passion a potent mix
Whether it was intentional or inadvertent, the "dirty" ball which Port Adelaide propelled into its forward line against the Eagles on a slippery Perth night at Optus Stadium, worked big-time.
ANALYSIS Port's blueprint for beating the premiers
There was genuine passion in what the Power did on Friday night.
If they replicate it regularly, they will be playing finals.
PACE, REAL PACE!

Take a bow, Connor Rozee! #AFLEaglesPower pic.twitter.com/kOjQKnt4uE

— AFL (@AFL) April 19, 2019
Eddie turns back the clock. Will the Crows?
In his 300th game, Eddie Betts booted six goals, and arguably, the greatest of his massive 575 in the AFL.
If his left-footer from the left pocket late in his side's big win against the Suns at Adelaide Oval wasn't his best, it has to be in the conversation titled Eddie's Best Goals.
WATCH Ten of Eddie's best ahead of his 300th
Granted, there would be 60-plus goals in that debate. The man is a freak. An all-time great. A ripping bloke. A human highlight reel.
And in the weird way footy can sometimes work, he might have just breathed some life into a Crows season which was headed nowhere.
SIR EDDIE#AFLCrowsSuns pic.twitter.com/t4OlAnCX6S

— AFL (@AFL) April 21, 2019
Twitter: @barrettdamian