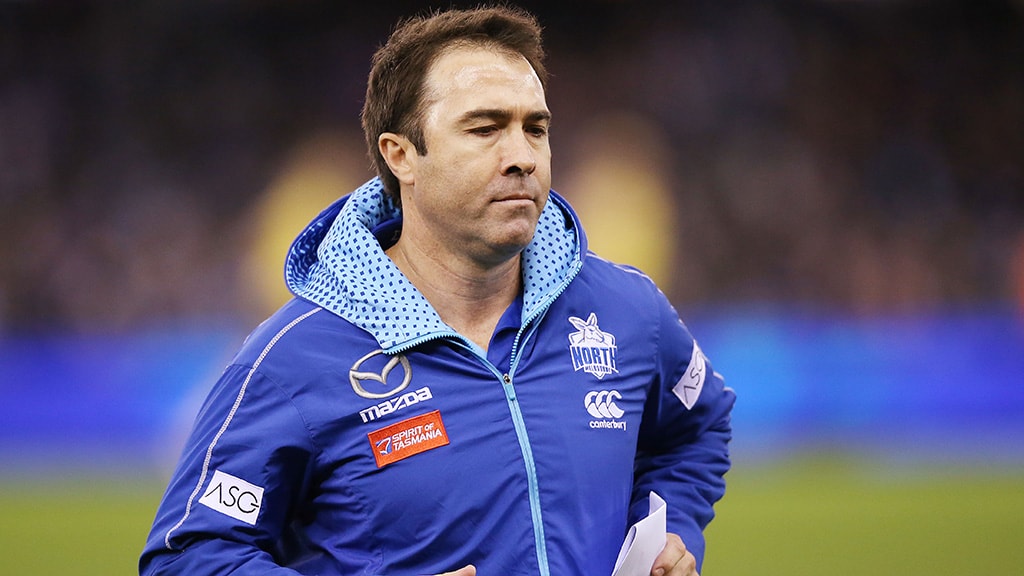 NORTH Melbourne coach Brad Scott will address his coaching future at a media conference on Sunday.
Speaking on 3AW, Scott said he had spoken to his team on Saturday morning and players were "agitated" after news emerged on Friday night he had agreed to not see out his contract in 2020.
The Kangaroos are set to take on the Western Bulldogs on Saturday afternoon at Marvel Stadium in what is shaping to be Scott's last game in charge.
SCOTT BOMBSHELL Roos coach set to depart
Curiously, Scott's win-loss record currently sits at 105-105 since his first game at the start of 2010.
"Life throws all sorts of difficulties in front of you. Everyone's going to have tough times in their lives and I always say you can't control those things, it's how you respond to them. That's what I'm focused on at the moment," Scott said.
"I was able to talk to the players before and I would have really the liked the opportunity to do that earlier, but that was the first chance I had to speak to them.
"It's fair to say they're agitated, Caroline (Wilson). Again, I keep stressing we've got a job to do and we've got an important game, for a number of reasons, but it's also Sir Doug Nicholls Round.
"North Melbourne has an incredibly proud indigenous history. Jy Simpkin, Tarryn Thomas and Jed Anderson are representing the indigenous component of our club today in a really important round for us, so that's where our focus has to be."
NEXT IN LINE Which coaches are in the mix?
Scott said he would address any further questions in a media conference on Sunday, given North Melbourne's VFL side are still to play on Saturday night and he hasn't had a chance as yet to speak to the AFL-listed players in that team.
"I'm working really hard like all professionals do in trying to stay right in the moment and focused on what's right in front of us," he said.
"There'll be plenty of time for prognostications and reviews and things in time, but it's obviously a bit of a tumultuous time for us but I'll expand more on that in a press conference tomorrow.
"Right now, we need to focus on the job at hand and my big task is to try and get the players' heads back in the game."
North Melbourne skipper Jack Ziebell was asked on Triple M if Scott's coaching future had been addressed in the team meeting.

"Well, we had the doors closed for a reason, BT (Brian Taylor), and I think in time, you'll understand what was said," Ziebell said.