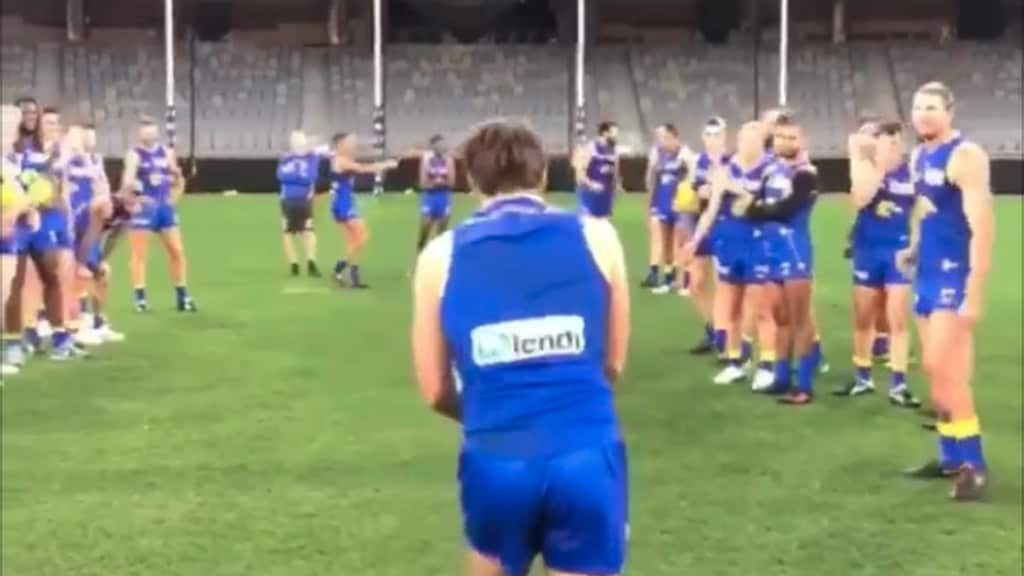 ANDREW Gaff has apologised on behalf of West Coast for a teammate who taunted him with Andrew Brayshaw's name while Gaff was taking a shot at goal at training.
The Eagles posted a video on their Instagram story where Nathan Vardy twice calls Brayshaw's name as Gaff lines up and misses a shot, much to his teammates' delight.
Gaff was suspended for eight weeks last year and missed West Coast's premiership after breaking Brayshaw's jaw and displacing teeth during the round 20 Western Derby.
'WE NEED IT TO BE SOFTER' Eagles CEO wants action on Optus Stadium surface
The pair put the shocking moment behind them when they crossed paths and shook hands before the JLT Community Series clash in Mandurah but now the incident has been raised again.
"It's disappointing. I didn't know about it until I got a call at 5.30 last night. I didn't hear it," he told Perth radio station Mix 94.5.
"It's disappointing, no doubt. It's poor taste and disrespectful to Andrew, more than it is to me.
"I'll have a chat to, if you know who it is, at training today and we want to apologise as a club for that. It shouldn't happen."
A screenshot from the Instagram story video. Picture: @westcoasteagles / Instagram


Fremantle coach Ross Lyon said on Tuesday night the taunt was "really disappointing".
"I have been made aware of it. I've heard the video," Lyon told Channel Seven.
"In light of how serious that injury was, and the incident, it's really disappointing.
"But I'll leave that with West Coast."
TEAM SELECTION Eagles could make six changes for Bombers clash
Eagles coach Adam Simpson apologised to Brayshaw, his family and the Dockers for Vardy's taunt.
"Really disappointing for us from a club point-of-view. We've got to be pretty honest with that, that was a mistake, we apologise to Andrew and his family and to Fremantle as well," Simpson said.
AROUND THE STATE LEAGUES Jack out of the box, Hawk among the goals
"It was inappropriate and we shouldn't have done it.
"We need to look at that (a club sanction). It's not ideal. It's not something that we condone.
"We'll work through that with our leaders. It's pretty fresh, we only found out about it yesterday afternoon. Really disappointed in how it transpired, so we need to educate him."
Lyon was disappointed for another reason after defender Nathan Wilson was caught up in a fight in Mandurah last Saturday night, just hours after the Dockers' win over Port Adelaide.
The former Giants dasher is in the clear with the club and in no doubt to face Melbourne at the MCG on Saturday.
"It's disappointing, a family barbecue, a 21st, we saw in Victoria a leading policeman walking across an oval and assaulted, so there's violence in the community," Lyon said.
"You don't need much to go wrong to be on the end of it, so it's disappointing it happened to Nathan and thank God he's OK."
Find AFL Exchange on Apple Podcasts, Google Podcasts and Spotify.