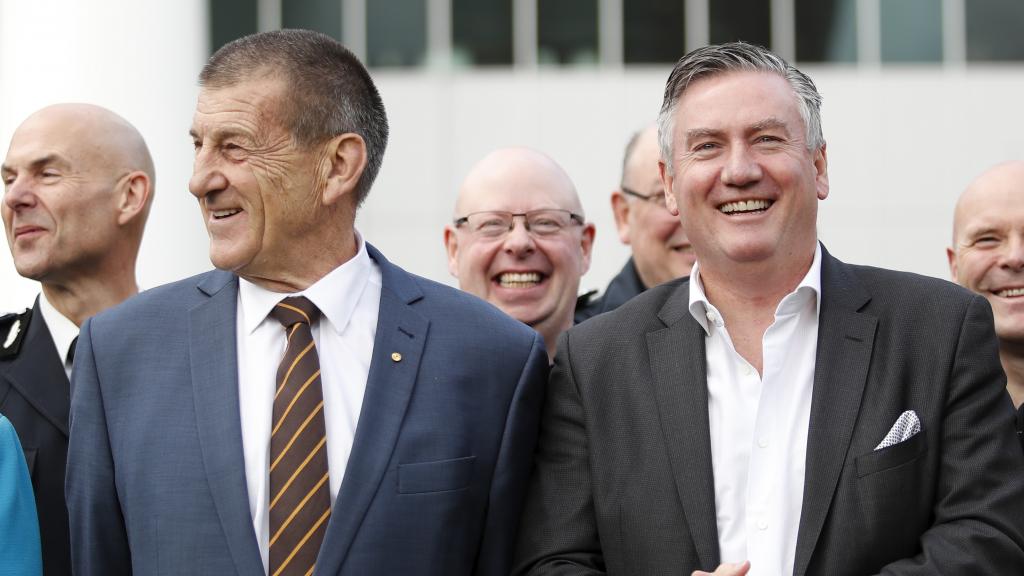 GREATER Western Sydney chief executive Dave Matthews has fired a broadside at his former player Adam Treloar.
In the latest In The Game podcast, Matthews took issue with Treloar's recent comments about current Giant Stephen Coniglio when contrasted with his own actions in exiting GWS at the end of 2015.
Matthews questioned Treloar's motivations in leaving for Collingwood, and while he wanted to keep him, said that, "I don't think we've missed him too much".
Treloar left the Giants to become a Magpie. All pictures: AFL Photos
Treloar played 79 matches with the Giants between 2012 and 2015 and recently said for Coniglio it "was going to be hard to say, 'no'," to the big offers from Hawthorn, Carlton and others to leave the Giants.
"I saw his comments, he sounded a lot more sure of himself now than when he was with us," Matthews said.
"I think about his final year at the club where he was absolutely adamant he was staying, wasn't going anywhere.
"I think sometimes players, and this has happened to the Gold Coast too, go for the money.
"It ends up being a go-home factor. But I would have thought his decision, as much as anything, came down to money.
"He was very, very clear, Adam, that he was going to stay with us. He was equally clear that Richmond was going to be his club of choice.
"And then he made a decision that was equally sure that Collingwood was going to be his club of choice.
"I think it was a pretty confusing time for him, but clearly he's got some clarity on it now." - Dave Matthews
Matthews queried several aspects of the manner in which Treloar was lured to Collingwood.
"It was an unusual time, a very unusual time, and how he got to Collingwood is probably a podcast in itself," Matthews said.
"When you lose your footy manager (Graeme Allan) and a player who is indicating he wants to stay, then talks about going to Richmond, and ends up at Collingwood with that footy manager, it was an unusual set of circumstances.
"I hasten to add I've got a fantastic relationship with 'Gubby' Allan, huge respect for what he has been able to do and again, he brought resilience in spades to our club.
"And he brought success to our club, and again, that was probably a disappointing period on the club's history.
"You would've loved to have been able to hold Treloar but in saying that, I don't think we've missed him too much."
Matthews has been the Giants' CEO for its eight years in the AFL, and has always been prepared to speak his mind.
It is known that at a recent club CEOs gathering, he raised questions about how the football industry didn't always properly hold its highest office bearers to account.
He expands on those thoughts in In the Game, and asks if certain individuals would have been disciplined if they had made similar comments to the racial stereotype ones of Hawthorn president Jeff Kennett when he spoke about security staff of Marvel Stadium two weeks ago.
BARRETT The 'Any Given Sunday' era has finally arrived
"I often think to myself: 'What if Toby Greene had said that'?" Matthews said.
Amid a deep-thinking and expansive reflection on the game's handling of certain matters, Matthews added:
"The irony of it was that a club in Hawthorn is heavily into Stephen Coniglio," Matthews said.
Could 'Cogs' join Treloar in exiting the Giants?
"Stephen Coniglio three weeks ago hosted an Iftar dinner into Ramadan for 500 people. He works with new arrivals, migrants, refugees…
"… I know that if I came out with a comment like that, I'd be talking to my board, and probably the AFL, knowing I had done our organisation a disservice because it doesn't reflect the values we want to present.
"I don't sit as a judge and jury on chairmen of other clubs, I am simply making an observation."
Matthews also speaks in detail about the Giants' past dealings with Israel Folau and Lance Franklin, and also of details behind a plan to play a match in the United States.
Twitter: @barrettdamian
Find In the Game on Apple Podcasts, Google Podcasts or Spotify
Episode guide
1:50 – The start of the Giants
5:05 – 'The thing that has always made me bristle is…'
7:28 – A stoush with Paul Roos
12:14 - Mistakes that hurt GWS and Gold Coast
15:23 – Stephen Coniglio's contract status
17:25 – 'I don't think we've missed him': Matthews whacks Treloar and Gubby
21:13 – 'What if Toby Greene had said that?' Holding the McGuire's and Kennett's to account
29:50 – Israel Folau
34:30 – Playing AFL in the USA?
35:55 – Buddy Franklin and the battle to sign him
37:42 – Gavin Robertson well wishes
39:30 – The premiership window
40:22 – Football in Tasmania to 'complete the national picture'