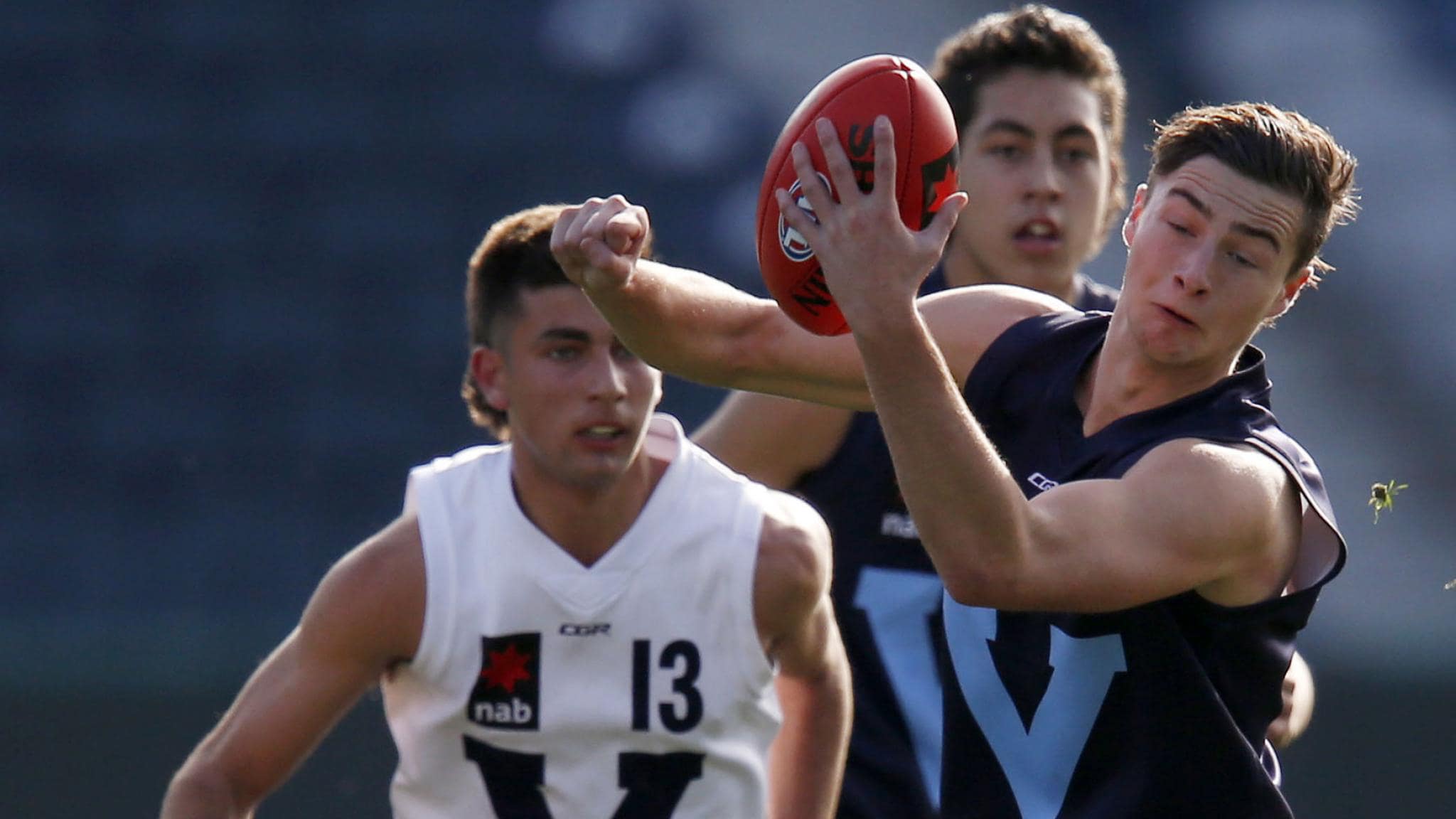 VIC METRO claimed its first NAB AFL National Under-16 Championships title in 10 years, thumping Western Australia at the Gabba on Friday to confirm its carnival victory.
Alex Lukic kicked five goals in the resounding win, while Tyler Sonsie slotted four majors in another impressive display as Vic Metro took out the title with a 67-point win.

Alex Lukic celebrates a goal. Picture: AFL Photos


Sonsie's haul came as he claimed Vic Metro's MVP for its best player across the carnival.
Vic Country defeated South Australia by 16 points in Friday's other match, with Josh Rachele again exciting to claim the Kevin Sheehan Medal for the Championships' best player.
VIC METRO 4.0 6.5 11.6 18.14 (122)
WESTERN AUSTRALIA 2.3 5.5 8.7 8.7 (53)
GOALS
Vic Metro: A.Lukic 5, T.Sonsie 4, Z.Taylor 2, B.Howes 2, Y.Dib, J.Soligo, T.Leiu, H.Brown, J.Rossimel
Western Australia: J.McVee 2, R.Bartlett, J.Littleton, K.Dittmar, R.Bazzo, S.Marafioti, R.Farmer
BEST
Vic Metro: T.Sonsie, Y.Dib, J.Soligo, A.Lukic, J.Sinn, Z.Taylor
Western Australia: B.Morris, R.Bartlett, J.McVee, M.Chipper, S.Neale, R.Bazzo
VIC COUNTRY 2.5 6.5 8.12 11.13 (79)
SOUTH AUSTRALIA 3.0 6.2 8.3 10.3 (63)
GOALS
Vic Country: T.Brown 3, B.Hobbs 2, C.Macdonald 2, J.Rachele, C.Molan, H.Hamilton, J.Davies
South Australia: C.Murley, J.Horne, M.Roberts, L.Young, I.Dudley, M.Dnistriansky
BEST
Vic Country: J.Rachele, B.Hobbs, T.Brown, C.Molan, S.Breuer, T.Conway
South Australia: J.Horne, L.Thomas, M.Roberts, H.Tumkin, L.Young, D.Hortle
Find Road to the Draft on Apple Podcasts, Google Podcasts and Spotify.
NAB Most Valuable Player Awards
Western Australia: Blake Morris
South Australia: Jason Horne
Victoria Metro: Tyler Sonsie
Victoria Country: Josh Rachele
Kevin Sheehan Medallist (Best & Fairest Division One): Josh Rachele – Victoria Country (Murray Bushrangers/Shepparton Swans/Notre Dame College)