CAN BOOM recruits Jesse Hogan and Rory Lobb be the goalkickers that break Fremantle's scoring drought?
Before answering consider the magnitude of the barren stretch that has starved the Dockers' points-for column since they suddenly embarked on a list rebuild during the 2016 season.
Over each of the past three seasons Freo has been mired in the competition's bottom three for scoring, while their average return over that time, 71.8 points a game, is the worst of any team bar Brendon Bolton's battling Blues.
In 2018, the Dockers had just two players who kicked 20 goals or more – Michael Walters (22) and Hayden Ballantyne (21) – the equal lowest tally in the AFL, alongside St Kilda. By comparison, this year's grand finalists, West Coast and Collingwood, topped the competition with six such players.
CLUB LISTS COMPARED Oldest? Youngest? Most experienced?
Freo was also one of four clubs last season that did not boast a 20-goal-plus key forward – the others were the Saints, Essendon and the Western Bulldogs.
Freo's lack of an effective spearhead dates back further than last season, of course.
No Dockers key forward has topped 40 goals since Matthew Pavlich in 2014, while the club great was also the last Freo player to top 50 goals, with 69 in 2012.
Fremantle tried to find some aerial support for Pavlich late in his stellar career, but big-money bids for Travis Cloke, Jack Riewoldt and Mitch Clark, among others, came up short.
FUTURE PICKS Who you should barrack against in 2019
The search continued in earnest after Pavlich's retirement at the end of 2016, but acquisitions such as Cam McCarthy and Shane Kersten have, as yet, been unable to provide the targets around which the Dockers can score more freely.
Hogan and Lobb, however, have the talent to release Freo's scoring shackles.
The former Demon, in particular, looks the failsafe forward option Freo has been craving for so long.
After missing his entire debut season, 2014, with back troubles, Hogan has topped 40 goals every year, save for 2017 when he managed just 10 games after undergoing successful treatment for testicular cancer.
WHO'S LEAVING YOUR CLUB? All the latest retirements and delistings
In 2018, he kicked a career-high 47 goals from 20 matches despite being regularly deployed up the ground as a link-up option.
The West Australian's outstanding endurance means he is far from a one-trick spearhead, but it's inside the forward 50m arc where he can help transform Freo into a more potent offensive team.
The Dockers can bank on Hogan providing a strong aerial target.
He finished 12th in the competition for marks inside 50 in 2015 (52), sixth in 2016 (63) and 12th in 2018 (47). Fremantle's top-ranked player over the past four seasons was Pavlich in 2015 (equal 29th, 35) while McCarthy finished 31st this season (28).
Hogan enjoyed far greater supply than McCarthy last year, with Melbourne averaging almost 12 more inside 50s a game than Fremantle – a competition-high 59.9 as opposed to Freo's 48 (16th).
But Hogan's 2015 figures were achieved in a season when the Demons managed just 44.5 entries a game (16th), four less than the Dockers (48.7, 14th), which suggests Hogan will have an impact inside Freo's forward 50m arc whether the supply is scarce, plentiful or somewhere in between.
With his mix of height (207cm) and athleticism, Lobb is the prototypical modern ruckman/forward, but the Swan Districts product has not performed as consistently as Hogan.
In 2016, he looked capable of becoming one of the competition's most dangerous talls after kicking 29 goals and finishing second to former Gold Coast co-captain Tom Lynch for contested marks (60).
Rory Lobb joins his new teammates at Dockers training. Picture: AFL Photos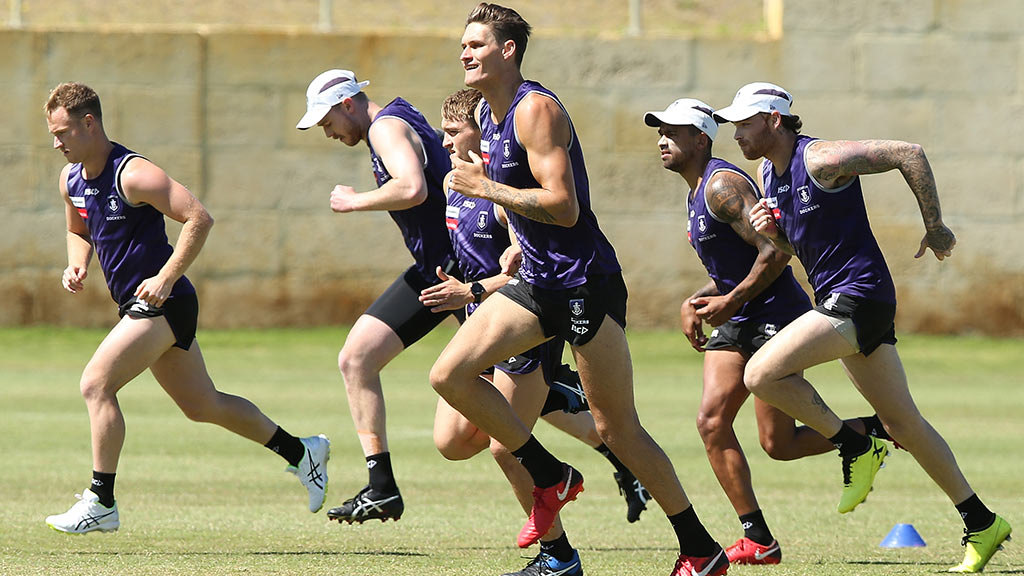 Lobb has not hit the same heights since. Nonetheless he still finished fifth in the AFL for contested marks (45) in 2017 and 14th (33) last year.

A return to his preferred forward/ruck role at Fremantle after shouldering the bulk of Greater Western Sydney's ruck duties in 2018 should also help him rediscover his marking touch in attack.
If he can, he will help address one of the Dockers' glaring weaknesses.
Freo finished 14th last season in contested marks, forward-half contested marks and forward-50 contested marks, but that would change with an in-form Lobb stationed in attack.
After missing out on big-name forwards for so long, the Dockers broke their recruiting drought in style during this year's NAB AFL Trade Period. When the heavens finally opened, they poured two great scoring hopes into Freo's outstretched arms.
The Dockers will be hoping Hogan and Lobb can help them break their scoring drought in equally emphatic fashion.
PLAYERS KICKING 20+ GOALS IN 2018
| | | |
| --- | --- | --- |
| CLUB | TOTAL | KEY FORWARDS |
| Adelaide | 3 | 2 |
| Brisbane | 5 | 2 |
| Carlton | 3 | 2 |
| Collingwood | 6 | 2 |
| Essendon | 4 | 0 |
| Fremantle | 2 | 0 |
| Geelong | 5 | 1 |
| Gold Coast | 3 | 1 |
| Greater Western Sydney | 4 | 2 |
| Hawthorn | 5 | 2 |
| Melbourne | 5 | 2 |
| North Melbourne | 4 | 2* |
| Port Adelaide | 5 | 2 |
| Richmond | 4 | 1 |
| St Kilda | 2 | 0 |
| Sydney | 5 | 1 |
| West Coast | 6 | 2 |
| Western Bulldogs | 3 | 0 |
*Mason Wood was not considered a key forward
MOST RECENT 50+ GOALKICKERS
Adelaide – 2017: Eddie Betts (55), Taylor Walker (54)
Brisbane – 2010: Jonathon Brown (53)
Carlton – 2011: Andrew Walker (56), Eddie Betts (50)
Collingwood – 2013: Travis Cloke (68)
Essendon – 2017: Joe Daniher (65)
Fremantle – 2012: Matthew Pavlich (69)
Geelong – 2018: Tom Hawkins (60)
Gold Coast – 2016: Tom Lynch (66)
Greater Western Sydney – 2016: Jeremy Cameron (53)
Hawthorn – 2018: Luke Breust (54), Jack Gunston (51)
Melbourne – 2018: Tom McDonald (53)
North Melbourne – 2018: Ben Brown (61)
Port Adelaide – 2015: Chad Wingard (53)
Richmond – 2018: Jack Riewoldt (70)
St Kilda – 2015: Josh Bruce (50)
Sydney – 2018: Lance Franklin (57)
West Coast – 2017: Josh Kennedy (69)
Western Bulldogs – 2015: Jake Stringer (56), Tory Dickson (50)