RESURGENT Hawk Tim O'Brien's position carousel began early, when he played as a 16-year-old ruckman in West Gambier's senior premiership in 2010.
At that stage, he was a promising key forward two years from joining Hawthorn as a second-round draft pick.
FROM THE TWOS Who's pushing their claim for an AFL recall?
Lots of water has gone under the bridge since then, including 58 AFL games (and about as many in the VFL) and varying opinion on whether O'Brien was better suited in attack or down back.
That particular debate is ongoing.
O'Brien in action during the 2018 VFL Grand Final. Picture: AFL Photos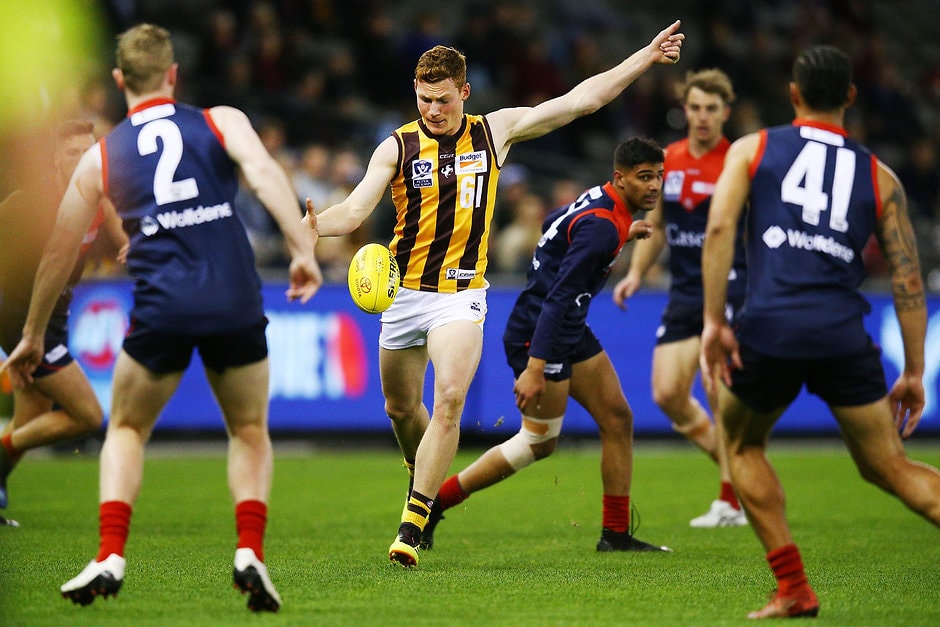 His AFL career's been in jeopardy more than once, too, and he is without a deal for next year, as it stands.
In that sense, O'Brien's story resonates with more of the competition's playing group than that of the stars we hear most about.
There's anxiety from game to game, frustration at being dropped, and immense pressure to make opportunities count when they do arise.
It's why O'Brien and those in his situation treasure days like last Sunday so much.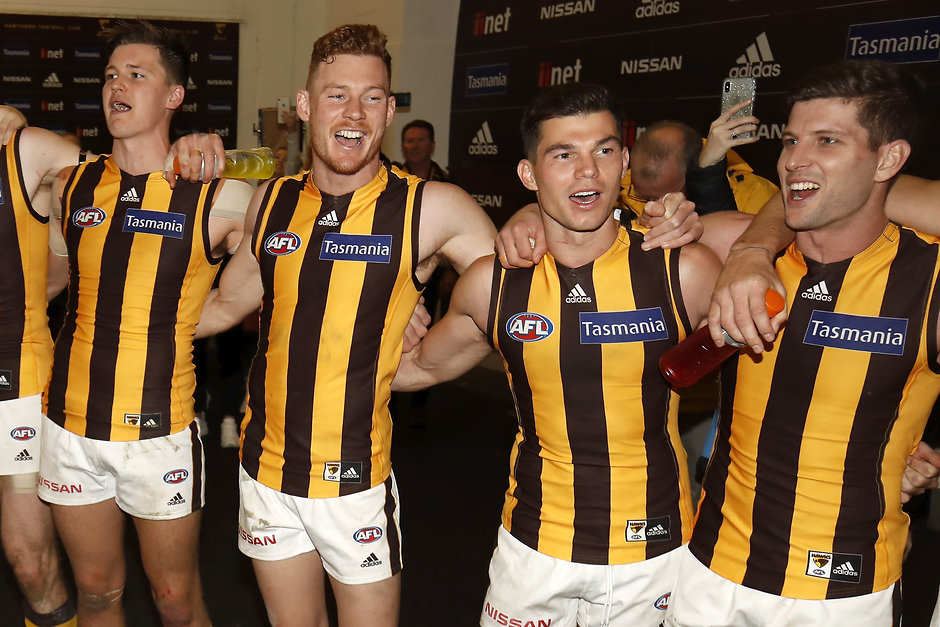 The 25-year-old kicked three goals and took five marks – the type of performance he's hinted at previously – as the Hawks beat arch-rival Geelong in what was his 12th straight match.
That's the longest streak of senior games in the same season in his career to date. The cherry on top was the four coaches' votes that followed.
COACHES' VOTES Who caught the eye in round 18?
"One of the big things that was challenging for Tim is that last year he could be forward, back and ruck all in the same game – he was never able to settle," O'Brien's agent Tim Lawrence, of Stride Sports, told AFL.com.au.
"But it is what it is. It's just the nature of the industry and there's no angst towards anyone. It's nice he's more settled now. He's forward again and I tend to think that's more his spot."
In Lawrence's own words, his client was "looking down the barrel" at season's start, entering the final year of a contract he signed at the end of his breakout 2017 campaign.
That's how quickly things can change in the AFL – for better or worse.
O'Brien speaks with Alastair Clarkson during the VFL preliminary final last year. Picture: AFL Photos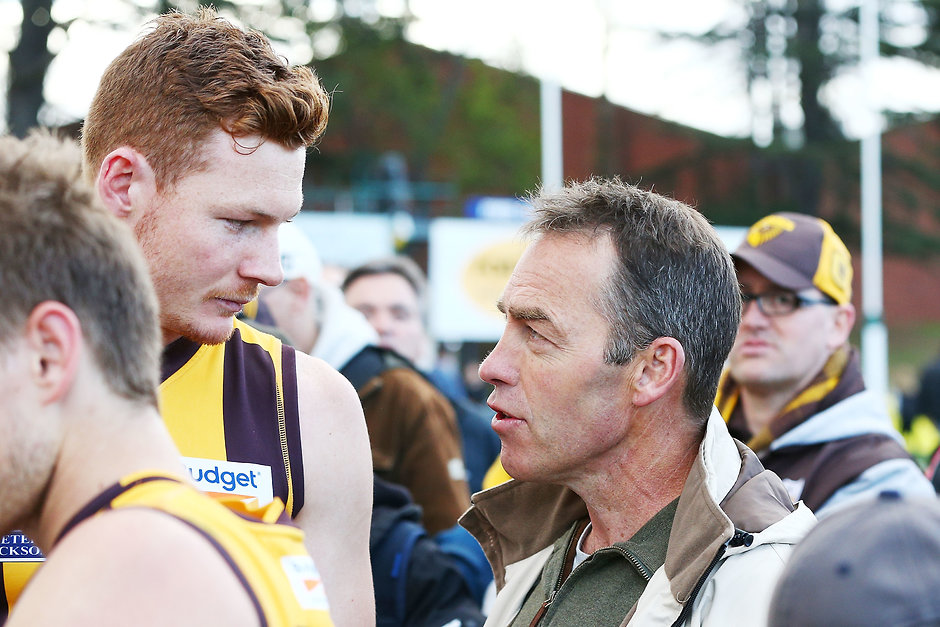 O'Brien booted two goals and clunked five contested marks among 10 overall against Melbourne in round seven two years ago, in the game that made him feel like he belonged.
However, a hip injury sidelined him soon after, and his form trailed off as the season went on before he was swung down back.
Last year was a mixed bag: O'Brien played the first eight games but was in and out thereafter – being demoted four times – and finished it playing for Box Hill.
Coach Alastair Clarkson even admitted mid-season they hadn't been "kind" to him.
A pre-season hiding in March this year from triple Coleman medallist Jack Riewoldt wasn't ideal, either.
Jack Riewoldt gave O'Brien some pre-season trouble. Picture: AFL Photos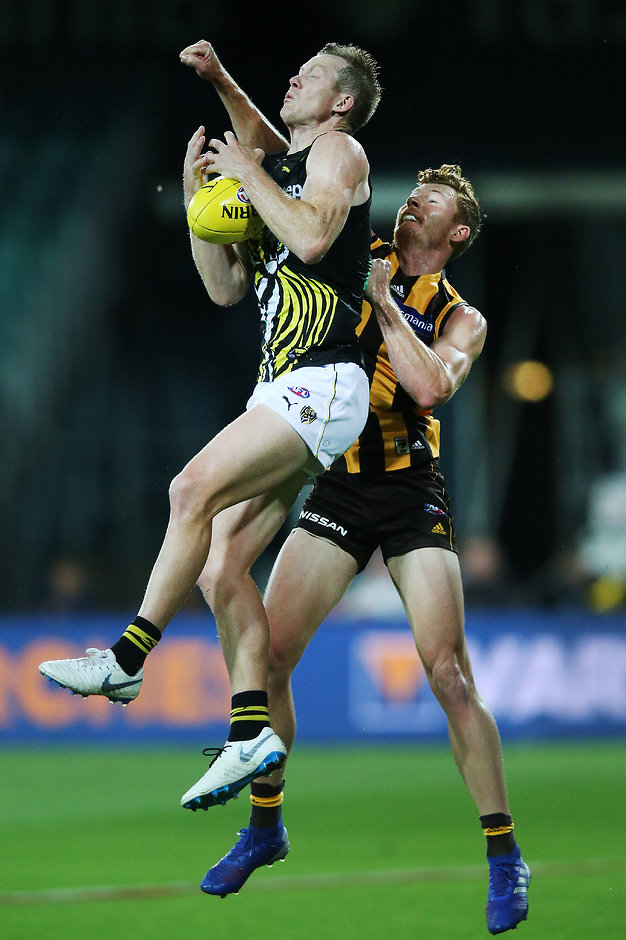 But if O'Brien truly is a forward, as Lawrence believes, the latter still acknowledges his time training as a defender could be the making of him.
"Tim talked a lot in the off-season about (Hawthorn's defensive coach) Darren Glass and speaks very highly of him," Lawrence said.
"Here was a coach that had a lot of confidence in him and he's been very good for him."
O'Brien broke back into the Hawks' top side in round six and hasn't gone out since, with Sunday's showing the best of the lot.
The "laidback" country kid won't take anything for granted or be surprised by anything from here – knowing his past – but he at least knows his AFL career has a pulse.
Find AFL Exchange on Apple Podcasts, Google Podcasts and Spotify.