• Check out your club's draftees at the NAB AFL Draft Hub• Draft wrap: Saint Paddy's day and the Cats go for the X-factor• Watch video highlights of your club's recruits at our draft tracker
AFL.com.au draft expert Callum Twomey assesses each club's efforts on draft night.
ADELAIDE
Draft selections: 14, 35, 43, 59

What we said before the draft: Should look for a key position player to add depth on one of those lines, having lost plenty of height in recent years. Some ruck support would be excellent.
What happened:
Well, they pretty much delivered on those aims. J
ake Lever getting through to the Crows was everything they could have hoped for
, and he'll be a long-term defender for the club. Mitch McGovern adds tall depth in attack, while Harry Dear is another forward/ruck option who was worth a shot later on. They added some class in small left-footed defender Harrison Wigg, in what was a strong draft for the club.
BRISBANE LIONS
Draft selections: 44 (academy selection Liam Dawson), 63 (academy selection Harris Andrews), 67, 81, 117 (father-son selection Josh Clayton).
What we said before the draft: Will take what's on offer so late in the piece, but a running medium defender would be ideal.
What happened: As expected, the Lions found two taller defenders to build their stocks in that area. Tasmanian pair Josh McGuinness and Josh Watts were value picks late in the draft when the Lions entered proceedings, while Jaden McGrath will add some creativity. Having another tall in Harris Andrews and rebounder Liam Dawson already sewn up through the academy bidding system gave them a nice platform to build from.
CARLTON
Draft selections: 19, 28, 61, 65.
What we said before the draft: Need run and carry players, having already stocked their midfield with ball-winners.
What happened? Despite having been strongly linked to Blaine Boekhorst in the lead-up, it was still a surprise the Blues picked the 21-year-old at No.19. However, he is a runner who likes to give good drive through the midfield, which is what they addressed as a need. Dillon Viojo-Rainbow does that too, while Carlton also added another key forward to its ranks in Jayden Foster, who was eligible to join the Western Bulldogs under the father-son rule. Clem Smith offers some power and physicality in defence.
COLLINGWOOD
Draft selections: 5, 9 (father-son selection Darcy Moore), 30, 48, 85.
What we said before the draft: If they can find a couple of medium midfielders to add to their mix it would be ideal, having already secured tall Darcy Moore as a father-son.
Darcy Moore and Nakia Cockatoo get down to business after the draft. Picture: AFL Media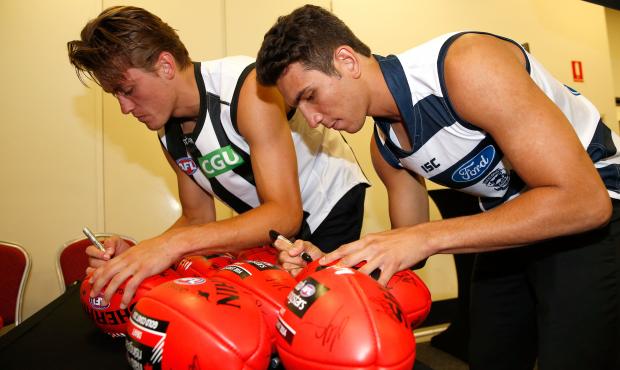 ESSENDON
Draft selections: 17, 20, 62 (promoted Patrick Ambrose)
What we said before the draft: If they could snap up a midfielder and a tall it would be a perfect result. A runner should be a priority.
FREMANTLE
Draft selections: 13, 34, 54, 72
What we said before the draft: They might be in a great spot to have a tall slip to them.
GEELONG
Draft selections: 10, 47, 55, 60, 71 (promoted Mark Blicavs)
What we said before the draft: Having lost some speedy types through the trade period, securing a player with pace would be high on the to-do list. A key defender might be possible too.
GOLD COAST
Draft selections: 8, 15, 29, 66 (promoted Andrew Boston), 90 (promoted Josh Hall).
What we said before the draft: A lock-down small defender would be handy, but there's not much the Suns are desperate for. Can afford to pick the best available.
GREATER WESTERN SYDNEY
Draft selections: 4, 6, 7, 23, 24 (academy selection Jack Steele) 80, 96 (academy selection Jeremy Finlayson)
What we said before the draft: A dose of brilliance could be the only thing the Giants are missing in their squad. Could do with some tall depth after off-season departures.
What happened? The club ticked the brilliance box with its first selection in Jarrod Pickett, a speedy, electrifying half-forward who can win games off his own boot. There isn't a player quite like him at the Giants, so there's a spot there for him if he can continue to improve. Paul Ahern is in the same box, and is another classy indigenous recruit, while the Giants also went tall with Caleb Marchbank as one of their three top-10 selections. Pulled the shock of the draft by taking Pat McKenna with selection No.23, having watched him at Gisborne Football Club in Victoria this year.
HAWTHORN
Draft selections:
31, 49, 50, 68, (promoted rookie Dallas Willsmore), 77 (promoted rookie Zac Webster).
What we said before the draft: A tall forward would be ideal, but is unlikely where the Hawks enter the draft. The 'best available' card works here for the Hawks, particularly with such a commanding list already.
What happened? They added Dan Howe with their first selection at No.31, while midfielder Teia Miles grew on a lot of clubs later in the draft. The Hawks clearly thought they needed another young ruckman after the off-season departure of Luke Lowden, so grabbed Marc Pittonet. He was the first pure ruck chosen at the draft.
MELBOURNE
Draft selections: 2, 3, 40, 42 (father-son selection Billy Stretch), 53, 83 (promoted Neville Jetta)
What we said before the draft: Paul Roos has spoken about the club needing to beef up its midfield. Another tall defender would also be a nice addition if possible.
What happened?
Picked the two best midfielders available
, so can go home very, very content. The Dees are huge winners in this draft, and the club will already be brimming with excitement at unleashing Christian Petracca and Angus Brayshaw in its midfield. Billy Stretch was a father-son bargain and has already started training at the club, while Stretch's close mate Alex Neal-Bullen was a surprise to be available at pick 40. He's another dependable midfielder, meaning the Dees really stocked up in that department. It also landed key back Oscar McDonald at No.53, a key defender who will line up alongside brother Tom at the Dees.
Christian Petracca enjoys a quiet moment after having his name called out at No.2. Picture: AFL Media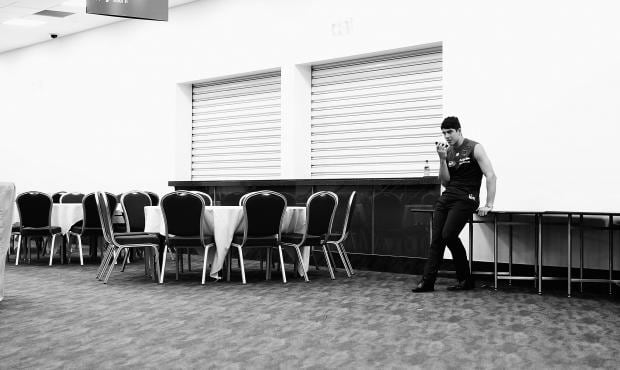 NORTH MELBOURNE
Draft selections: 15, 25, 36, 56 (promoted Joel Tippett), 72 (promoted Kayne Turner).
What we said before the draft: The club will likely target a key defender at some stage of the draft, with outside class also on the agenda.
What happened?
The Roos were very quick to read out Sam Durdin's name at pick 16, for he was the type of player they would have been hoping would fall through to them. The South Australian is better placed as a key defender, but at 197cm can also push forward.
In the end, the Roos went for tall defenders with all three of their picks
, grabbing Daniel Nielson at No.25 and Ed Vickers-Willis at No.36. Although they didn't go for a midfielder at any stage with their three selections, the three talls will shore up that area of the ground for some time.
PORT ADELAIDE
Draft selections: 57, 75, 84, 93, 100 (promoted Kane Mitchell)
What we said before the draft: Have no pressing needs for anything in particular, but perhaps another young ruckman could be on the agenda if available.
What happened? Geoff Parker and his recruiting team obviously identified young key position players as a priority, because the Power's four picks were all 188cm and above. Dougal Howard and Logan Austin came out of the GWS Academy, while Billy Frampton was the ruckman they secured at pick 84.
RICHMOND
Draft selections: 12, 33, 52, 70, 88 (promoted Anthony Miles)
What we said before the draft: It's a good chance for the Tigers to bring more skill to their midfield.
What happened?
As expected they picked classy midfielder Corey Ellis at pick 12, and he's one of the better users of the ball in the draft pool. Don't be surprised to see him to settle in fine and look right at home
. While Ellis isn't super quick, the Tigers' next four selections all bring great speed to the club's list
. Connor Menadue, Nathan Drummond and Daniel Butler are quick and get the ball going, while power forward Reece McKenzie is also an extremely talented athlete who had a good year in the TAC Cup. He'll be given time to work on his game.
ST KILDA
Draft selections: 1, 21, 22, 41, 75 (promoted Darren Minchington), 86 (promoted Cameron Shenton), 95 (promoted Eli Templeton), 102 (promoted Mav Weller)
What we said before the draft: They have to make all three top-25 picks winners. A tall forward and more midfield depth would be the ideal mix.
What happened? They went for the big and strong power forward at No.1 in Paddy McCartin, and it was a fair and logical decision ahead of Christian Petracca, the other main contender. Key forwards are too hard to find and too expensive to lure (usually), and they have selected a very loyal and popular one. The Saints would have been rapt to add a key defender with its next pick in Hugh Goddard, while Daniel McKenzie is a flanker who can jump and provide rebound. Having lost a number of small forward types in recent seasons, Jack Lonie was another smart pick. A successful night for the Saints and they added talent to each line on the ground.
Paddy McCartin's pre-draft nerves were soon soothed when he joined the Saints. Picture: AFL Media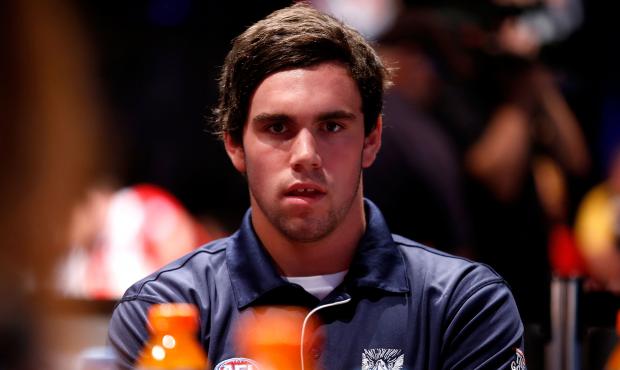 SYDNEY SWANS
Draft selections:
18 (academy selection Isaac Heeney), 37, 38 (academy selection Jack Hiscox), 76 (academy selection Abe Davis), 94 (promoted Xavier Richards), 112 (promoted Jake Lloyd), 130 (promoted Daniel Robinson)
What we said before the draft: The Swans covered most bases with the academy selections in October, where they picked up two midfielders and a mobile defender. The search for a key defender might need to wait until the rookie draft.
What happened? The Swans' only live selection was James Rose, a half-forward from Sturt who has some spark. The club's real present was unwrapped last month when midfielder Isaac Heeney officially joined the Swans, and he is close to the best midfielder in the draft pool. To get him at pick No.18 made the Swans winners no matter what happened later on.
WEST COAST
Draft selections: 11, 32, 51, 69, 87 (father-son selection Alec Waterman), 105 (promoted Callum Sinclair).
What we said before the draft: The Eagles need midfield depth and class and can address that early if the right player is there.
What happened? Went for a very safe bet with Liam Duggan at pick 11, and will be rapt he got through to their pick. He'll bring class and intelligence and is just a really good, rounded player. The next pick for the Eagles could be a little like Jack Darling all over again. Tom Lamb will add to their midfield group, and will love the wide, open spaces of Patersons Stadium where he can use his athleticism and endurance. Damien Cavka is in the same boat, and he was selected at No.66, while Jackson Nelson can play in the midfield, too. The Eagles will welcome five players who can all add something a bit different to their on-ball division.
WESTERN BULLDOGSDraft selections:
26, 27, 39, 45, 46, 62 (father-son selection Zaine Cordy), 82 (promoted Jack Redpath), 100 (promoted Lin Jong).
What we said before the draft: Outside run and speed and perhaps another half-back could be priority.
What happened?
The Dogs went surprisingly small at the draft, with an average height of 179cm for their five live selections.
That's not to say they went wrong – but just to point out that the club clearly thought it needed more ground-level players. Small forwards Toby McLean, Declan Hamilton, Bailey Dale and Caleb Daniel should add some presence near goal, while Lukas Webb's lovely left-foot kicking will see him develop into a role off half-back. Although we thought they might grab another tall defender, they had already selected Zaine Cordy as a father-son pick and signed delisted Cat Joel Hamling, so had that area covered.