FOOTY fans are greedy and impatient. They want success and they want it now. Santa has been inundated with requests from diehards of all descriptions. Here's a selection of them …
ADELAIDE
All we want for Christmas are two white sheets … of paper, containing the prized signatures of Patrick Dangerfield and Rory Sloane. And please, Santa, make them long-term contracts too, just to keep our (Victorian-born) boys safe from those Victorian vipers. If we manage to pull that off, we'll feel like all our Christmases have come at once – even if we miss the finals yet again.
BRISBANE LIONS
Perform well enough to convince young gun James Aish to re-sign before season's end. We mightn't need too much help doing that, big guy, given the talent we're assembling – including high-profile recruits in former Pie Dayne Beams and ex-Cat Allen Christensen – but we need you to seal the deal if Swanny & Co. can't.
CARLTON
Please remove the Kreuzer curse that has hobbled our No.1 ruckman for much of his career. Much more of this and poor 'Kreuz' will be pensioned off in Jurassic Park – not the worst option because he'd be schooled in all things prehistoric by Blues great Justin Madden, who has taken up a new role on the volatile island after his long career in the Victorian Labor Party. (So no real change at all for 'Harry'.) And is it possible to transform Tom 'Jingle' Bell into a 'Kouta' clone? That would really make it a season to be jolly.
Hey Santa! Can the Blues have 'Kreuz' injury-free? Picture: AFL Media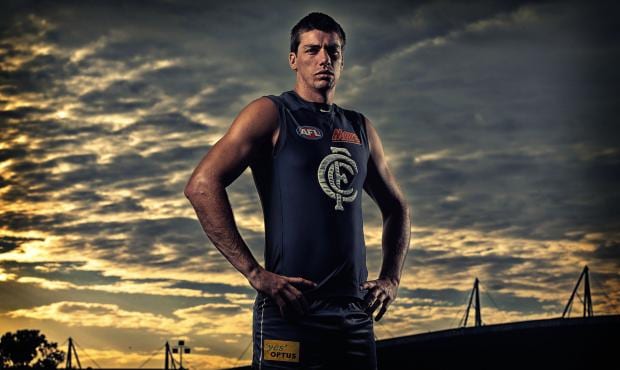 COLLINGWOOD
We're desperate for Nathan Brown to be injury-free and for Jack Frosty The Snowman to remain cool in defence so we can use a hopefully injury-free Ben Reid in attack to give poor Clokey a chop-out. Otherwise our forward line is as predictable as some new-year inkwork for Swanny, or Jamie Elliott, or Jesse White, or that other fella who left us for the Brisbane Lions. And while we're on Beamsy, we're not happy with you, Santa, for granting the Lions their wish from last year. So remember this: you owe us.
ESSENDON
Seriously, do you even have to ask what we want? It's as obvious as the red nose on you-know-who's face. We need every Bomber to be cleared over the supplements saga so they can – finally! – get on with playing the game, free from all distractions. And for Bomber – Thompson that is – to somehow find a way to work with Hirdy and the boys again. Yes, yes, Santa, we know you're not a miracle worker, but see if you can have a word with Him. In the meantime we'll do three Hail Hirdys … er, Hail Marys, and hope for the best.
FREMANTLE
Help … us… keep… our… prem'ship… window… op'n… for… 'nutha… year! Arrghh! We just don't seem to be able to jemmy the thing by ourselves, Santa, despite Pav repeatedly urging the boys to don their Superman capes. Our problem is that we had the oldest list in the AFL this year and our veterans are among our best players: Pavlich, McPharlin, Johnson, Mundy, Crowley, Duffield. None of them will consider sourcing a Dr Ageless, so they're not getting any younger. It's not quite Dad's Army, but it might soon become Ross' Retirement Village, housing the ghosts of Freo's footy past. Godspeed to you, Santa.
GEELONG
It's always exciting to unwrap a recruit, and more so when it's a proven talent who hasn't played for almost two seasons. We'd love nothing more than for ex-Demons forward Mitch Clark to overcome his problems and, in turn, pose a few problems for opponents. He's training the house down, and 'Tomahawk' is grinning so much he's starting to resemble The Joker. He has even taken to saying: "Why so serious? Let's put a smile on that face!" With your help, Santa, Tomahawk's combo with Clark will certainly have us beaming from ear to ear.
GOLD COAST
New coach Rodney Eade to live up to his nickname, put a rocket up our young side and launch us towards the top four. Just making it into the eight isn't enough – we need to start Blitzen. We would've already made our first finals series this year if little Gaz had been available, so – much like a "Thieving Santa" style of Kris Kringle – we want to trade up for a better prize.
With Gazza back, Suns' fans have asked for a spot in the finals. Picture: AFL Media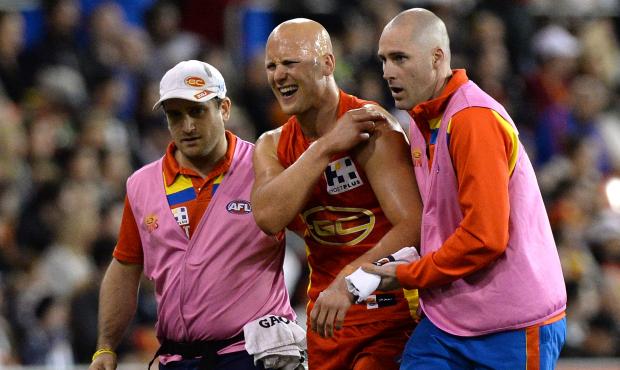 GREATER WESTERN SYDNEY
How was the nerve of Tom Boyd asking to be traded to the Bulldogs as part of the Ryan Griffen deal – after just one season?! It might be petty and even a little malicious – particularly given the Godfather offer Boyd received, along with the fact we spirited Griffen away from the Kennel in the first place – but we want Boyd to be a flop. On the flopside … err, flipside, we also pray Griff's back proves more durable than that of Aussie cricket captain Michael Clarke. A few more wins would be nice too.
HAWTHORN
Are we actually allowed to ask for more? Far be it for us to question such things, but is that even fair? It is? Holy Hawkers, Santa, we could just kiss you right now – Hodgey-to-Buddy-style! After all, you've already given us back-to-back flags and recognition as one of the greatest teams in the modern era, along with another star key defender from a lowly club (James Frawley, to go with Brian Lake). Actually, it would be lovely to enjoy another winter wonderland. Not sure how you'd fit that in the brown-and-gold stocking though.
MELBOURNE
No.2 draft pick Christian Petracca has the right, um, christian name for having prayers answered at this sacred time. He's also divinely talented. (At this point, Santa, we're hoping you can find it in your kindly heart to overlook the fact we're pitchfork-wielding Demons.) We'd love to unwrap Petracca, No.3 pick Angus Brayshaw and hyped forward Jesse Hogan for round one and sit back and enjoy the next dozen or so years on their journey to greatness and, Santa willing, a drought-breaking flag.
NORTH MELBOURNE
What price some consistency? It wouldn't matter – we wouldn't be able to afford it anyway. That's where we're hoping you can come in with a freebie, Santa. This Jekyll & Hyde team of ours seems premiership material when it beats the top sides but too often experiences respiratory problems against easier opposition. Here's another idea: how about we recruit much-maligned, injury-prone pair Jarrad Waite and Shaun Higgins, and watch one of our hardest players go to Collingwood. Yeah, that'll fix it.
PORT ADELAIDE
We're not wanting for anything – not gifts or luck. We just need to steer clear of bad luck, injuries, suspensions, etc. – they're the only things that might slow up our sleigh. We made a semi-final in 2013 and a preliminary in 2014, so it doesn't take a Rhodes Scholar like AFL Commission chairman Mike Fitzpatrick to work out where we're headed. That is, all being equal in this disequal competition.
RICHMOND
Come all ye (yellow-and-black) faithful, joyful and triumphant … OK, maybe that's laying it on a bit thick after a season where we were both naughty and nice. We were quickly struck off everyone's Christmas card list before building more momentum than your sleigh on a clear night. After our past two September stumbles, it's pretty simple, old fella: we just want to win a final. Just one – for now anyway.
Please Santa, just one finals win. Picture: AFL Media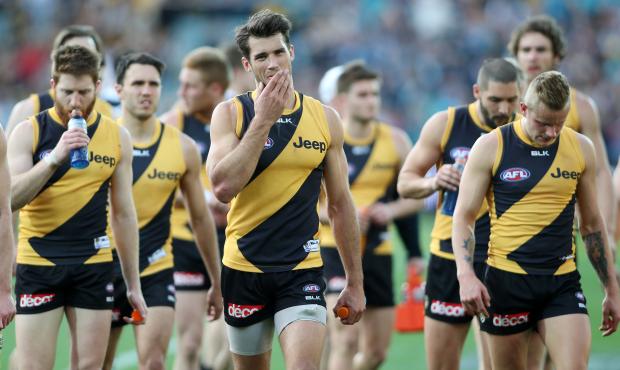 ST KILDA
No. 1 draft pick Patrick McCartin to become our saviour. We don't expect it to happen immediately – that would be asking too much, and we're not the Veruca Salts of the AFL. But we want him singing from the same hymnbook as your namesake "St Nick" Riewoldt – and we want it NOW!
SYDNEY SWANS
Santa, we've always had a closer connection to Christmas than our rivals, what with the endless displays of red and white and the crooned mentions of "seven swans-'a-swimming". Our post-grand final resolution not to pout showed good Franklin-sense. Now we just want 21 other Swans-'a-soaring – rather than snoring – on the biggest stage.
WEST COAST
We're keener to shed the flat-track bullies tag than we are to tuck into Christmas lunch. We came within a game of stealing a finals berth this year – by virtue of a series of percentage-boosting wins – despite not beating a single team that finished above us. So a few of those wins, and more easy kills, will do us very nicely thank you very much.
WESTERN BULLDOGS
Our ex-skipper Matthew Boyd's much younger, bigger, better-paid namesake Tom to prove the Dogs' powerbrokers are wise men. A reported contract of $7 million over seven years is massive coin for anyone, especially a nine-game teenager, so just send all of Tom's future Chrissie gifts the club's way because he's received enough to last a while. By the way, rather than re-gifting socks or "tighty whities", we'd prefer cold, hard cash. Woof.