SYDNEY Swans premiership player and Ireland champion Tadhg Kennelly expects Saturday's game against the Irish to be a tight encounter.
He said the Irish had picked a strong team for the game and their competitive spirit would ensure Australia faced a tough battle to win.
"I have seen over many series when the best are playing they are just very competitive so what happens is you will get a close game," Kennelly told AFL.com.au.
Kennelly described the Australian team as the 'Dream Team' before identifying the most dangerous players in the Irish squad.
"They love to take the game on and play an attacking brand. If you give them space they will score. That is what they are good at," he said.
Australia's build up to the game has included an awareness of Irish history with the Aussies well aware the Test will take place on the 95th anniversary of Bloody Sunday.
Irish captain Brogan told a function on Thursday night they had great pride in representing their country.
"It's beaut to come together with the top footballers in our country and put our wits together to try to take on the Australian guys. We're amateur by status but professional in everything else we do," Brogan said.
"We hope for a really strong battle … we are going to give it a good lash."
The top 10 Irish players
Bernard Brogan, Ireland captain
Age: 31 International caps: 2 International points: 14
Best forward in the country for five or six years now. He is from Dublin and will be looking for unders all the time. Brogan is from a famous family in the capital and highly respected, having won three All-Ireland titles in the past five seasons.
Jack McCaffrey
Age: 22 International caps: 2 International points: 7
The half-back is lightning fast and has attracted interest from AFL clubs. He is explosive and will be great to watch as he loves taking on the opposition. Awarded the highest honour in Gaelic football when he was named All-Stars Footballer of the Year in 2015, just two years after being named young footballer of the year. He is also a medical student.
Lee Keegan
Age: 26 International caps: 3 International points: 9
He is not dissimilar to McCaffrey, having played in losing All-Ireland final teams for a couple of seasons in succession. He is a strong solid running half-back flanker whose battle with Diarmuid Connolly in the 2013 All-Ireland final is part of Gaelic Football folklore.
Conor McManus
Age: 27 International caps: 3 International points: 41
A left-footer who shoots on sight because he just loves to kick a goal, having scored 41 points in three tests. The scoring freak is obviously dangerous around goal.
Colm Begley
Age: 29 International caps: 11 International points: 15
Plays midfield and is a left-footer with a big tank. He spent time on the St Kilda and the Brisbane Lions lists but has been playing the Irish game for a decade now having made his debut in the series in 2006. He'll provide the team with poise and is a real leader of the team in the midfield. Off the field he is quick-witted.
Mattie Donnelly
Age: 24 International caps: 1 International points: 6
He played very well in the Virgin Australia International Rules Series last season so the Aussies will treat him with great respect. He is a solid man who can run up and back all day. If he were playing AFL he would be a high half-forward. He runs hard and is strong.
Mattie Donnelly played well in last year's IRS series in Australia. Picture: AFL Media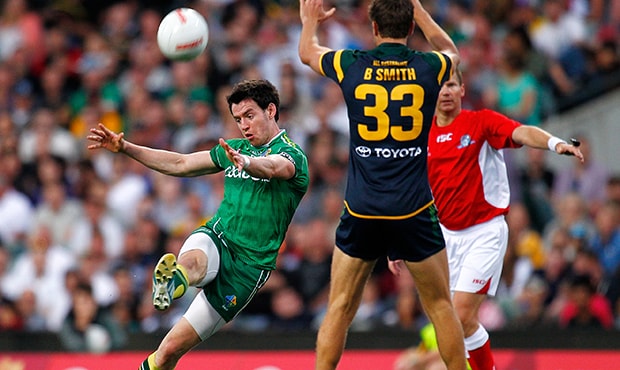 Aidan O'Shea
Age: 25 International caps: 2 International points: 3
Big midfielder who played full-forward last season but he is expected to play further up the ground in this game and is guaranteed to have a crack. He is as tough as they come and spent a couple of months training at the Western Bulldogs in 2009.
Donnchadh Walsh
Age: 31 International caps: 0 International points: 0
His first name translates to Dennis and he is likely to be a menace at some stage. He runs all day, carrying a huge tank. He is a genuine power forward who is known as a workhorse. He finally won selection in Ireland's All-Star team this season.
Diarmuid Connolly
Age: 28 International caps: 0 International points: 0
The dangerous forward can kick on either side of the body and is strong enough to test the Aussies. The locals still talk about his performance for St Vincents Dublin in the Dublin Senior Football Championships final last year.
Michael Quinn
Age: 25 International caps: 0 International points: 0
The former Essendon player has made himself available despite being required for huge club game with Longford on Sunday. He is a good runner.