• Tune in to Trade Talk for LIVE trade coverage every weekday• Check out every confirmed move on the Trade tracker• Latest indicative draft order• NAB AFL Trade Hub: moves, rumours and your reaction
IT WAS a backflip that would have made Olympic diving champion Matthew Mitcham proud.
The penultimate day of the NAB AFL Trade Period had seemed action-packed enough when confirmation came through that the deals involving five clubs, centred around
Dayne Beams
, were done, Carlton had
secured Giants pair Kristian Jaksch and Mark Whiley
, and
Rhys Stanley
had moved to Geelong.
It was the deal GWS swore would not happen.
Boyd, the No.1 pick in the 2013 NAB AFL Draft, was untouchable, they said.
'No matter', the Giants mischievously responded, "We welcome the news Tom will honour the last year of his contract."
However, little more than 24 hours later, the Giants were singing a completely different tune.
Suddenly, Boyd was not part of the Giants' "united and loyal playing group".
Suddenly, he did not represent the club's heartland – western Sydney and Canberra – in the manner the club expected.
Suddenly, the "best course of action" was for him to leave.
Suddenly, this was an "excellent trade in the best interests of the club", one that gave the Giants "the best possible chance of achieving success in the coming seasons".
In fairness to the Giants, the Dogs had sweetened their original offer of a straight Griffen-Boyd swap by throwing in pick No.6.
It is also understood that the Bulldogs have agreed to pay Griffen's $700,000-plus salary next season, while the Giants will only have to pay Boyd's standardised second-year wage. Having played between six and 10 games this year, Boyd's base salary next year will be $81,065, with additional match payments of $4290 a game.
The Giants are now left with picks No.4, No.6 and No.7 in next month's NAB AFL Draft. It puts them in a strong position to launch a bid for St Kilda's No.1 pick and, presumably, the rights to Eastern Ranges midfield bull Christian Petracca.
Eastern Ranges star Christian Petracca is a likely No.1 pick in the NAB AFL Draft. Picture: AFL Media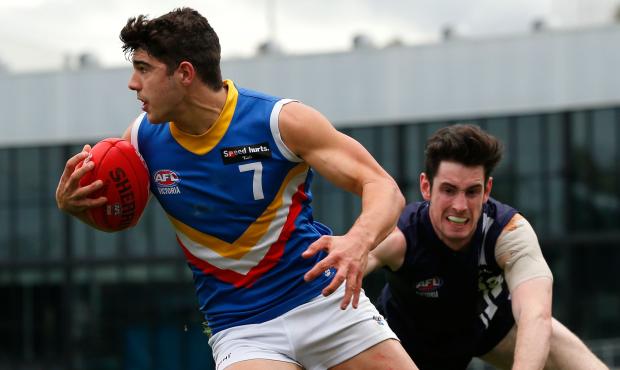 On the other hand, the Bulldogs hope they've secured the elite key forward they've been lacking since Barry Hall's retirement at the end of 2011.
But they've paid a price of Buddy Franklin proportions to get him.
A seven-year deal. At an average annual salary understood to be about $1 million.
That's serious coin for a 19-year-old who has played nine AFL games and kicked eight goals. No matter how impeccable his junior football pedigree.
Time will tell who the winner in this trade is.
Most of the interest on the final day of the trade period on Thursday will be on whether Patrick Ryder gets to Port Adelaide, and on whether GWS or any other club can come up with a deal to convince St Kilda to part with the No.1 pick.
Essendon and Port Adelaide attended mediation at AFL House on Wednesday in a late bid to resolve the impasse, but AFL.com.au understands little, if any, progress was made.
Port is still offering picks No.17 and No.37 for the Bombers ruckman and is not prepared to budge.
The Bombers, who were involved in mediations on the Mark Williams trade in 2009 and the aborted Josh Caddy trade in 2011, are not biting at this stage.
Will a good night's sleep and the spectre of Ryder taking his case to the AFL grievance tribunal be enough to change their minds?
We'll know by 2pm on Thursday.
As of Wednesday night, the Giants had not made contact with St Kilda since the Griffen-Boyd deal to discuss a trade for pick No.1.
However, other than Melbourne, which holds picks No. 2 and No.3, no club holds a stronger hand with which to tempt the Saints.
The Demons tried - and failed - to lure a star like Adelaide's Patrick Dangerfield. Picture: AFL Media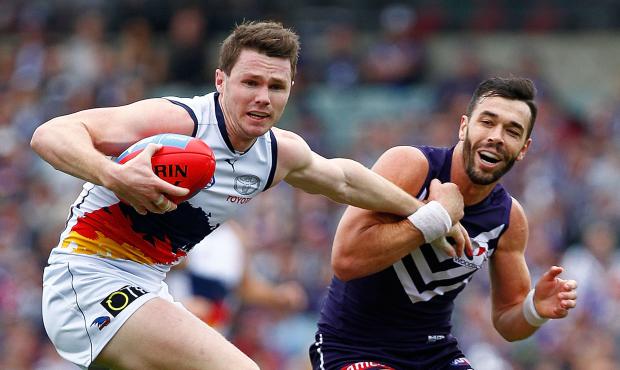 St Kilda is keen to multiply its round-one presence and could be tempted by a package of round-one selections, potentially the Giants' pick No.4 and one of No.6 and No.7.
But, after knocking back four offers for their prized selection, it is understood the Saints will wait for the Giants to approach them before discussing any proposed new deal.
St Kilda has also already achieved its trade period objective of obtaining three picks inside the top 22.
If St Kilda is prepared to do a deal, it will be the first time pick No.1 has been traded since Fremantle sent the prized selection to Hawthorn in 2001, giving up the rights to champion Luke Hodge.
Petracca would be the likely target for GWS if it secured pick No.1, while the Saints would still be in a position to recruit a key-position forward like Patrick McCartin or Peter Wright at pick No.4 and secure another star junior just a few picks later.
However, Greater Western Sydney could dangle its trio of top-10 picks in front of some clubs to see if it can entice them to part with experienced stars.
Ryder is the only one such player in the market, but he has his heart set on Port Adelaide.
Could the Sydney Swans be tempted to part with experience for one of the Giants' early picks?
It remains unclear whether Bulldogs Brownlow medallist Adam Cooney will get to a new club by Thursday's deadline.
The 29-year-old veteran has played 219 games with the club, but has attracted interest from both Essendon and North Melbourne.
Cooney's decision appears dependent on whether Essendon accepts picks No.17 and No.37 for Ryder.
If it does, it might be able to use pick No.37 to trade for Cooney. If not, then North Melbourne could grab him, with the Roos understood to be prepared to trade forward Kieran Harper and downgrade its No. 36 pick for the Bulldogs' No. 45 pick in exchange for Cooney.
Of course, the contracted Cooney might decide to stay with the Bulldogs.
Negotiations are continuing between Gold Coast and Hawthorn for Hawks midfielder Mitch Hallahan.
Gold Coast is reluctant to use its second-round selection, No.29, in a trade for Hallahan.
But the Suns are hoping to use that pick to either get two selections – one of which would get the deal done – or exchange its pick No.29 for Hallahan and the Hawks' pick No.43.
Gold Coast is keen on Hawthorn midfielder Mitch Hallahan. Picture: AFL Media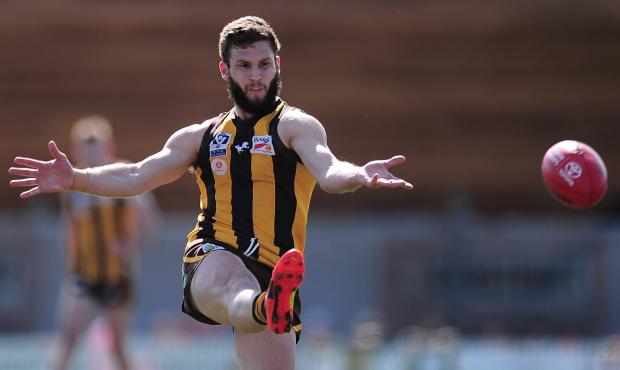 It is understood a number of clubs will be involved in exchanges of draft picks on Thursday, with some seeking to improve their draft positions and others content to convert one pick into two later picks.
After landing Jaksch and Whiley on Wednesday, the Blues will try to broker a trade for Bulldogs spearhead Liam Jones.
However, it is believed the Blues' talks with the Bulldogs are at a stalemate, with Carlton offering its third-round pick, No.46, for Jones, and the Dogs seeking to structure a deal around the Blues' second-round pick, No.28.
Essendon and Greater Western Sydney are confident of reaching a deal for ruckman Jonathan Giles ahead of Thursday's deadline.
The Bombers' third-round pick, No.53, could be enough to get the trade done, but the final deal could depend on what the Dons receive in the prospective Ryder trade and on whether they increase their offer to the Western Bulldogs for Cooney.
In Wednesday's completed deals: