THE AFL and clubs gave fans an insight into the brave new football world when live trading was unveiled for the first time in last week's NAB AFL Draft.
What many recruiters expected to be an underwhelming debut actually produced 14 live trades across the two days, with only Melbourne, Port Adelaide and Essendon not involved in a completed deal.
That took the number of trades for this year to a record-smashing 54, including 39 in the NAB AFL Trade Period and a pick swap after that between Collingwood and Geelong ahead of the draft.
There had never been 40 in a previous year, but the 2018 tally is, of course, inflated because of the introduction of live trading.
Since that explosion of activity, the industry consensus is that everyone should brace for even more live trades next year and beyond.
NAB AFL DRAFT HUB Latest news, video and more
Greater Western Sydney national recruiting manager Adrian Caruso helped engineer two such trades for the Giants last week.
"The live trading was interesting, because it was the first time it'd ever been done, but it definitely felt like clubs were willing to do deals," Caruso told AFL.com.au.
"There were no clubs sitting there going, 'We're not going to deal' or 'We're going to try and hold out for a better deal' – it was more trying to get something done that helps both parties.
"With the deadline of live trading, you couldn't draw it out and haggle as much. It was pretty much, 'This is the deal, so take it or leave it' and if it wasn't going to happen then you move on."
WHO SMASHED IT? Your club's draft verdict
It comes after restricted and unrestricted free agency started at the end of the 2012 season, the mode of movement that enabled ex-Gold Coast co-captain Tom Lynch to walk to Richmond.
The AFL Players' Association plans to negotiate a reduction in the eligibility criteria for free agency once the collective bargaining agreement expires in 2022.
HOW IT WORKS All the details of the AFL's free agency rules
Another form of player movement was created this year with the pre-season supplemental selection period (SSP), while there will also be a mid-season draft in 2019.
ANOTHER CHANCE AFL reintroduces mid-season draft
Previously listed AFL footballers no longer have to nominate for the draft and can sign with their club of choice as a Category A rookie between December 1 and March 15.
The only exceptions are those players who retire or delist themselves.
In those cases, they must nominate for that year's draft and be overlooked – or sit out an AFL season – to be eligible for the SSP.
The same goes for players who have never played at the highest level, but nominated for that year's draft and didn't find an AFL home.
They, too, become eligible for the following SSP, although if they still miss out they must nominate for the draft again the next year.
GWS recruiting manager Adrian Caruso deep in thought at the draft. Picture: AFL Photos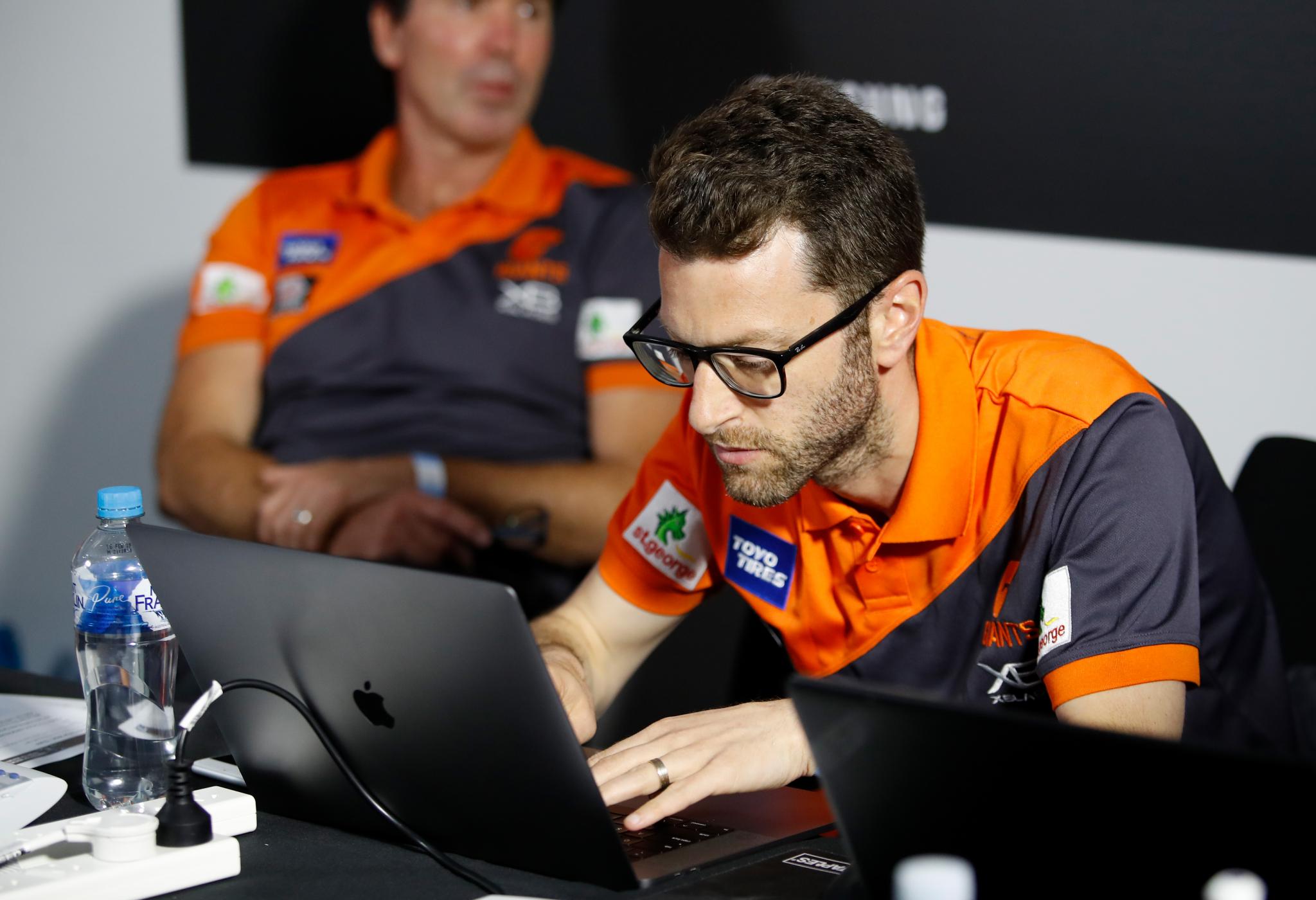 None of this is by accident.
The AFLPA has long championed this cause and the AFL is increasingly on board, with chief executive Gillon McLachlan outwardly craving more player movement.
LOAN SYSTEM? Gill floats EPL-style player movement
There was a feeling at League headquarters that things like the Draft Value Index, where descending points are attributed to picks, and the accompanying 'bidding' system had only tied clubs' hands more.
The advent of new draft rules and signing periods were designed specifically to increase flexibility, coming at a time the AFL acknowledged a greater maturity across the industry.
Several recruiters and football managers told AFL.com.au this week that they felt the AFL was not as strict as it once was on vetting trades.
A push has already begun for clubs to be able to trade more than one year into the future, something that is expected to happen sooner rather than later.
THINGS WE LEARNED Lessons from the 2018 NAB AFL Draft
The AFLPA's general manager of player and stakeholder relations, Brett Murphy, welcomes the "growing acceptance" around increased player movement.
"The recent changes have given clubs greater flexibility in managing their lists, which is a good thing for clubs and the game," Murphy said.
"Freedom of movement, and the ability to choose your employer, is a fundamental human right.
"While we understand the rationale for certain restrictions to assist competitive balance, such as the draft, it is important that those restrictions don't go too far."
Gold Coast coach Stuart Dew and list manager Craig Cameron ponder their moves at the draft. Picture: AFL Photos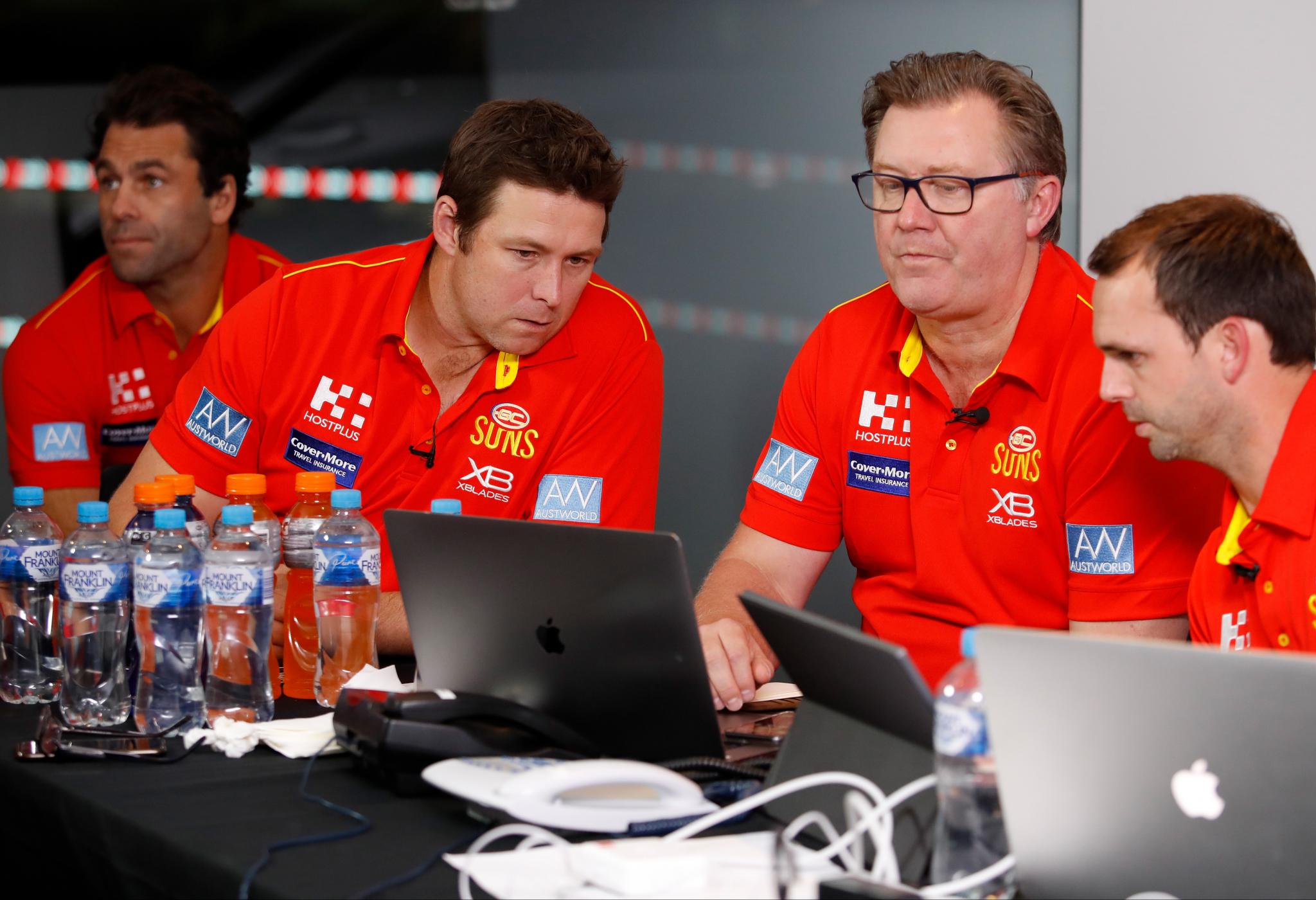 Making easier the AFL's mission to swing open the player movement doors is the presence of sharp-minded recruiting renegades such as Caruso.
His aggressive mindset perfectly fits the new trading and draft possibilities, with his GWS comrades just as eager to test the limits.
CLUB LISTS COMPARED Oldest? Youngest? Most experienced?
"We were prepared and happy to roll the dice and be bold, because we feel the best way to move forward as a footy club is to continue to make decisions we think will help us long term," Caruso said.
"I can't speak for everyone else, but that's just the philosophy I have and our footy club has; that to get anywhere you need to take a punt at times.
"If you go safe, you might end up with a list that's a bit safe.
"We're not going to do anything that's stupid; it's all based on the information we have and the work we've done, so we're doing it for the right reasons."
Go inside the meetings and be there as Leon Cameron and the GIANTS recruiting team prepare for and execute their plan at the NAB #AFLDraft.#BeGIANT pic.twitter.com/2jn2L3hFsF

— GWS GIANTS (@GWSGIANTS) November 26, 2018
However, Caruso and Murphy agreed the AFL industry was not ready for players to be trade chips on draft night, with the AFLPA's stance summed up in one word: "reluctant."
"I'd say it's still a while away," Caruso said.
"I can't see the AFL being open to doing that just yet, considering how successful (live trading) was without needing to do that.
"It's been talked about, but … we'll just wait and see how this live trading on the night settles in the next couple of years."