BEING unsure whether he will be drafted puts Hamish Brayshaw in an odd situation within his family.
Brayshaw's elder brother Angus was picked up by Melbourne at No.3 in 2014, while younger sibling Andrew is expected to be gone by the time the NAB AFL Draft goes into double digits later this month.
Hamish was passed over last year as he battled serious foot injuries, and sees himself as ready for the AFL system.
However, he is aware it might not happen for him.
"In terms of them (his brothers) knowing what's going on and me not so much, I don't really think about it all that much," Brayshaw told AFL.com.au.
"I'm lucky enough to have finished school and be at uni. I'm studying and working, so I've got other things in my life besides football, so it's not as if it's just the be all and end all for me - I do have something to fall back on.
"A lot of people who are in the situation where they're not sure (if they will be drafted) don't have other people that are already playing or almost certain to go, so it's a bit of a different dynamic, but I couldn't be happier for the two of them."
Tomorrow's Heroes: No.1 contender ticks all the boxes
One thing is for sure – Brayshaw has the resilience to return to the VFL in 2018 to keep pursuing his dream if he goes undrafted.
After all, this is the same person who captained the Sandringham Dragons to a TAC Cup premiership last year with a broken right foot.
In March 2016, Brayshaw hurt the Lisfranc ligament in his right foot while playing an intraclub match with the Dragons. He also suffered a crack in his foot, which was noted at the time by the radiologist. However, it was unclear whether Brayshaw was born with that crack, as some people are, or whether it was new.
Brayshaw wasn't bitter, saying it was an "honest mistake", since the crack couldn't have been recognised as an injury without a scan of his foot from when it was healthy.
Hamish Brayshaw (right) celebrates the TAC Cup win with Sandringham last year. Picture: AFL Photos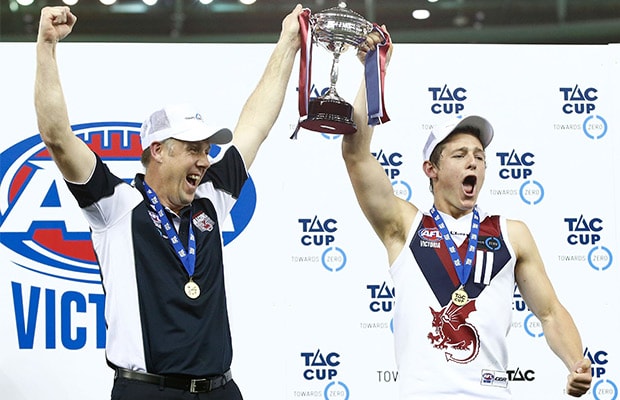 He came back for the flag but ended up with a navicular injury that required surgery in October, and then could not run until January.
Despite the setback, Brayshaw put some terrific form together in 2017. He split his season between the Dragons and the Sandringham Zebras in the VFL and improved his outside game against more mature bodies.
That came to the fore when he returned to the TAC Cup. He booted five goals and collected 30 disposals against the Northern Knights in his first game back.
"Even though he's a year older, he's not that much older to have games like that. It's pretty outstanding," Dragons talent manager Ryan O'Connor said.
The third of four children, with Will the most senior sibling, Brayshaw has his hands full outside of football.
Studying science at Monash University and part-time jobs caddying, working at a pizza shop and tutoring maths and English keep him busy.
That would all take a back seat if Brayshaw received his chance of making it in the AFL, wherever that opportunity came from.
"(Moving interstate) absolutely doesn't bother me. I'd walk to Perth if it meant playing for the Dockers or West Coast," Brayshaw said.
Brayshaw lined up with brother Andrew this season at the Dragons but has never played with Angus. He would relish the opportunity to link up with either, having grown up in a close family.
"The four of us (brothers) were inseparable. We lived 100m from a park so we'd all go down and kick the footy. We'd fight, we'd argue, but it was a really, really tight-knit group," Hamish said.
A few clubs have spoken to him recently: Collingwood, Melbourne, North Melbourne and Sydney. Several others interviewed him in 2016.
For O'Connor, it is an interest teams should pursue.
"I just think he's worth an opportunity. For a club who's considering a big-bodied midfielder who can be a really valuable player person around the club, they wouldn't go too wrong if they gave him a chance," he said.