AT LAST October's John Worsfold Medal presentation, Adam Simpson promised his wife Nicky that they would move closer to the beach.

"You've wanted that all year," the West Coast coach said.
Then, typically deadpan, he quipped: "It might be in a caravan this time next year, but we'll be closer."
Nearly 12 months on, it is impossible to ignore the symbolism of Simpson's pending relocation.
After a labour of love, the 42-year-old and his family are next month expected to move into a newly built pad in an upmarket beachside suburb – about as far away from the trailer park as you can get.
By then, he might even have joined premiership coaches Worsfold and Mick Malthouse in West Coast folklore.
Clearly, a lot has changed since Simpson was copping the blowtorch during a frustrating 2017 campaign.
Against all expectations, West Coast is just a home preliminary final win away from a second Grand Final in four seasons.
MEGA-PREVIEW West Coast v Melbourne
With the ink still drying on a three-year contract extension, Simpson is locked in – as securely as a senior AFL coach can be – until the end of 2022, and rash calls for his head as the Eagles struggled to scrape into finals last season are fading into memory.
"He did get a little frustrated last year with some of the press and some of the WA media, and some of the reporting, but I think he knows it goes with the territory," Simpson's long-time manager Shane Casley told AFL.com.au.
"It's a small town, Perth, and it's a big job he's got, so he's probably got to expect a bit of heat when they're not performing.
"But we spoke about that over the off-season and his need to get better and keep building relationships and improving the culture at the footy club.
"Whether they're winning games or not winning games, it's just about going about it the right way and building that respect, and I think he's done that this year – and won games along the way."
Adam Simpson and his players ahead of the qualifying final against Collingwood. Picture: AFL Photos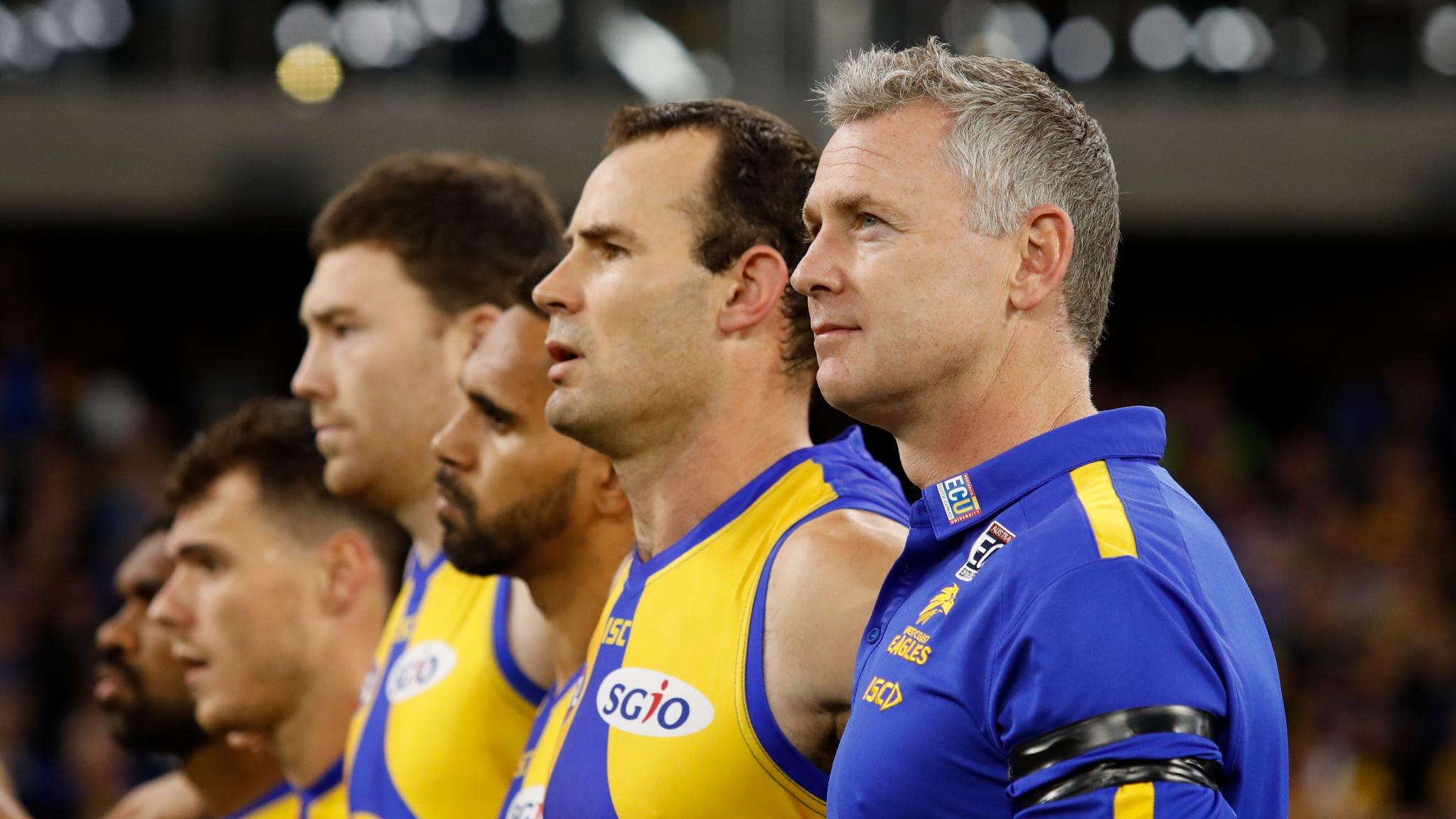 The secret behind West Coast's unexpected resurgence – so soon after the retirements of Brownlow medallists Matt Priddis and Sam Mitchell – might be that there is no single reason for it.
On the field, the Eagles haven't rebuilt, but they've renovated, with Simpson the architect.
They have blooded eight debutants and injected pace and enthusiasm after seeming tired and slow when they crashed out in a 67-point semi-final loss to the Giants last year.
Adapting to their new, wider home ground at Optus Stadium, the Eagles have kicked the ball more than any other team and players have had Simpson's trust to back their instincts.
"I think he's passed onto the playing group 'this is what we're trying to achieve, but you can do it different ways'," skipper Shannon Hurn said.
"It's not when we get the ball in the back pocket you have to kick the ball here, then there, and then there.
"I think over time he's given the players more ownership about how to go about their football."
Groomed for four years under Hawthorn mastermind Alastair Clarkson, it should be no surprise Simpson has been tactically astute during his five-season reign in the west.
The famed 'Weagles Web' – born out of necessity after key defenders Eric Mackenzie and Mitch Brown went down – handed the Eagles a competitive advantage in 2015, and helped propel them to a shock Grand Final appearance.
Simpson and the Eagles contemplate their loss to Hawthorn in the 2015 Grand Final. Picture: AFL Photos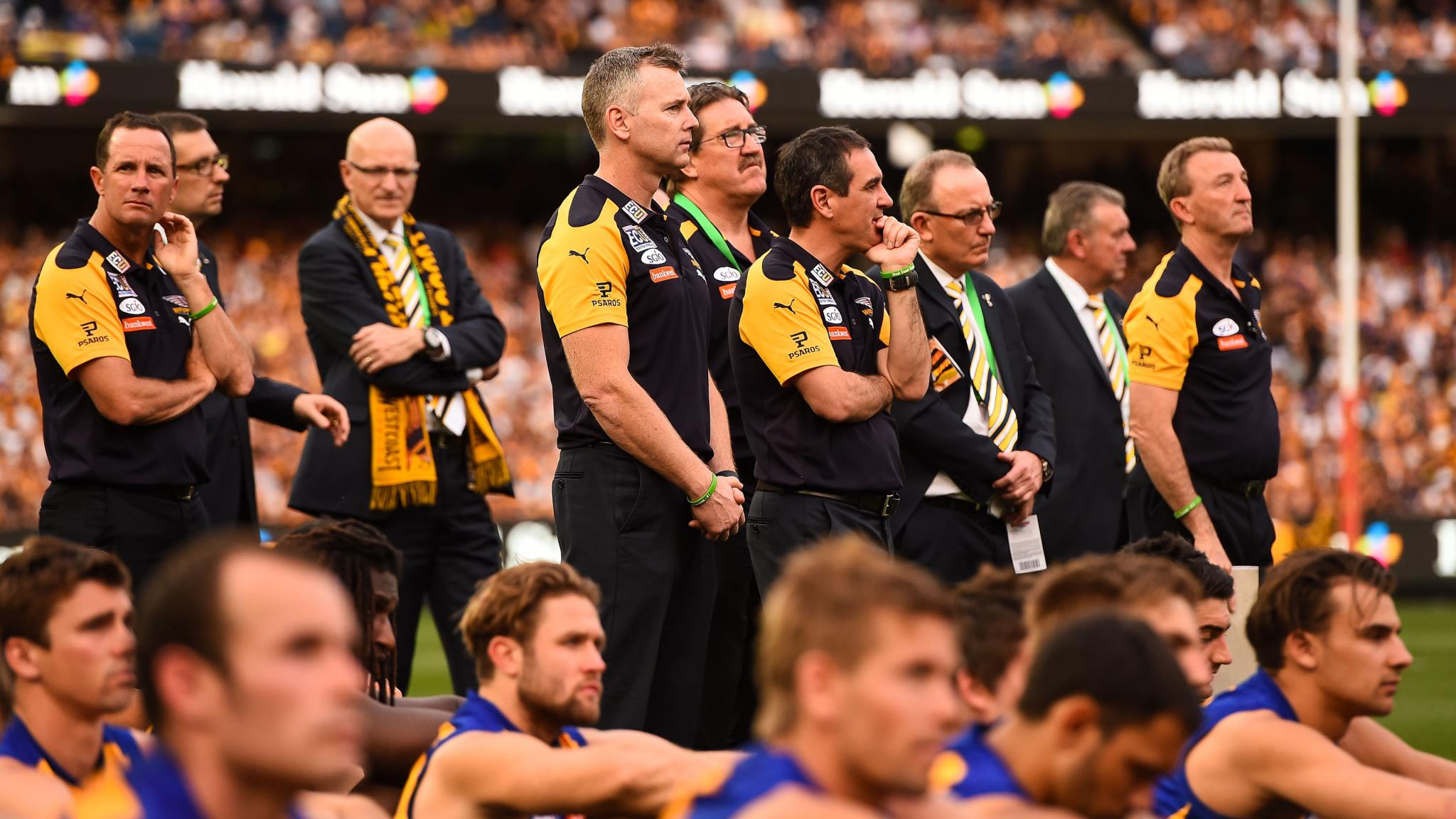 Although West Coast lacked a clear identity last season, Simpson still steered the side to an elimination final victory and an off-season revamp has delivered sensational results.
But man-management and empathy have arguably been more essential to his success.
Simpson gets to know his players intimately and shows he cares about them as people.
Last summer, he and assistant coach Jaymie Graham took their sons to the Tiwi Islands to better understand goalsneak Willie Rioli's culture.
Then on the eve of the season, he drove a four-hour round trip from Melbourne to Bendigo for a 20-minute visit with Tom Cole's dying father.
He is a players' coach, and Simpson's style isn't 'one size fits all'.
His tight bond with Jeremy McGovern is well-known, forged after Simpson banished the overweight tall to Claremont soon after his 2013 appointment.
Tough love helped turn McGovern into a star, and when Dom Sheed was dropped back to the WAFL three times this season, the 23-year-old was grateful for knowing where he stood.
Jeremy McGovern and Simpson share a laugh after a win. Picture: AFL Photos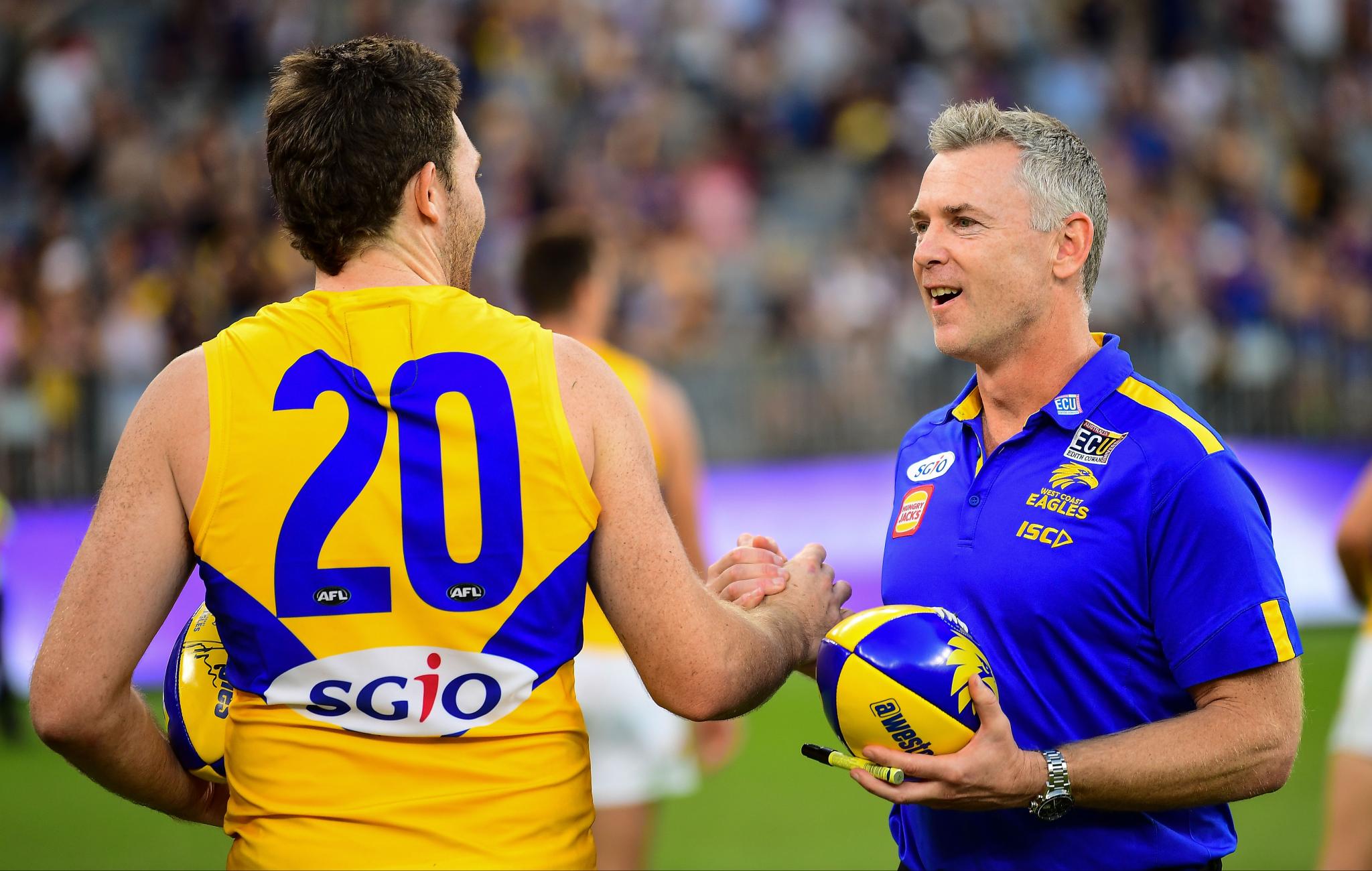 "He builds relationships with every single player," Sheed said.
"He's a very balanced, well-rounded person. You know his door is always open for any players to walk into."
Sheed has been important since Andrew Gaff was suspended, and he isn't the only Eagle who has blossomed after stints at East Perth.
Jack Redden and Lewis Jetta were supposed to help West Coast take the next step after being recruited at the end of 2015, only to struggle to find their groove and languish in the WAFL.
This year, both have been influential – Redden around the ball and Jetta after a switch to half-back – while Chris Masten has been reborn on a wing after his career was at the crossroads last year.
Masten was a shock round one selection, but is now a key engine room cog, thriving on a simpler focus on his role and a strong relationship with the coach.
"He treats everyone differently, and that's what I like," Masten said.
"With 'Gov', they're like the same person. For me, he's more the boss, but you're still mates with him.
"He'll take the piss out of me but it's a weird, funny relationship.
"He's a funny man, but also so smart and so good at getting the best out of his players.
"He's definitely good now with how we've progressed and handing the keys over to the boys, and we know what we're doing because of the way he's taught us."
Simpson and Chris Masten in conversation during a game. Picture: AFL Photos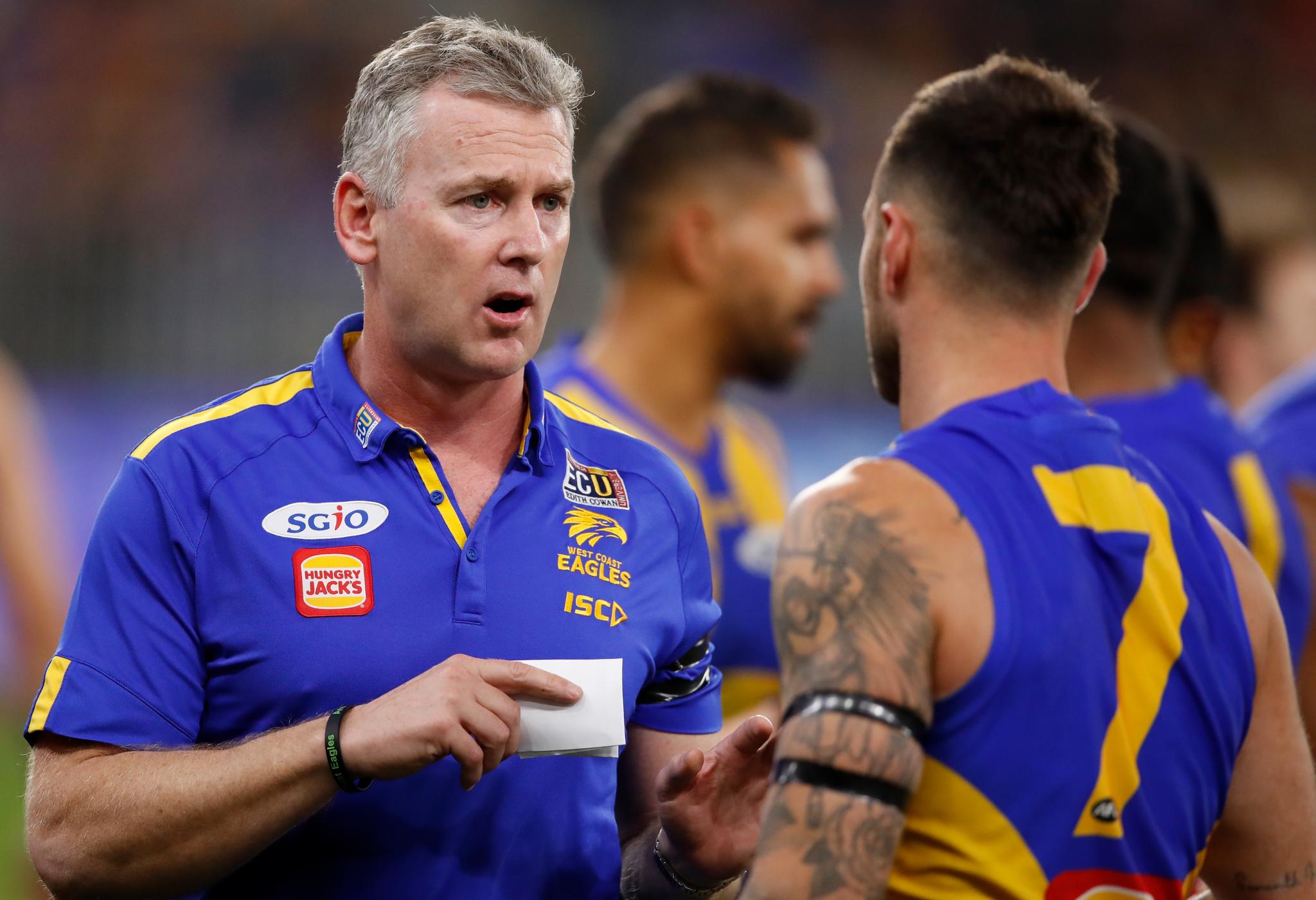 ON GAME day or in front of the TV cameras, Simpson is almost always cool, calm and collected.
Not much ruffles his feathers, but he is fiercely loyal.
He is prepared to back those in his inner sanctum to the hilt, and arguably went too far in supporting integrity officer Peter Staples after his scuffle with cameramen at Perth Airport in July.
In the aftermath of Andrew Gaff's punch on Andy Brayshaw in the round 20 Western Derby, he was clearly miffed by questions about a cultural issue at West Coast.
As a senior leader at the club, he took those accusations personally.
But those issues were soon pushed into the background, with the bigger picture of a premiership tilt front of mind.
"That was one of his big traits as a player and captain: nothing was ever that good (as it seemed), but nothing was ever that bad," Simpson's former North Melbourne coach Dean Laidley said.
"He was very, very consistent in that."
In football terms, Simpson just about saw it all at the Roos and took everything in his stride.
After the highs of the 1996 and '99 flags, he was a rock through the Wayne Carey saga and skipper when North fought against relocation to Gold Coast.
"What he did as the leader of the playing group and how he actually played himself, he was instrumental in the last part of his career in a very rough and volatile time off the field at the footy club," Laidley recalled.
"West Coast rang me when he applied for the job and I was a very, very strong advocate for him to get the position.
"I knew what he could deliver."
Dean Laidley and Adam Simpson celebrate a win in 2009. Picture: AFL Photos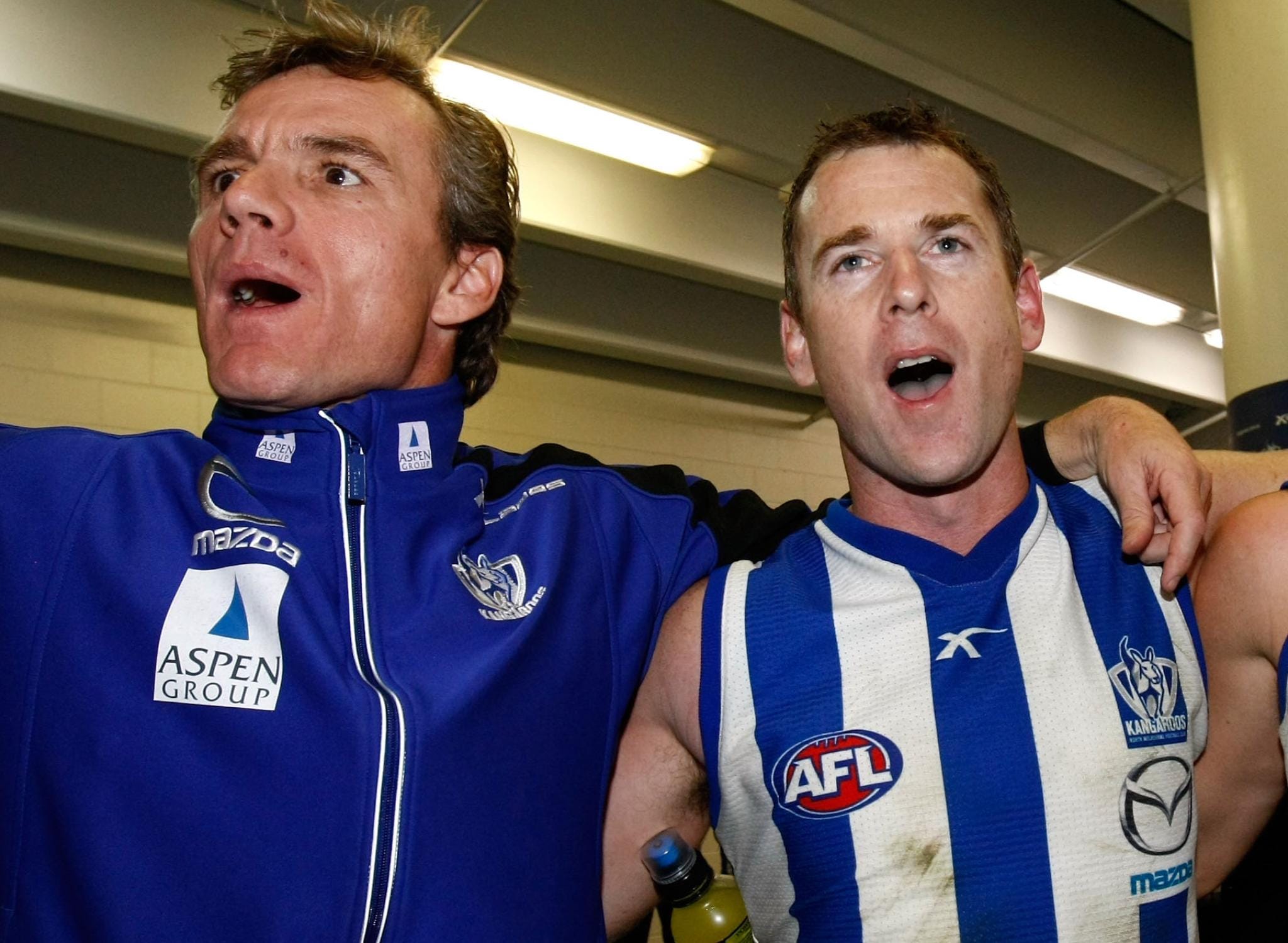 THOSE who play under Simpson respect what he achieved as a 306-game Kangaroos champion, and say he still understands how difficult AFL football can be.
He won't hold back from a spray when necessary, but his stinging rebukes are the most memorable for his players.
For some, it evokes that sinking feeling of a parent telling them they're not angry, just disappointed, and he always hits the mark.
"It's not the yelling, ranting, raving, it's like a little whack," Masten said.
"He's quite sarcastic and funny, he can get you where he hurts.
"He was calling me (outspoken DJ) Kyle Sandilands for the radio (interview calling on the AFL to stop tinkering with the rules). That's just him."
Masten, more than most, appreciates the Eagles' refresh during his most enjoyable season yet.
"There were times last year when we were battling to have any sort of enjoyment," the 29-year-old said.
There has been a clear emphasis on boosting the enthusiasm for going to work, and while new blood has helped, a balanced approach to life outside of football has played a part.
The Eagles are a mature group, and senior players are occasionally given extra days off just to get away from the club and escape Perth's footy fishbowl.
With a quarter of the squad now dads – 11 players in total after Luke Shuey's son's arrival – family time is a priority, and partners are encouraged to be part of the club.
Post-game the changerooms resemble a crèche, with many of the coaching staff also fathers.
For Simpson, a father of four with high school sweetheart Nicky, family comes first, as evidenced when he flew home before the round two win over the Bulldogs to be by his ill daughter Elsa's side (he also has Owen, Allie and Milla).
"The beauty about it is we all love what we're doing, but we've got young families and there's a good balance as well," forwards coach Jaymie Graham said.
"It's an elite environment where everything you do gets scrutinised these days and Simmo has been big on making the club a sanctuary and a place where you can come and have fun and feel comfortable.
"He's come from the North Melbourne days and that's one thing about the 'Shinboners' is they had that spirit that they brought.
"We're a really united group, one as a club and playing group, but also a coaching group."
Assistant coach Sam Mitchell deep in conversation with Simpson. Picture: AFL Photos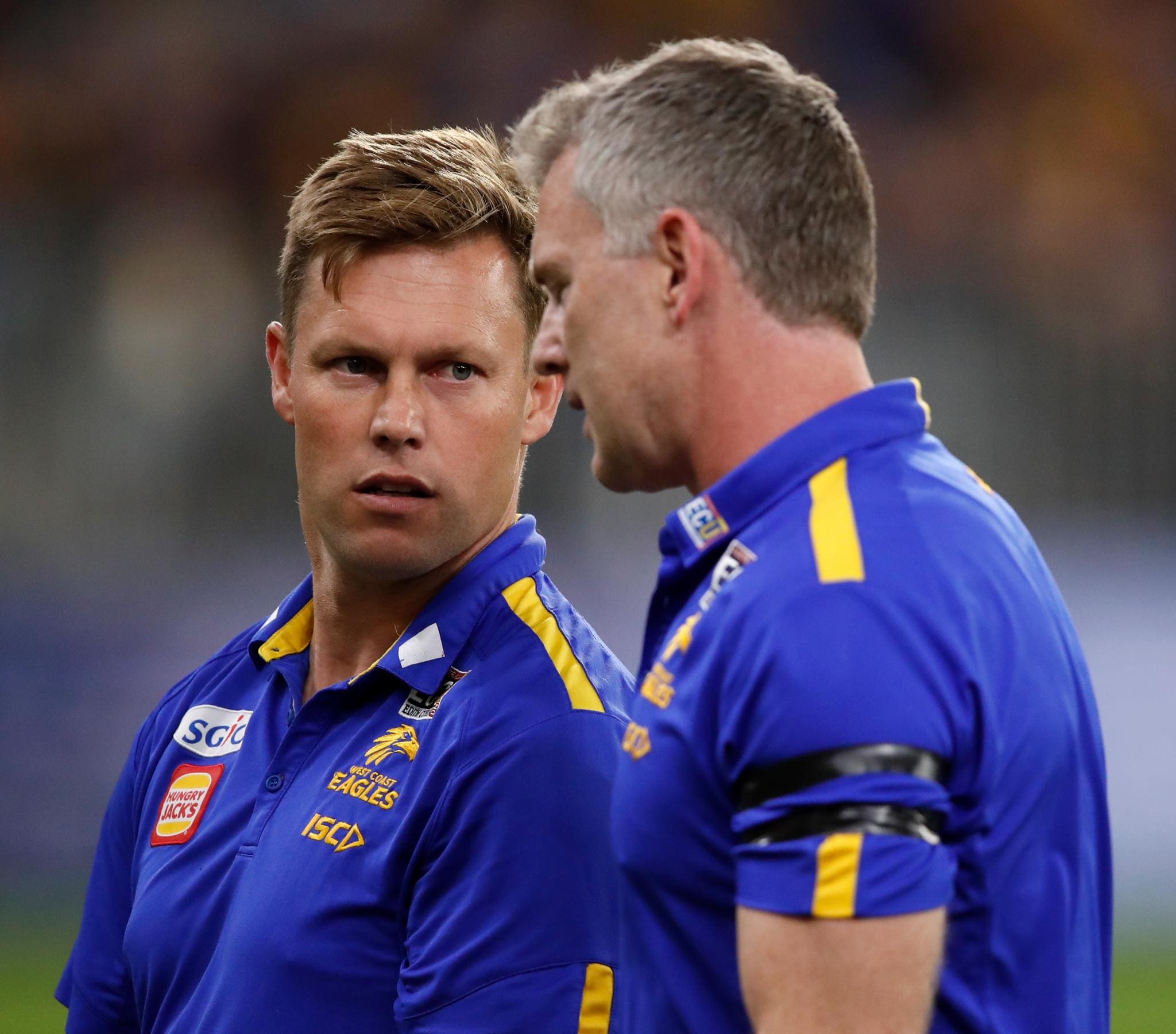 A METICULOUS preparer, Simpson's ability to adapt and succeed hasn't surprised those who know him.
He chipped in as North's midfield coach late in his playing days when the Roos couldn't afford a full-time assistant, and was clearly ready for the step up to coaching.
"I'd go and ask him 'what have you got in mind for centre bounce?' and he'd be all over it and coach the players through it," Laidley said.
"That was fantastic for me and great support, but was really good for his development."
In his last season in 2009, Simpson became the first graduate of David Wheadon's Next Coach Program, and his quest for knowledge hasn't stopped.
Two years ago, Simpson visited Stanford University with Collingwood mentor Nathan Buckley and Wheadon, learning the value of delegation and empowerment, and he and Eagles CEO Trevor Nisbett are currently scouting options for his next study trip.
"He's very planned, very organised," Wheadon said. "He's a pure professional."
It was Simpson's drive that helped win him the job ahead of Peter Sumich in 2013 after Worsfold stepped down.
Since then, West Coast has made the top eight in four of five seasons and, based on win-loss, Simpson is indisputably one of the AFL's elite coaches.
Only three rivals boast a better winning ratio than his 64 per cent.
But two of those men – Chris Scott and John Longmire (Adelaide's Don Pyke is the other) – have led Geelong and Sydney, respectively, to the ultimate prize, and Simpson needs a premiership to join the truly top bracket of coaches.
It would be a stunning effort this season without some key personnel, but there is an air of calmness and business as usual at West Coast ahead of Saturday's preliminary final.
If the Eagles do overcome the Demons and advance to the decider, don't expect the celebrations to go overboard, especially in the coaches' box.
West Coast's coaching staff might share a quick celebratory drink post-match in the bowels of Optus Stadium, but not much more than that before turning their attention to last Saturday in September.
"I think they do take in a bottle of red after every winning game – certainly home games," Casley said.
However, if West Coast can go all the way, Simpson will have good reason to savour that success a little longer at his new home this summer.
"If they win a Grand Final I might even buy him a bottle of Grange," Casley said.