GREATER Western Sydney coach Leon Cameron was left bemused at three-quarter time of Sunday's 10th Sydney derby as his players seemingly lost interest in his pep talk to focus on a kicking competition.
A Giants' co-major sponsor gave a fan the opportunity to win $100,000 by kicking a footy into a stack of four tyres from 40m during the last break at Spotless Stadium.
Paul Waterhouse, a former Swans supporter, was the lucky winner of a pre-game competition that required fans to post a photo of themselves on social media donning their Giants paraphernalia.

Match preview: Essendon v Greater Western Sydney

The young father found out he had won when his selfie, which also featured his wife and their one-year-old daughter, was displayed on the scoreboard at quarter-time.
With a record 21,541 crowd on hand, Waterhouse seized his 'Grand Final' moment and calmly – and miraculously – landed a pinpoint drop punt inside the tyres.
Cameron said it was one of his more bizarre coaching experiences as he tried desperately to keep his players focused on the task ahead.
"It was quite unique, I have to say so," Cameron told Fox Footy on Monday night.

Paul Waterhouse celebrates his amazing kick into a stack of tyres. Picture: Getty Images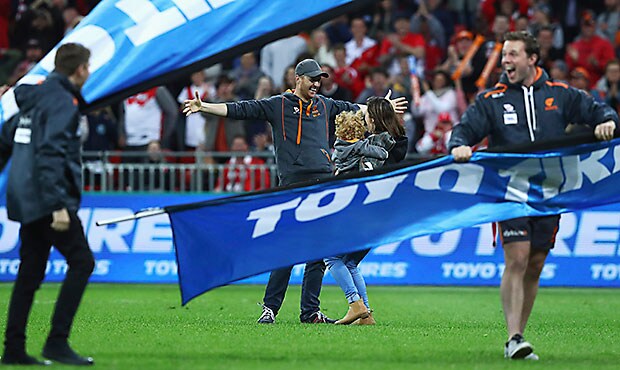 "You're trying to wind them up, the Swans have come late in the last seven or eight minutes of the quarter, and we've gone from 40 points up to (20) points.
"I called them all in and (heard) this massive roar, and I'm sure it wasn't for my speech, (but for) the lad (who) knocked the ball in."
Cameron said his elder statesmen were particularly in raptures and struggled to hold their emotions in check.
"Steve Johnson was absolutely going off his head at the back of the group and Heath Shaw couldn't keep a straight face," Cameron said with a laugh.
"I'm trying to concentrate on contested ball and stoppages and trying to win the game, and these guys are laughing their heads off."
The Giants' 42-point win over the Swans marked the expansion club's 100th game in the AFL.