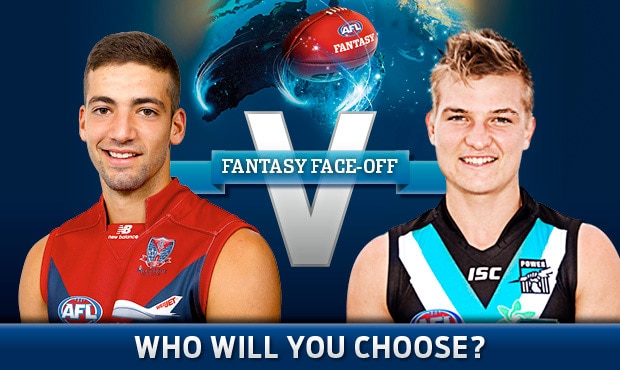 JIMMY TOUMPAS




OLLIE WINES



Fantasy position

Midfielder
Midfielder
2013 price
$170,200
$156,700
Age
19
18

X-factor, Rising Star or Mr Reliable?
Rising Star. Toumpas was one of the most impressive players up for grabs at last year's draft. He doesn't have the size of Wines, but his skills and work ethic made him one of the most wanted players coming out of the Under-18 Championships.

Rising Star. Wines will obviously need time to develop into the imposing midfielder Port hope he can be, but as the no. 7 pick at last year's draft expect him to play a fair bit of footy in 2013.

Value for money
It's rare to see a player of Toumpas' calibre priced so affordably. He has the ability to find plenty of the ball in his debut season, but it might be worth waiting to see if he's fit for round one before making the purchase.
Wines is an untested talent, but in Port's side he'll likely see considerable game time. He's huge for an 18-year-old at 188cm and 90kg, so will physically be able to match it with other midfielders. It's hard to see him miss round one selection.

Job security
Toumpas' pre-season was hampered before Christmas because of clean-out surgery to both hips. Due to that, Melbourne has taken things slowly with its newest gun. If 100 per cent fit, he would debut in round one, but don't expect the Demons to rush him in.
There's no doubt Wines has the potential to become the first player picked each week, but he'll need to get his fitness to a point where he can handle AFL games week after week. He'll most likely need to be rested at times during the season.

Where he'll play
With his running ability, Toumpas could line up anywhere from half back to half forward. He'll experience the midfield in 2013, but could also utilise his run and kicking skills off the wing.
Wines is a big-bodied midfielder and is a clearance king. He'll definitely play in the Power's midfield, but he would also spend time up forward as well.
Injury history
Hip soreness hampered Toumpas' NAB AFL Under-18 Championships and he decided to go under the knife well before the draft. The clean-out surgery was nothing to worry about though and other than that the 19-year-old has enjoyed a clean bill of health.
Wines' strong frame has held him in good stead, remaining injury free over the pre-season. He played 17 games for the Bendigo Pioneers last season and has shone on the training track for the Power over the summer. Nothing to worry about, touch wood.
The case for
Toumpas' work rate ensures he'll never give up on game day. He can run opponents into the ground or finish them off quickly with supreme kicking skills. He's no stranger to the scoreboard either and booted goal of the day at the 2011 SANFL grand final.

The kid is the perfect specimen of an inside midfielder and a player the Power have been crying out for. He can match it physically with any midfielder in the game which is something that could see him play a lot of footy in 2013.
The case against
Toumpas' hip surgery before Christmas may mean he takes a while to become match fit. If he starts behind the eight ball, he might find the rigours of AFL football catch up to him quicker than expected.

Wines' ability to avoid fatigue over the course of the season remains the only sticking point in AFL Fantasy selection. He probably needs to lose a few kilos to get a bit quicker as well.

The verdict
Port need a hard-bodied inside midfielder and they've got one in Wines. Toumpas is class – no doubt about it – but Wines is cheaper and in his debut year might just see a bit more action.