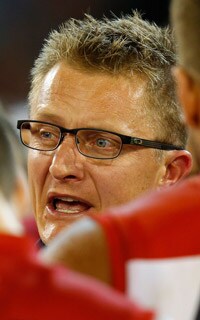 A COMPETITIVE first half against West Coast is a positive stepping stone in what will be a "rollercoaster journey" for Melbourne as it rebuilds, says coach Mark Neeld.
The Demons lost their third match for the season on Saturday at the MCG, with the final margin 94 points after a third quarter that Neeld said "was not good enough".
A 10-point half-time deficit turned into a 72-point mountain to climb with a quarter to go, after the Eagles piled on 11 goals to one.
But after a tumultuous week that followed on from the Demons' 148-point loss to Essendon last Saturday night, Neeld said the first two quarters showed there was light at the end of the tunnel.
"I know it's a little win. It's a tiny little thing but we were really proud of the response our players gave in the first half and we're driving forward," Neeld said.
"We thought it was a tremendous response from what happened last week.
"We as a group, and I know this is difficult, but certainly at half-time, we were really proud of the fight the boys showed from last week, which was a complete train wreck.
"I think we showed today there is certainly enough to keep forging on and working hard and driving these boys as hard as we possibly can. I think they showed that today.
"The Eagles had us under a whole heap of heat in that third quarter and they're a top-four side and that's what they're going to do to you so we've got to get better and stand up in that area."
Midfielder Nathan Jones, who was again the Demons' best with 28 disposals, said the first half showed there was hope, with young players a key part of the start.
"That's Melbourne footy – that's how we want to play, we want to be bold, we want to take it on, win first possession, contested possession," Jones said.
"You see a few boys that come in and get their opportunity and really show that they belong – guys like Michael Evans, Matt Jones in only his third game.
"They're pretty inexperienced but they really led the charge in the first half."
The Demons saw their CEO Cameron Schwab resign on Tuesday before they sought solace in the beachside town of Sorrento on Wednesday for an overnight summit.
Neeld said the trip had been "amazing" and the players had learned plenty about each other.
During the week, 30 lapsed members signed up after a group of volunteers did a ring-around and 400 supporters turned up at training on Friday.
"It was a life experience but a positive one for the footy club, this week," Neeld said.
"We're finding out now that we might not be able to compare with some of the bigger clubs in terms of volume and pure number of supporters but the ones we've got understand what the word support means."
Neeld said there was no injury concern with Jack Watts, who joined other emergencies Jake Spencer and David Rodan at the game on standby rather than play in the Casey Scorpions' clash with North Ballarat.
"You've got to try and get the balance right between what the individual needs, the team needs and the club needs," he said.
"We certainly had one of our taller types under an injury cloud and he needed to have a run around this morning.
"It would have been disastrous for the football club had that player not got through the warm-up and Jack Watts was in Ballarat.
"We feel that missing one VFL game for Jack Watts is not going to be a massive issue."
It is believed the tall player in doubt was Mitch Clark, who played and kicked three goals but appeared proppy and was icing both feet after the match.
Jennifer Phelan is a reporter for AFL Media. Follow her on Twitter @AFL_JenPhelan.