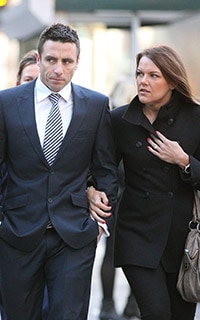 STEPHEN Milne will be available to play against Carlton next weekend but coach Scott Watters has stopped short of guaranteeing his spot.
St Kilda flew out for Perth ahead of Sunday's clash with Fremantle, just hours after Milne appeared in the Melbourne Magistrates Court charged with rape.
"He'll be available for selection next week," Scott Watters told reporters at Melbourne Airport.
"Until we select a side next week there's nothing finalised.
"We've tried to maintain a very respectful position to all parties that are involved, and as we've said a number of times it's a unique set of circumstances."
Milne made a brief appearance in the Melbourne Magistrates Court on Friday morning and will reappear for a committal mention hearing on September 13.
Milne, 33, arrived at court about 15 minutes before his scheduled appearance.
He was accompanied by his lawyer David Grace QC, manager Tom Petroro and wife Melissa.
He has consistently denied the allegations.
The original investigation was reviewed after an Office of Police Integrity inquiry.
Victoria Police were concerned the original brief had been 'incomplete' in gathering witness statements, resulting in the investigation being re-opened.
Matt Thompson is a reporter for AFL Media. Follow him on Twitter @MattThompsonAFL