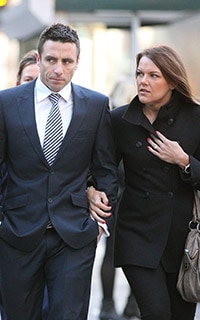 A WOMAN who says she was raped by former St Kilda star Stephen Milne in 2004 tried to push him away and repeatedly told him no, a Melbourne court has been told.
Milne, 33, is facing four charges of rape over an incident at his former St Kilda teammate Leigh Montagna's Highett home in March 2004.
Prosecutor David Cordy told a committal hearing that the woman had consensual sex with Montagna before Milne started kissing and fondling her in a bedroom.
The woman believed she was with Montagna at the time, Mr Cordy told the Melbourne Magistrates Court on Tuesday.
Mr Cordy said she repeatedly pushed Milne away and told him she did not want sex, but he persisted.
At one stage she said "Leigh, remember last time", Mr Cordy said.
Mr Cordy said when the bedroom door was opened allowing more light into the room the woman realised it was Milne, she immediately retreated to a bathroom with her friend.
Montagna sent a text message the next day to the woman saying "sorry about what happened last night, I thought you knew it was him and not me".
When interviewed by police, Milne said he did try to have sex with the woman, but denied any mistaken identity, Mr Cordy said.
Mr Cordy said Milne told police "there was no way known she thought it was Leigh the whole time", and suggested the woman was jealous.
Montagna told police he heard the woman say "No, I don't want to have sex with you", the court was told.
Milne sat next to wife Melissa during the hearing, and expressed no emotion as details of the allegations were read to the court.
Montagna and former St Kilda player Justin Koschitzke were also at court on Tuesday afternoon and are expected to give evidence at the hearing.
Although the alleged incident happened in 2004, charges were only laid in June after a police review found the initial investigation was inadequate.
Milne retired from the AFL this year after playing 275 games with the Saints.