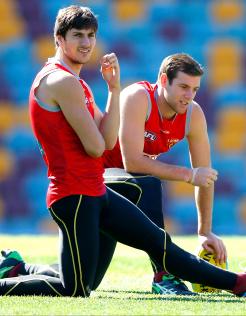 They've knuckled down and worked hard to assimilate into Brisbane culture
Dean Warren on the Lions who remain
STANLEY Street Brisbane represents the AFL's northern frontier. And life on the frontier can be a challenge.
The Brisbane Lions have long understood that unless you are winning flags on the trot, as they did from 2001 to 20013, existing as an AFL outpost can be fraught with difficulty.
These challenges were sheeted home at the end of last season when in a manner of days, five emerging players who had reached the end of their first contracts with the Lions – Billy Longer, Sam Docherty, Elliott Yeo, Jared Polec and Patrick Karnezis – all packed up and returned to their home states.
From the outside, it looked a calamitous state of affairs. And it wasn't particularly great inside the club, considering that the mass exodus took place at the same time as the Lions board was seemingly imploding, and the senior coach's office sat empty as the search for a successor to Michael Voss continued.
But talk to people from within the Lions and you get a different perspective. Each of the departures was regrettable, but when forensically examined on an individual basis, almost understandable.
As a starting point, homesickness played a part in each player choosing to return home. You won't get anyone from the Lions talking on the record about each departing individual, but drill deeper and stories emerge of questionable dedication and professionalism, a failure to embrace the club and its surrounds, and personal issues that go beyond simply a yearning to return home.
Within the Lions, there is no shying away from the fact that its welfare and development programs were not resourced at the same level as many of its rival clubs and that mistakes were made.
"The lack of resources were not an excuse," explains general manager of football Dean Warren. "There were areas we needed to look at and work harder at."
The easy conclusion to draw is that the loss of the highly rated Craig Lambert, who oversaw a brilliant welfare program at the Lions before moving on to Greater Western Sydney, had a drastic effect on the club.
Brisbane people will tell you that it is the wrong conclusion and is unfair on his replacement, Manny Lynch, whose brief was made exceedingly difficult by a lack of finances and therefore, resourcing.
Indeed, well before the five players moved on, the Lions had beefed up their welfare and player development departments, with the assistance of the AFL. They claim that that talk of Brisbane players having to do their own edits and review game tapes by themselves is grossly exaggerated. They are now confident that their development structure, overseen by new head of coaching Peter Schwab and innovations manager Gary O'Donnell, with three development coaches and two welfare managers working beneath them, gives them a structure on par with those at other AFL clubs.
Player welfare has always been a concern for clubs like the Lions and the Sydney Swans, who have a larger percentage of players from other states than the Victorian, South Australian and West Australian clubs.
The Lions note that 87 per cent of their playing list in 2013 was from outside the state, a figure exacerbated in the last few years because the fledgling Gold Coast has pretty much had first call on every emerging Queensland talent of note.
It explains why the Lions are so bullish on Jonathan Freeman, a key position forward who featured in the NAB Challenge against Hawthorn on Thursday night. He's a graduate of the Lions Academy, a talented Queenslander who, for a welcome change, will not have to ply his trade an hour down the road.
But the Lions also point to success stories such as Tom Rockliff, Ryan Harwood, Ryan Lester, Josh Green, Justin Clarke and Sam Mayes, who were drafted to the club during the same timeframe as the five who left, and have thrived.
"They love it here," Warren said. "They've knuckled down and worked hard to assimilate into Brisbane culture and how we do things. They're giving it a real crack."
That statement is instructive. The Lions say all but a tiny handful of players now work or study on their mandated day away from the club. A big driver for the club is for the players to immerse themselves in the city they represent, an issue that was a problem for the club in the past.
The departures left a hole in the Lions list, but not a particularly gaping one. Yeo, who played 19 games last year, is the biggest loss and probably the only walk-up member of the club's best 22. Docherty (13) was the only other whose game tally for the year reached double figures.
"It will be interesting to see how they all go, back in their home states with their families and other support structures surrounding them," Warren said.
No doubt, some will thrive. Chris Judd returned to Victoria and won a second Brownlow Medal with Carlton. Jack Gunston returned home from Adelaide and was Hawthorn's best player in last year's finals. But the Lions aren't totally convinced that in a few years, they will be counting the cost of letting five superstars walk out the door.
They would like the player rules tightened so that players coming out of their first contract, barely out of their teens and in some cases with just a handful of games under their belt, can't stand over the club and demand a transfer to their team of choice.
"There has to be a better form of compensation," says Warren, echoing a view that was widely held during last year's trade period.
And in the meantime, the Lions will be working considerably harder to ensure that their latest batch of draftees will never want to leave. The message to prospective draftees (and their parents) that there would be a renewed emphasis in Brisbane on development and welfare, has been backed up with deeds.
The acid test will be 18-year-old midfielder James Aish, who racked up 14 touches on Thursday night in his first time in Lions colours.
Aish, the seventh overall selection at least year's NAB AFL National Draft, comes from Norwood royalty and the South Australian clubs will be circling feverishly when he comes out of contract.
By their own admission, the Lions are at the lower end of the teams that could scrape into the finals this year. But their biggest win in the next 12 months might well be if the likes of Aish and fellow South Australian Mayes choose to stick with the club.
The Lions are confident they will. It will be the best outcome for football if they do.