THE AFL has finally revealed its new route for the Toyota AFL Grand Final parade, which will end with competing players being presented to fans in the shadows of the MCG.
The League conceded the move was needed in part because of Victorian premier Daniel Andrews' newly declared Grand Final eve public holiday, but insisted fans would be the winners.
Players will begin their journey where the parade used to finish, near the Old Treasury Building on Spring Street.
The cavalcade will then head south, taking a left turn down Wellington Parade before taking right turn into a brand new live site at Yarra Park.
"We've been doing a lot of work with government and looking at expanding our portfolio of events around Grand Final day," League corporate partners and business manager Richard Simkiss said.
"To finish the parade in and around that environment where families can enjoy a whole day of activity, we think provides a great opportunity," he said.
"The public holiday obviously plays into a little bit of the thinking there, but it's also about all of the new initiatives that are happening in Yarra Park.
"There is still some work to be done, but we're looking forward to continuing to work with government to bring these plans to life throughout Grand Final week."
A map of the new route for the Grand Final parade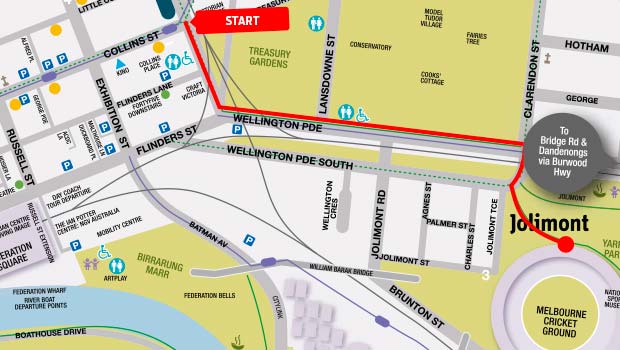 It is hoped the new route will provide better access for fans, but also takes into account the likelihood of significantly fewer people inside Melbourne's central business district.
The Grand Final parade has become a Melbourne institution dating to the late 1970s, but the declaration of a public holiday has caused a rethink..
Labor premier Daniel Andrews campaigned on the promise of a day off before the Grand Final in the lead up to the 2014 state election.
"It'll be one of the best Grand Final parades ever," he declared in the days after his election victory.


"I think it'll be a fantastic opportunity for families to spend time together and to share in what's an iconic event.
"I think that it's just about recognising that families work hard, a lot of people are under a lot of pressure, and it's just the right thing to do."
Small business groups and city traders have expressed concerns about the public holiday.
It is forecast there will be fewer people in the CBD on the day because offices and some shops will be closed for the long weekend.
An artist's impression of the culmination of the new parade