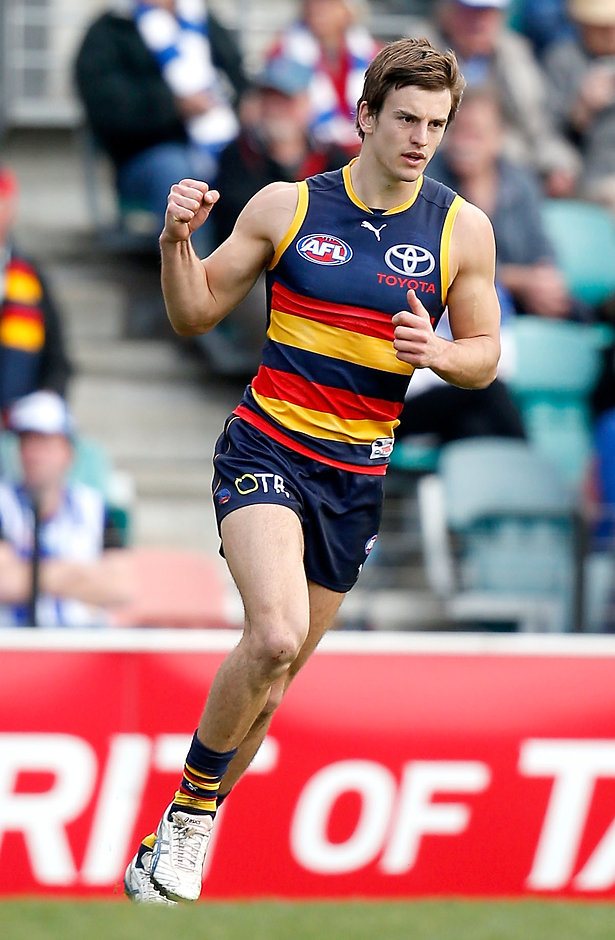 There's no shackles or anything holding me back – not a quarter where I've got to try and have 10 touches to keep myself in the side
Jarrod Lyons
JARRYD Lyons was preparing to take on Geelong in round 23 last season when he found out the AFL would burry the sub rule and he's since raised a beer with his mates in celebration.
The rule has plagued the underrated Adelaide midfielder's career to date. Last year he began eight games in the green vest – joint most in the League along with Hawthorn's Billy Hartung.
Of his 35 senior games since 2012, Lyons has started 15 as the Crows' substitute – Mitch Grigg is No. 2 at West Lakes with nine green vests.
Lyons struggled to shake the tag of super sub even while playing backyard cricket over Christmas.
He told AFL.com.au he was subbed out of the game and forced to watch from the sidelines.
Weeks before, his teammate Matt Crouch gifted him a green vest for the club's Kris Kringle.
It's all in jest, but Lyons said constantly being selected as a substitute was tough to deal with at times.
With the rule abolished the 23-year-old's just looking forward to showing what he can do on a regular basis.
"The last few years you find out you're in the side but then you're still wondering whether you're sub as well – it's almost a disappointment," Lyons said.
"You're in the side but then you think 'Oh, am I going to be sub or am I going to be playing'.
"Now if you're in the side then you're in and you're playing four quarters.
"It's obviously something now I can show what I can do, I guess, there's no shackles or anything holding me back – not a quarter where I've got to try and have 10 touches to keep myself in the side."
The silver lining of his almost default selection as sub last year was that Lyons finished the season still feeling relatively fresh.
He said it allowed him to return to training quickly, rather than take a long break to recharge.
His fitness is consequently miles ahead of where it was at this time last year, although he did miss a month last pre-season after a terrible reaction to what was likely the bite from a white-tailed spider.
"Last year I had that bloody spider bite and missed about five weeks. This year – fingers crossed – but I haven't missed a session yet," he said.
"That's the key, just to get continuity in training.
"Coming off last year, because of the time I was sub, I wasn't exhausted at the end of the year so I could start a little earlier in the off-season.
"I could actually build into the pre-season and feel fresh rather than take five, six, seven weeks off not doing anything.
"I'm definitely ahead of where I was last year so that's a good start."
He figures that as long as he's able to keep training he'll remain ahead of his 2015 progress and then hopes to cement his place in the side during the upcoming NAB Challenge.
The Crows begin their pre-season trials against West Coast at Unley Oval on February 21.