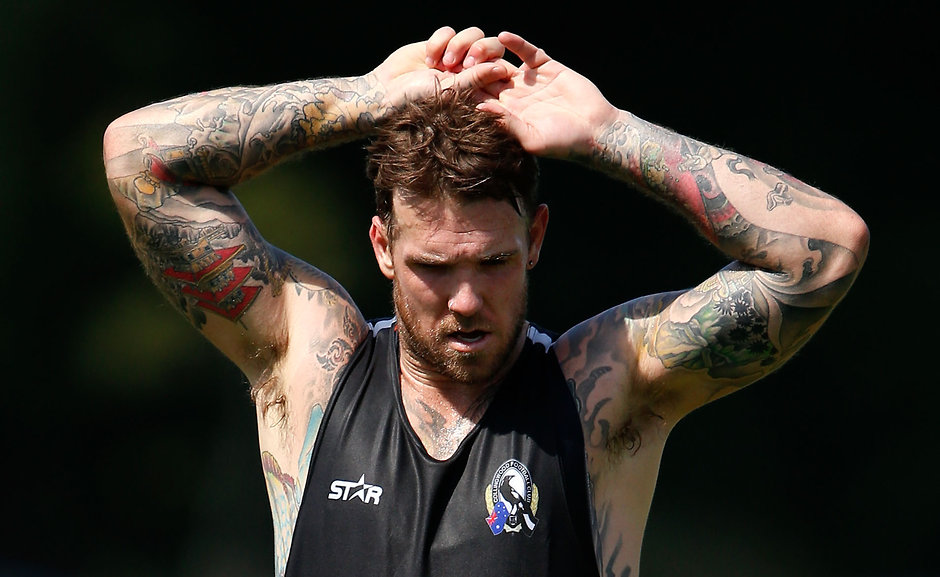 COLLINGWOOD will not take any action against Dane Swan and Travis Cloke after Woman's Day reported they allegedly sent nude photos to women via social media.
On Triple M radio, Club president Eddie McGuire described the players as "idiots" for sending the photos, but said it was not an issue for Collingwood.
The club views it as a personal matter for the players rather than one warranting sanction from the Magpies.
In a statement Collingwood said it was aware that, "Three currently listed players were involved in consensual exchanges of messages [and] pictures via Instagram.
"The exchanges have been on sale to media outlets for some time [and] as a result have been obtained [and] published by a media publication.
"At this point, the club will not take any action as it considers this a private matter for the players."
Woman's Day reported Lachie Keeffe was the other listed player involved, while the magazine also named former player Tony Armstrong.
McGuire confirmed the photos, which are understood to be more than 12 months old, had been made available to other media outlets before Woman's Day, which chose to publish them.
"Apparently they were offering them up to the TV stations who passed, but Woman's Day have taken them," McGuire said
An AFL spokesperson said the League was investigating the matter and would make a statement later in the day.
The AFL's social media policy, which covers SMS and instant messaging, states the League is likely to view "accessing, downloading or transmitting any kind of sexually explicit material" as inappropriate.
McGuire agreed the images and videos appeared to contravene the policy.
"Good to know Swanny's got some room for some more tatts," he joked.
Cloke, 28, is engaged to Rebeccah Panozza while Swan, 31, has been in a relationship with Taylor Wilson for eight years.
The AFL announced last week it had appointed Victorian Equal Opportunity Commissioner Kate Jenkins to review its respect and responsibility policies in the wake of an incident involving Richmond Dustin Martin led to an allegation that was not sustained after a police and AFL investigation.
The AFL Players Association's Brett Johnson said last week at an induction camp for first year players that players needed to understand the possible pitfalls when it came to using social media.