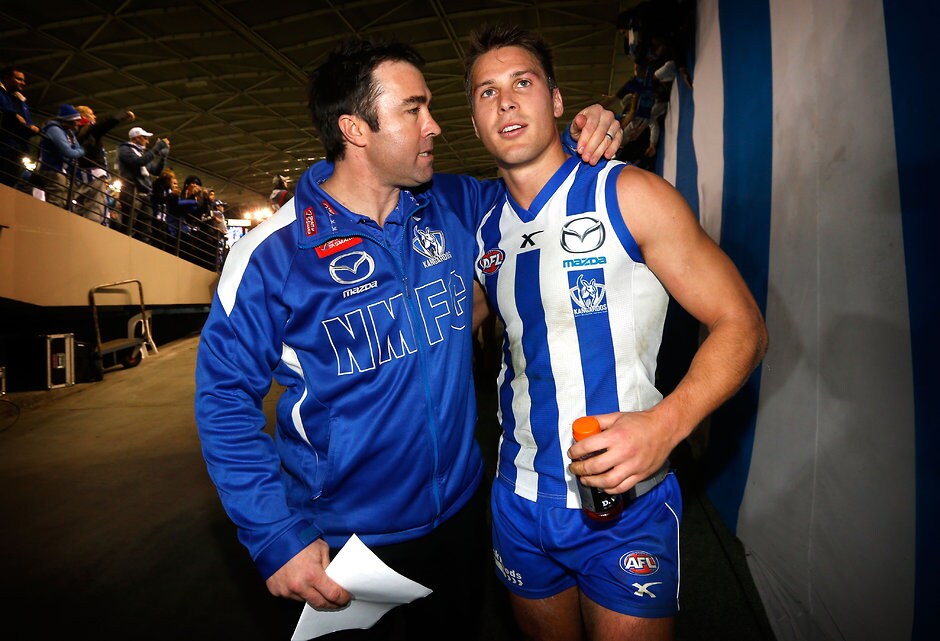 What I can say with certainty is that we will transition the captaincy while Andrew's still playing. I'm a big believer in that
Brad Scott
NORTH Melbourne remains undecided on who will captain the club in 2016, but is now committed to a leadership change before incumbent skipper Andrew Swallow retires.
North coach Brad Scott told AFL.com.au there was "a chance" the Roos would appoint a new skipper this year, with a decision expected before the club's opening NAB Challenge clash against St Kilda on February 20.
But the Roos coach said the club had already decided it would blood a new captain while Swallow, who turns 29 in June, is still playing.
"We've got a pretty extensive process (to decide the 2016 captain) that we're almost finished. We expect to be able to announce our leadership group and the leadership structure before the start of the NAB Challenge," Scott said.
"Andrew will definitely be part of that and we've got some other players who you could describe as captains-in-waiting.
"What I can say with certainty is that we will transition the captaincy while Andrew's still playing. I'm a big believer in that.
"The club did it with Adam Simpson to Brent Harvey, 'Boomer' (Harvey) handed it on to Andrew while he was still playing and we want Andrew to do that while he's still playing really good footy.
"But whether it happens now, whether it's next year or whether it's the year after that, we're yet to ascertain."
Joint vice-captain Jack Ziebell has been widely touted as Swallow's logical successor after sharing the deputy leadership with veteran forward Drew Petrie for the past four seasons.
Asked whether Ziebell was North's likely next captain, Scott was not prepared to anoint the 24-year-old as Swallow's successor just yet, but described him as a "standout" candidate for the role.
"What everyone sees is the on-field stuff and that speaks for itself, but what he has really developed, and is developing, is his off-field leadership," Scott said.
"And we've got a really extensive leadership development program that Jack's yet to complete, and our players will have a really strong say in who they'd like to lead the club in 2016.
"But Jack would be an outstanding choice as captain, whether it's this year or into the future."
North has replaced its past three captains while they were still playing at the club, with Anthony Stevens handing the leadership reins to Adam Simpson in 2004, Simpson to Brent Harvey in 2009 and Harvey to Swallow in 2012.