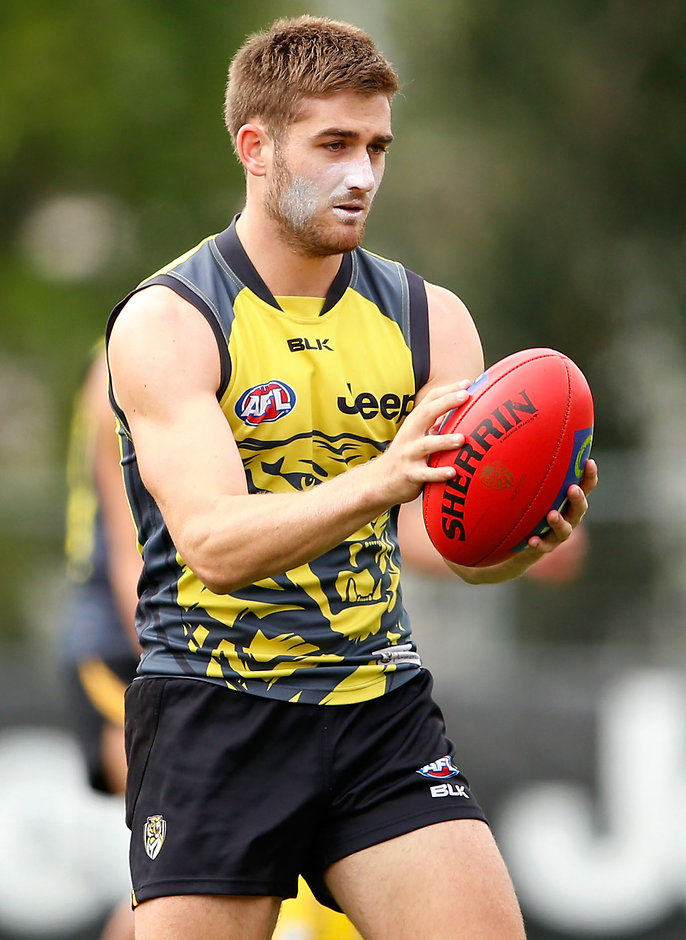 I've spoken to people about it and particularly Mark Williams (Richmond assistant coach) and he says it's not necessarily a bad thing to play on the edge
Anthony Miles
DESPITE playing every game in 2015, Richmond midfielder Anthony Miles doesn't feel as though he has cemented a spot in the Tigers' line-up.
For external observers that might seem strange.
He finished fourth in the best and fairest and was one of the few Tigers who maintained his reputation with a solid performance in the team's elimination final loss.
But that's what happens when you arrive at your second club via the rookie list, having been delisted after just 10 games in two years at Greater Western Sydney.
"I've spoken to people about it and particularly Mark Williams (Richmond assistant coach) and he says it's not necessarily a bad thing to play on the edge," Miles told AFL.com.au.
"For me I have probably played my whole career like that given where I have come from."
The 23-year-old might have adopted a 'playing on the edge' mindset but his style of play is to be in the heart of the action.
He hunts the football hard at stoppages, winning possession for his sleeker (he won't mind that assessment) teammates to do some damage.
Often he is the last player up with the football if an umpire calls for a ball-up, readying himself for the next stoppage with the intensity of a front rower preparing for a rugby scrum.
It's a good sign and one he has in common with the player he loved most growing up as a Saints fan, Lenny Hayes.
Miles' aim is to help talented playmakers such as Trent Cotchin, Brett Deledio, Dustin Martin and Brandon Ellis however he can.
"[You] probably don't want your Rolls-Royce's crashing about," Miles said.
"Those guys still [get in and under] but if that is the way I can help them out then I enjoy doing that."
Miles has done that in 36 games with the Tigers but he is beginning to earn a reputation beyond the yellow and black faithful.
Last season the umpires awarded him three Brownlow votes as the best player on the ground in three games – against Hawthorn, North Melbourne and Essendon – and he was by far the Tigers' best midfielder in the elimination final against the Kangaroos.
Although that final was a terrible result for the Tigers, Miles says little has been said about the horrendous end to 2015 since the players began pre-season.
That doesn't mean they are blind to its implications.
"It's a final. You do all the work to make the final and then that is what you're judged on. Unfortunately we did not do well so that is what we are judged on," Miles said.
"In terms of when we got back to pre-season I don't think we have even really touched on it. It's a new year and we have focused on this year."
After a shoulder clean out and a trip to Vietnam as part of his break, Miles returned to training with a strong emphasis on building his endurance.
The reduced interchange cap might mean players spend longer on the ground but it won't stop coaches demanding two-way running.
Back in full training, he is confident the Tigers can reclaim the consistency that defined their home and away season in 2015.
A top-four spot and ultimately playing good finals footy is the aim.
Miles is preparing to get his hands dirty so he can be part of a team capable of meeting that challenge.