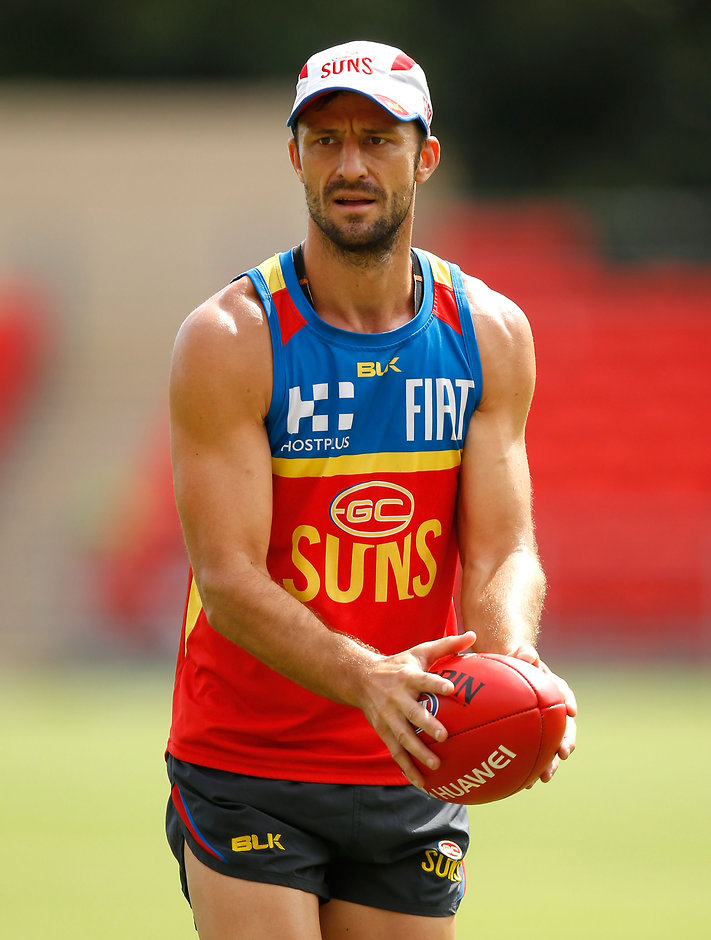 SO DISAPPOINTED was Nick Malceski with his first year at Gold Coast, the rebounding defender has tried to wipe 2015 from his memory.
Malceski came to the Suns last off-season after 10 decorated years with the Sydney Swans in which he won a premiership in 2012 and an All Australian jumper in 2014.
Last year wasn't quite a disaster, but it wasn't far off.
The 31-year-old was hampered by a bursar behind his knee that forced him to miss six games, and then hindered his ability to run and kick on return.
His rocket launcher of a left boot was reduced to a mere pop gun.
Then there was his new team, so hyped prior to the season, only to fall flat with four-and-a-half wins and a stack of injuries and off-field problems.
One of the strongest voices at the Suns, Malceski kept quiet on his form, but with the NAB Challenge just over a week away, spoke on Tuesday of his frustrations with 2015.
"Obviously it was a tough year for me personally, and also the footy club," Malceski said.
"You ask any player and injuries are a nightmare, but you've got to deal with them the best you can.
"It was hard because you want to be out there with your new teammates and try and lead, but sitting on the sidelines for six weeks was pretty tough.
"I had a disappointing year last year, I'll be the first one to admit that, and I'm looking to make amends this year.
"I feel a lot more comfortable in the group because I've been there for a year.
"I'm starting fresh again this year and wiping last year away. I haven't thought about last year."
Malceski has had a dream run this pre-season and looks closer to his best form in the Suns' match simulations to date.
He is sharp and the trusty left-footed kick seems to be back near its best.
"I've been managed well through this pre-season," he said.
"I think last year I probably did a little bit too much, which hindered my knee, but I've done everything and haven't missed a beat."
Malceski said the biggest change over the past 12 months had been the improvement in leadership at the Suns.
After a range of alcohol-related problems last year and an injury list that was almost comical at times, he said they were ready to turn the corner in 2016.
"It was a disappointing year last year with injury for the whole team," he said.
"This year with everyone on the track, we're getting a little more continuity in the group getting to know each other and how we play.
"The leadership side of things and the standards we're trying to drive, everyone is buying into that.
"If all the boys buy into that culture and how we want this football club to be, I think we'll be OK."