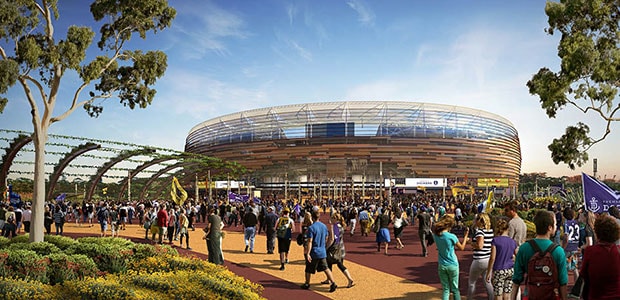 WESTERN Australian Football Commission chairman Murray McHenry has hosed down fears that the game's long-term health in WA is in jeopardy.
Fears were raised after the state government announced on Monday that Domain Stadium operators Perth Stadium Management, the stadium operating arm of the WAFC, had missed out on the contract to operate the new Perth Stadium.
Stadium Australia Operations, the operators of ANZ Stadium in Sydney, were chosen by the government as the standout bidder for the operating contract with the deal to be finalised over the coming months.
The WAFC, Perth Stadium Management and the West Coast Eagles all made statements on Monday expressing disappointment at the decision.
But McHenry is confident that a deal for a future funding model for WA football could be struck with the state government despite losing the direct revenue stream that came from the ownership and operation of Domain Stadium.
"We've got people from Kununurra to Esperance all worried about the future of the game," McHenry said on Tuesday.
"I'd like to assure them that it's in good hands and we believe the outcomes will come out, so they don't need to panic over this decision.
"People need to sit back, relax, we're still dealing with it with government.
"I don't think we're far apart and I'm very confident that we'll come out with a successful outcome. But that outcome will come in conjunction with the AFL, the AFL clubs, ourselves and government. I'm very confident we'll reach an agreement shortly."
The WAFC yields roughly $15 million net revenue from its current ownership of Domain Stadium that is directly invested back into football development in WA.
WA premier Colin Barnett said on Monday that WA football would continue to be funded via a revenue stream generated from AFL football at the new stadium despite football not operating the venue.
McHenry and Perth Stadium Management general manager Gavin Taylor also confirmed that AFL games would not be played at Domain Stadium beyond 2017.
However, the stadium will remain open and fully functioning as a venue in 2018 and beyond until a final arrangement is made with the state government as to what to do with the lease.
Taylor confirmed that the venue would remain up-to-date and available as a training facility for West Coast in 2018. The Eagles are planning on moving to a new purpose-built training and administration base at Lathlain Park but that project is still in the planning phase and the club may need to remain at Domain Stadium through 2018 and the summer of 2019.
The ground will also be available for WAFL games and possibly for AFL pre-season games should the 60,000-seat Perth Stadium be either unavailable or deemed too big to use for a pre-season game.
McHenry confirmed that Domain Stadium would eventual close and the WAFC has been in talks with the WACA over possibly co-sharing the WACA ground as an administration facility. The WACA is already used as a training venue during the winter for the WAFC's under-16 and under-18 squads.
"Once there's a decision on (Domain Stadium) it will eventually close," McHenry said.
"But we don't know that date yet and that's yet to be worked out.
"We're reaching the stage of an MoU (memorandum of understanding) with cricket. We've been dealing with cricket for five years, very harmoniously, in trying to work out an outcome."
The WA football commissioners are set to hold a monthly meeting on Tuesday to discuss a range of issues. The commission will also finalise a timeline to appoint a new chief executive following the resignation of Gary Walton last month.
Artist's impression of new Perth Stadium on match day