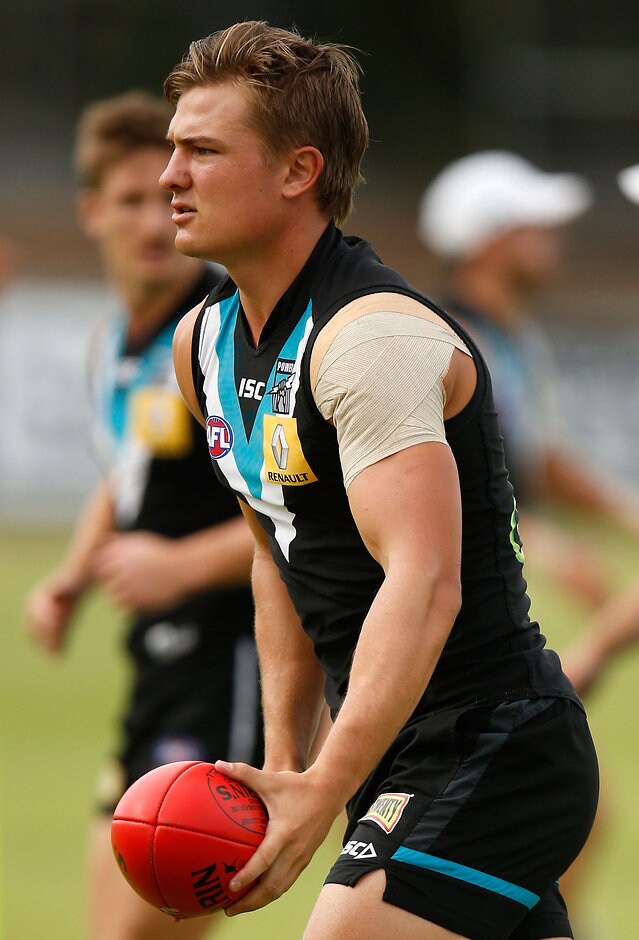 He's the sort of bloke who will live and breathe his footy club
Ken Hinkley on Ollie Wines
PORT ADELAIDE star Ollie Wines has quashed speculation that he could be planning a move back to Victoria, signing a two-year contract extension with the Power.
Wines' contract had been a source of conjecture but the 21-year-old told the Port Adelaide website that he wanted to commit to the club early in the year to avoid any ongoing discussion.
"Now just feels like the right time to re-commit to the club as I didn't want our members thinking I might leave this year, when that wasn't part of the plan," Wines said.
"The club and its supporters have been so welcoming of me and my family since I arrived at the end of 2012, and I've loved every moment here so far.
"I love this footy club, my teammates, coaches, and our fans and I'm very happy to be continuing my career here at Port Adelaide."
Wines, 21, had an outstanding first two seasons at Port Adelaide after he was drafted with pick No.7 in the 2012 NAB AFL Draft.
The powerful inside midfielder played just 13 games last year due to wrist and shoulder injuries but he still won his third straight Gavin Wanganeen Medal as the club's best under-21 player.
Port Adelaide coach Ken Hinkley said that he was always certain Wines would re-sign.
"I know he has put a great deal of thought and reflection into this decision – that's his style – but we were always confident he would put pen to paper," Hinkley said.
"Ollie is one of those players who you love having around your footy club.
"His work ethic, his professionalism around the club, his compliance on the field – all of these are qualities that he's built upon over the last three years and he continues to seek that improvement.
"He's the sort of bloke who will live and breathe his footy club and his relationships with our players, coaches and supporters are very strong, it's great to have him on board again for another two years on top of this season."