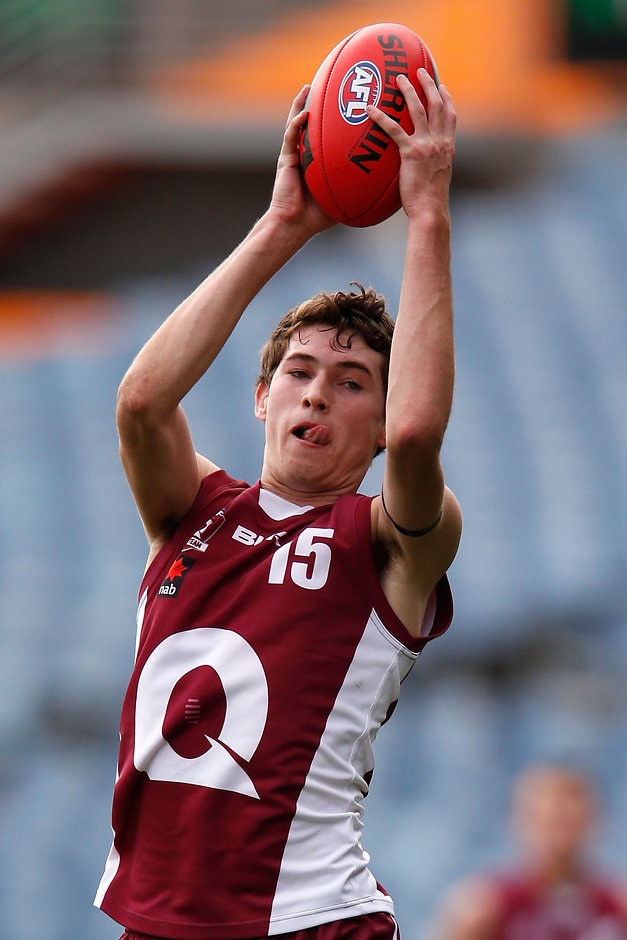 EVERY time he sits down with a recruiter, Jacob Allison knows he'll be asked a question he can't quite answer. What does the draft hopeful think is his best position?
"I don't know. I really don't know," the 17-year-old said, repeating the regular response he offers to clubs keen to know where he thinks he'll settle. "I love playing as an inside midfielder, I love the wing, and if I get chucked onto a half-forward or half-back flank I really enjoy that too. To put it down to one position is really hard for me."
Not that it is a bad thing. Clubs like prospects who can fit into a number of roles. Allison's size, athleticism and versatility already have him pegged as one of the players to watch as this year's under-18 campaign unfolds and the NAB AFL Draft draws closer.
It's the midfield where the 193cm Brisbane Lions academy player has shown his best form to this point.
Click here for the latest NAB AFL Draft news
Last season he was one of only five bottom-aged players to make the All Australian team after a strong carnival for Queensland at the under-18 championships. His swift movement through traffic, big strides and overhead marking made an impression, as did his ability to seamlessly switch from one position to another.
Allison is keen to keep pushing his game further. While on tour in America with the NAB AFL Academy last month, he spoke with coach Brenton Sanderson about putting last year's successes behind him.
"'Sando' said you don't want to be a player who had a good year as a 17-year-old but then struggled in your draft year," Allison told AFL.com.au during the squad's training camp at the IMG Academy in Florida.
"I really want to perform well this year, so I'll look back at the things I did well last year – I had good contested ball numbers, took some marks and kicked a few goals – but I want to back that up."
One thing Allison won't need to spend too much time improving is his long kicking, which was a feature of his performances at the under-18 carnival last year.
His penetrating boot makes him extra damaging, and is another reason why early predictions have him among the group of standout players in this year's pool. Allison credits his dad for the extra distance behind his boot.
"I used to go down to the park and dad would say 'We'll stand together and you kick it as far as you can' in contests against my brother. He's two years older than me and all I wanted to do was beat him," he said.
"It took me until I was 16 until I could kick it further than him, but I got there eventually."
Allison, who moved to Queensland from Geelong when he was six and is a lifelong Hawthorn supporter, joined the Lions' academy when he was 13.
Jonathan Freeman, Liam Dawson, Matt Hammelmann, Ben Keays and Eric Hipwood are among the players to have graduated from the club's academy to its AFL list in the past three years, and Allison is keen to be the next.
He trained with the Lions as part of the AFL Academy's program over summer, and will get a first-hand look at the inside of the club throughout the year as he starts a full-time job in Brisbane's membership and merchandise departments.
"Going into the club I've seen all the guys who have come through the academy and it's a good vibe to have all the Queenslanders there," Allison said. "I'd definitely love to go to the Lions."